James Harden Next Team Predictions, Picks & Odds 2023: Clippers Favorites, Bulls Best Bet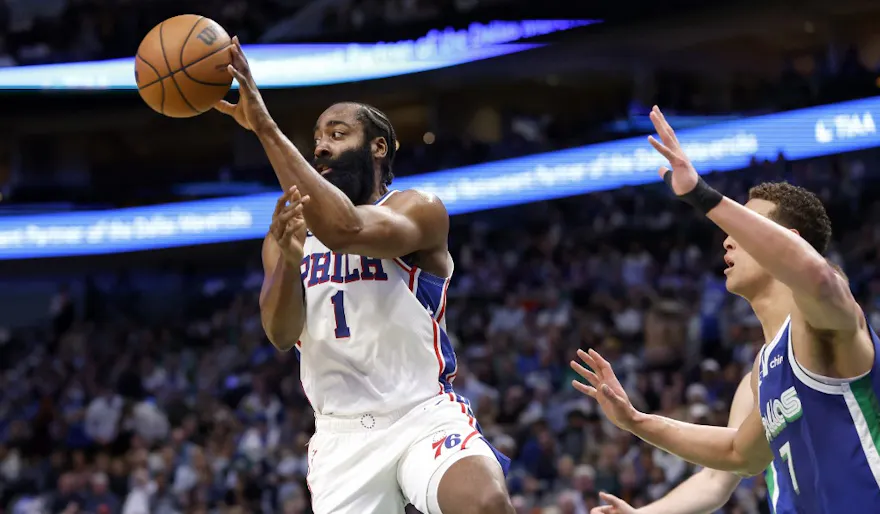 Will James Harden be playing alongside Joel Embiid next season? Or will he be traded from the Philadelphia 76ers to a new team? Let's take a look at the best NBA odds for Harden's next team via our best sports betting apps.
James Harden wants the Philadelphia 76ers to trade him. But the 76ers want to keep the superstar.
Philadelphia reportedly ended trade talks involving Harden on Aug. 12, and the team plans to bring back the 10-time All-Star guard. Two days later, Harden had some harsh words for 76ers president Daryl Morey during an Adidas media event in China.
"Daryl Morey is a liar and I will never be a part of an organization that he's a part of," Harden said. "Let me say that again: Daryl Morey is a liar and I will never be a part of an organization that he's a part of."
Similar to Damian Lillard's situation with the Miami Heat, Harden has specifically requested to be traded to one team: the Los Angeles Clippers. But the 76ers are asking for too much in return for him, and the Clippers aren't sending them what they want.
Reports indicate that the Clippers were unwilling to part with Terrance Mann, whom the 76ers have specifically requested as part of the trade.
Let's examine this market using our best NBA betting sites and attempt to determine the top option for our predictions regarding Harden's next team.
James Harden's next team odds
Market states: "Next regular-season minute played to be for which NBA team?" Odds as of Aug. 3.
| Team | DraftKings |
| --- | --- |
| Los Angeles Clippers | -115 |
| Philadelphia 76ers | +120 |
| New York Knicks | +700 |
| Miami Heat | +1000 |
| Phoenix Suns | +1000 |
| Houston Rockets | +2000 |
| Los Angeles Lakers | +2000 |
| Toronto Raptors | +2500 |
| Chicago Bulls | +3000 |
| Dallas Mavericks | +4000 |
James Harden's next team predictions
Bulls (+3000 via DraftKings - Aug. 3)
Not intended for use in MA
Affiliate Disclosure: Sportsbook Review may receive advertising commissions for visits to a sportsbook
James Harden's next team picks
The Clippers are favored at -115 as Harden's preferred destination, but it's worth considering other potential options on the board.
I don't find +120 for Harden to stay with the 76ers to be a favorable bet. The 76ers are strong contenders for the NBA Finals. Therefore, it's evident from Harden's trade request that he doesn't want to stay with the team for reasons beyond just winning. Lillard is stuck on a young club that can't even make the playoffs, but Harden is already on a championship-caliber squad.
Daryl Morey and the 76ers' front office have been clear they won't jeopardize the Sixers' chances of being a contender. Therefore, any potential trade must boost the 76ers' championship aspirations.
One potential trade partner that fits this criteria is the Chicago Bulls. Zach LaVine could be traded to the 76ers, providing them with a strong win-now piece for Harden.
There's another layer to the Bulls as a trade partner that leads me to believe they're a more realistic destination than the +3000 price point at one of our best sportsbooks suggests. Harden values relationships with his new teams, and he maintains a close friendship with DeMar DeRozan, who also plays for the Bulls.
Additionally, there are rumors the Bulls' front office might consider resetting the team's roster. The Bulls could make a final push with their current core and free up a significant amount of money next summer with a move to trade LaVine's contract, and then push forward with Harden and DeRozan on expiring deals.
Although most reports point toward Harden joining the Clippers, odds of +3000 on the Bulls make it an intriguing bet. The Bulls align with the criteria the 76ers' front office seeks and what Harden desires in a new team. I'll be placing this bet at one of our best sports betting sites.
Check out our next team predictions for Damian Lillard

(21+. Gambling Problem? Call 1-800-GAMBLER)
* Bonuses not applicable in Ontario.
Related pages