Damian Lillard Next Team Predictions, Odds, Picks 2023: Will Veteran Point Guard Stay in Portland?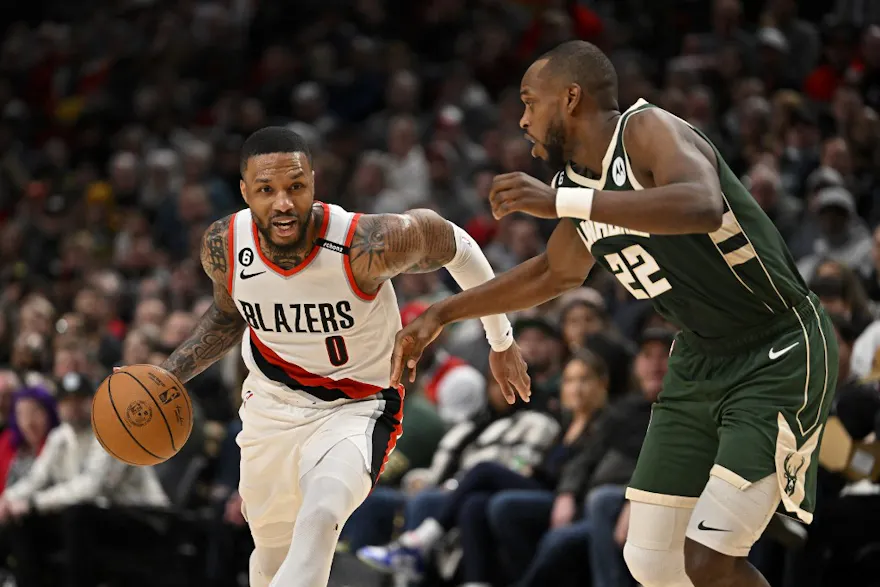 Will Damian Lillard remain with the Portland Trail Blazers, or are we going to witness the All-Star point guard switching teams this offseason? Let's examine the latest NBA odds below to determine if there's any betting value on Lillard's next team.
It seems as though Damian Lillard has been operating on borrowed time with the Portland Trail Blazers for several seasons now. While he remains dedicated to bringing a championship to Portland, is it possible that this could be the season we witness a separation between the Trail Blazers and Lillard?
The Trail Blazers are considered the strong favorites to retain Lillard at one of our best NBA betting sites, but are there any teams listed on the oddsboard that are worth taking a chance on, hoping that Lillard becomes their new point guard for the upcoming 2023-2024 NBA season?
Well, spoiler alert, there are indeed such teams, and I'm going to share two bets that I have personally placed at one of our best sports betting apps.
Damian Lillard next team odds
| Team | DraftKings |
| --- | --- |
| Trail Blazers | -500 |
| 76ers | +1000 |
| Nets | +1600 |
| Lakers | +2000 |
| Celtics | +2000 |
| Raptors | +2500 |
| Clippers | +2500 |
| Pelicans | +2800 |
| Heat | +3000 |
Damian Lillard's best bets
Celtics (+2000 via DraftKings)
Heat (+3000 via DraftKings)
Not intended for use in MA
Affiliate Disclosure: Sportsbook Review may receive advertising commissions for visits to a sportsbook
Damian Lillard next team odds: Favorite
Trail Blazers (-500 via DraftKings)
The Trail Blazers are the favorites in this market because they're firmly committed to retaining Lillard and rewarding his loyalty by giving him the opportunity to bring an NBA championship to Portland. The organization has made its intentions clear, indicating that the plan is to utilize their No. 3 overall selection in the upcoming NBA Draft to acquire another superstar to pair with Lillard. While I agree that the Trail Blazers are deserving favorites based on the available information, I also believe that this situation could change rapidly.
Which superstar player is currently available that could elevate Portland to a serious contender for the NBA Finals? With the draft approaching swiftly on June 22, if the Trail Blazers are unable to find a trade partner, might they alter their course and explore trade possibilities involving Lillard?
If we were in a scenario similar to last offseason, where Kevin Durant was available and the Trail Blazers possessed assets such as guards Anfernee Simons, Shaedon Sharpe, and the No. 3 overall draft pick for a potential trade package, it would make sense why Lillard's odds to stay were as short as -500. Although the Trail Blazers' intention is to retain Lillard, and the Trail Blazers are the rightful favorite, I would advise caution as the situation could swiftly shift.
Check out our NBA best bets and our NBA Finals MVP odds.
Damian Lillard next team odds: Contender
Celtics (+2000 via DraftKings)
The Celtics may not be the second team listed on the oddsboard, but in my opinion, they should be. They possess a valuable trade asset that could easily secure them Lillard and keep their championship aspirations alive.
All-Star guard Jaylen Brown is only one year away from entering free agency, and it's evident that he has no real intention of re-signing with the Celtics. I believe this trade conversation would be relatively straightforward, as acquiring Lillard could potentially provide the Celtics with a one-two punch even stronger than Jayson Tatum and Brown, which would be a challenging feat for the Celtics to achieve. Moreover, the Celtics certainly wouldn't want Brown to leave without receiving anything in return.
Looking at it from the perspective of both the Trail Blazers and Brown, such a trade would benefit both parties. The Trail Blazers would acquire a player of superstar caliber in Brown, whom they could pair with their young talent and the No. 3 overall draft pick. This situation should also be enticing for Brown, as he desires to be the face of a franchise, and the Trail Blazers would offer him that opportunity.
One might question why the Trail Blazers wouldn't simply retain Lillard and pair him with someone like Scoot Henderson. However, Lillard has made it clear that he's not interested in playing alongside young players and wants to win immediately.
While the Blazers are not actively seeking to part ways with Lillard, the opportunity to pair a franchise player like Lillard or Brown with prospects such as Henderson and Sharpe would undoubtedly be enticing for any franchise. However, it's worth mentioning that Lillard is not currently presenting this option to the Trail Blazers.
Damian Lillard next team odds: Long shot
Heat (+3000 via DraftKings)
It's important to keep in mind that if there's a potential separation between Lillard and the Blazers, it would likely occur out of mutual respect. I firmly believe that the Blazers will make every effort to trade him to a legitimate contender or a franchise that Lillard desires to play for.
We're unlikely to witness a scenario where the Trail Blazers simply trade him to the Minnesota Timberwolves solely because they offer the best trade package. If Lillard does leave the Blazers, it will be to join a team that has a genuine chance of competing in the NBA Finals, as that is likely the only way he would be convinced to depart.
In that regard, the Miami Heat have been consistently rumored as a potential landing spot for Lillard for several offseasons, and there has been a recent development with the Heat. Tyler Herro has often been mentioned as a player who could be involved in a trade package if the Heat were to acquire another superstar.
With the Heat's current impressive run in the NBA playoffs, during which Herro has been sidelined due to injury, they may be more willing than ever to include him in a trade package. This change is why I'm optimistic about the Heat's odds at +3000.
Damian Lillard FAQs
What year was Lillard drafted?
Lillard, who was chosen out of Weber State, was selected as the sixth overall pick by the Trail Blazers in the 2012 NBA Draft. Prior to his selection, Dion Waiters and Thomas Robinson were drafted ahead of Lillard by the Cleveland Cavaliers and Sacramento Kings, respectively.
What accolades has Lillard earned?
Lillard boasts an impressive record of being a seven-time NBA All-Star and has been honored with All-NBA team selections seven times throughout his career. In 2018, he was recognized with a first-team All-NBA distinction. Additionally, Lillard earned the title of 2013 NBA Rookie of the Year.
What is Lillard's current contract?
Lillard has two years remaining on his current contract and will become a free agent at the conclusion of the 2024-2025 NBA season. Over the next two seasons, Lillard is set to earn $45 million and $48 million.
(21+. Gambling Problem? Call 1-800-GAMBLER)
* Bonuses not applicable in Ontario.
Related pages