LeBron James Next Team Predictions, Odds, Picks 2023: Will The King Retire?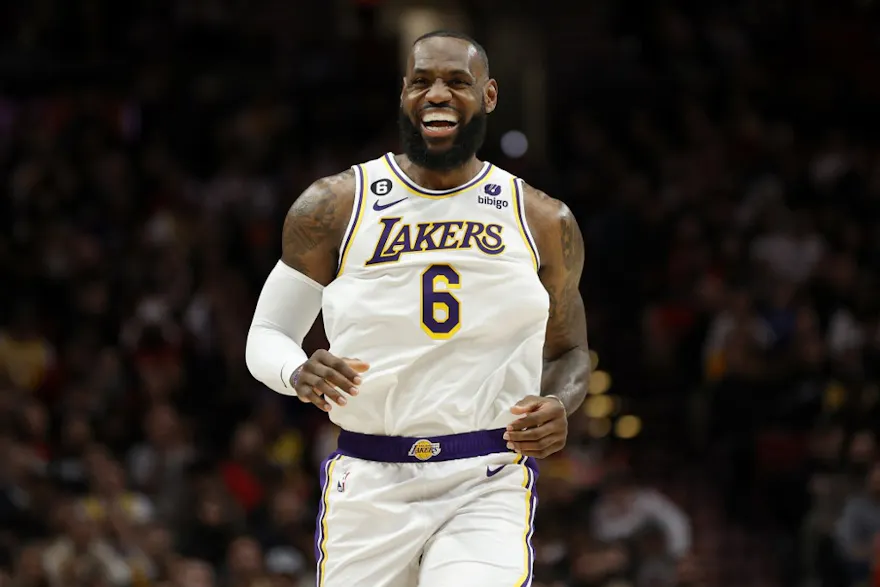 Los Angeles Lakers superstar LeBron James hinted at retirement following a loss to the Denver Nuggets in the Western Conference Finals. Is this truly the end, or is James trying to force his way onto another team? Let's take a look at the best NBA odds to find out.
In a postgame press conference that sent shockwaves through the NBA community, James said he needs some time to think about his future after being swept by the Nuggets in the Western Conference Finals.
"I got a lot to think about," James told reporters after Monday's Game 4. "Just personally, with me moving forward with the game of basketball, I got a lot to think about."
James just completed Year 20 and is the only player left standing from the 2003 NBA Draft after Carmelo Anthony announced his retirement on Monday. James might end up needing foot surgery in the offseason and will turn 39 before the calendar flips to 2024.
So, yeah, he might actually be thinking about calling it a career.
But James is still clearly one of the better players in the NBA, as evidenced by his 40-point, 10-rebound, and nine-assist performance during an elimination game in the Western Conference Finals. James is motivated by winning championships, and the Lakers fell short of that as a No. 7 seed.
So, perhaps his comments were more about putting pressure on the front office to maximize his situation next year.
Either way, the betting market has an opinion. Between LeBron's retirement odds or his potential next teams odds, there are multiple ways to bet on The King's future.
Will LeBron James retire?
(Odds updated Tuesday, May 23)
| Retirement? | Odds | Implied Odds |
| --- | --- | --- |
| Yes | +550 | 15.38% |
| No | -1000 | 90.91% |
As you can see, the betting market doesn't seem to believe this is the end for James. The betting odds give him an implied probability north of 90% to continue playing in the NBA. It does seem unlikely that James would hang it up without a retirement tour or a chance to play with his son, Bronny James, who is two years away from being eligible to play in the Association.
If this is the end, we are saying goodbye to an all-time great. It might be worth taking a trip down memory lane, which you can do by reading our list of LeBron James' top 10 greatest games during his 20-year career.
LeBron's next team odds
Market states: LeBron James' next team if not the Los Angeles Lakers
| Team | Odds |
| --- | --- |
| Philadelphia 76ers | +300 |
| New York Knicks | +300 |
| Los Angeles Clippers | +500 |
| Cleveland Cavaliers | +700 |
| Phoenix Suns | +800 |
| Golden State Warriors | +900 |
| Miami Heat | +1000 |
| Dallas Mavericks | +1000 |
| Sacramento Kings | +1500 |
| Milwaukee Bucks | +1800 |
| Chicago Bulls | +2000 |
| Boston Celtics | +2500 |
Not intended for use in MA
Affiliate Disclosure: Sportsbook Review may receive advertising commissions for visits to a sportsbook
LeBron's next team predictions
Golden State Warriors (+900)
First off, this market is beyond silly. LeBron is unlikely to retire, and he will probably stay with the Lakers for at least one more year. He has player option ahead of 2024-25, so there is a reason why this market does not include the Lakers.
But let us dream for a minute, shall we? If we truly believe James is forcing his way out of Los Angeles, the Warriors make a lot of sense as a destination. The fact they aren't the betting favorites in this market is actually pretty surprising.
As Kevin O'Connor of The Ringer explained in his piece on this, there is too much smoke surrounding this situation to ignore. James and Draymond Green are close friends, and we know the latter has history of recruiting talent to the Warriors.
James has said on "The Shop" that the current player he'd most like to play with is Stephen Curry. That is pretty obvious with how many times James has drafted Curry in the NBA All-Star Game in recent years. It would allow James to not be as ball-dominant, which we know is his preference at this stage of his career.
The Warriors also need to be aggressive this offseason to maximize their championship window. They won the title last year, but Curry simply didn't have enough help this postseason run. James needed more from his supporting cast during the Western Conference Finals, as well.
Could these two be on the verge of a team-up after all those years of squaring off in the NBA Finals? Probably not, but it is certainly fun to imagine what a Curry-LeBron pairing would look like.
(21+. Gambling Problem? Call 1-800-GAMBLER)
* Bonuses not applicable in Ontario.
Related pages