XFL Championship Odds 2023: Roughnecks, Defenders Rise to the Top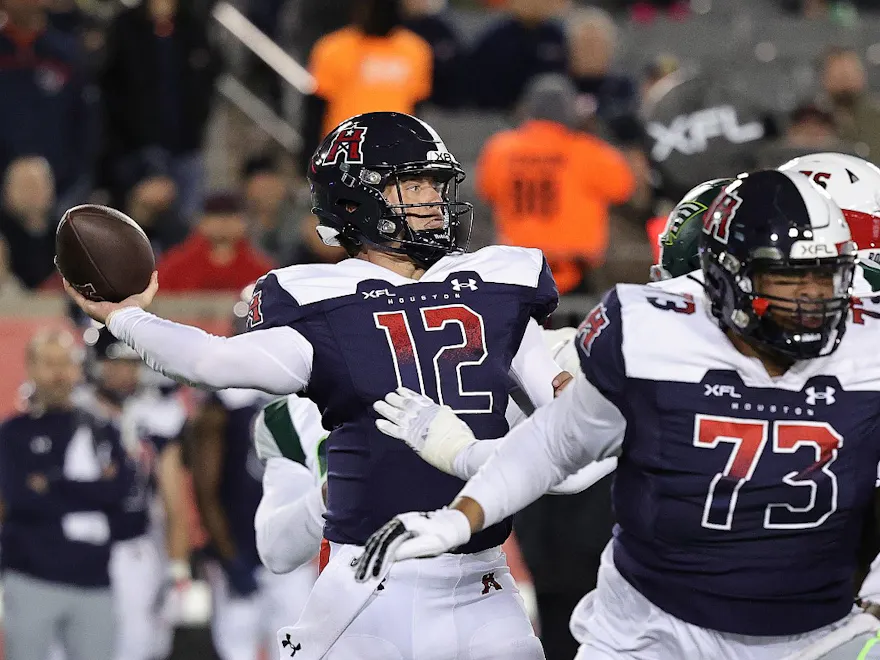 We are almost a third of the way through the XFL season and teams are forming their identity. Here is an updated look at the 2023 XFL futures odds and some of our favorite picks from our best sportsbooks.
The XFL has played three games in their 2023 season. Teams are finally starting to figure out who they are as we close out the first third of the season. Among the best so far are the Houston Roughnecks and the DC Defenders who have yet to lose a game. On the other hand, the Las Vegas Vipers and the Orlando Guardians are still looking for their first victory.
Both scoring and excitement has ramped up each week. This trend shows no signs of slowing down as we head into midseason.
Here is our look at the best odds for the 2023 XFL futures odds, along with a look at some potential picks (odds via our best sportsbooks).
Check out our 2024 Super Bowl odds and our 2023 Grey Cup odds.
XFL Championship odds 2023
| Team | DraftKings | BetMGM | Caesars | PointsBet |
| --- | --- | --- | --- | --- |
| D.C. Defenders | +225 | +200❄️ | +220 | +300🔥 |
| Houston Roughnecks | +250 | +250 | +220❄️ | +250 |
| St. Louis Battlehawks | +500 | +500 | +500 | +450❄️ |
| Arlington Renegades | +650 | +650 | +600❄️ | +650 |
| Seattle Sea Dragons | +750 | +800🔥 | +750 | +700❄️ |
| San Antonio Brahmas | +1000 | +1000 | +1000 | +900❄️ |
| Vegas Vipers | +2000 | +2000 | +1600 | +1300❄️ |
| Orlando Guardians | +2500 | +2500 | +3000🔥 | +2200❄️ |
(XFL Championship odds accurate as of March 7)
XFL Championship odds best bets
Houston Roughnecks (+250 via DraftKings) - 3/7/23
DC Defenders (+300 via PointsBet) - 3/7/23
St. Louis Battlehawks (+500 via Caesars) - 3/7/23
XFL Championship odds 2023: Favorites
DC Defenders (+300 via PointsBet)
DC has made a sizable jump from their initial +650 listing on PointsBet in early February. The Defenders are 3-0 and are now the only unbeaten team in the North division. They are third in the league in overall scoring with 74 points on the young season. Their defense continues to be their strength, registering 10 sacks through three games, which is second most in the league.
Houston Roughnecks (+250 via DraftKings)
Houston clocked in at +800 to win the championship on Caesars before the opening week. Entering Week 4, the Roughnecks are the only undefeated team in the South division. They have scored the most points in the league (78), and have allowed opponents to score just 39 points against them. They also lead the league in sacks (16) and interceptions (6).
St. Louis Battlehawks (+500 via Caesars)
The Battlehawks have seen little change in their championship odds and, if fact, have risen slightly from their +400 opening on Caesars. St. Louis suffered its first loss of the season in Week 3. Quarterback A.J. McCarron has thrown 11 touchdowns this season and is tied with Seattle quarterback Ben DiNucci for the most in the league. Despite their recent loss, the Battlehawks remain an explosive team and are still in second place in the North division.
XFL Championship odds 2023: Contenders
Arlington Renegades (+650 via BetMGM)
The Renegades bounced back to beat the Orlando Guardians last week after losing to the Roughnecks the week prior. In the process, they made the switch from Drew Plitt to Kyle Sloter at quarterback. Sloter led his team to a win. However, his team's offensive struggles continued as Arlington scored just 10 points against an Orlando defense that had surrendered at least 30 points to its two previous opponents. The Renegades have been outscored 52-46 this season yet are still above .500 at 2-1.
Seattle Sea Dragons (+800 via BetMGM)
Seattle was finally able to pick up its first win of the season against the Vegas Vipers in Week 3. The Sea Dragons have one of the league's best quarterbacks in DiNucci who already has more than 800 passing yards on the season and threw for 377 yards and four touchdowns in his winning effort against Vegas. The Sea Dragons hung tough against the Defenders and the Battlehawks, losing by less than a touchdown in both.
San Antonio Brahmas (+1000 via DraftKings)
The Brahmas have had a rough schedule so far, drawing both the Battlehawks and the Roughnecks in two of their first three matchups. Their only win of the year has come against the struggling Guardians in Week 2. They have topped the 20-point threshold just once this season. However, their defense has kept them within one score at the final whistle in both of their losses. San Antonio's odds have nearly doubled since opening the season around +550 on most books and rightfully so given their inability to keep pace with the top teams.
XFL championship odds 2023: Long shots
Vegas Vipers (+2000 via BetMGM)
Caesars had the Vipers at +500 to take home a title before the season started. After three weeks, that number has tripled and even quadrupled in some cases. A permanent quarterback change from Luis Perez to Brett Hundley could not prevent Vegas from falling to 0-3 on the season. The team has gotten close though, losing only one game so far by more than four points. The Vipers have a tough matchup against the Defenders next week before a more favorable meeting with the Guardians in Week 5.
Orlando Guardians (+3000 via Caesars)
Very little has gone right for the Guardians to start the season. They have suffered two embarrassing losses by more than 18 points. They have had to cut their backup quarterback after he leaked their offensive playbook. On top of that, they've battled reports that head coach Terrell Buckley has lost the locker room. They've scored just 33 points through three games and have given up 73 to their opponents. In reality, the books are being generous giving us 30/1 odds for this team to turn it around enough to be the team holding the trophy at the end of the year.
Recent XFL Champions
2001 - Los Angeles Xtreme
2020 - No champion named (COVID-shortened season)
XFL Futures FAQs
Who won the XFL Championship last year?
The XFL attempted a rebirth in 2020 which lasted five weeks before having to shut down operations due to the global pandemic.
When will XFL 2023 be played?
The 2023 XFL season will kick off Saturday, Feb. 18 at 3 p.m. ET.
How to watch XFL 2023
The XFL will be broadcast all season on ABC, ESPN, ESPN2, and FX
XFL Championship odds from 2/15/2023 at 3:17 p.m. ET
(21+. Gambling Problem? Call 1-800-GAMBLER)
* Bonuses not applicable in Ontario.
Related pages