Best Bets Today: Top Picks, Predictions from Wednesday's Sports Slate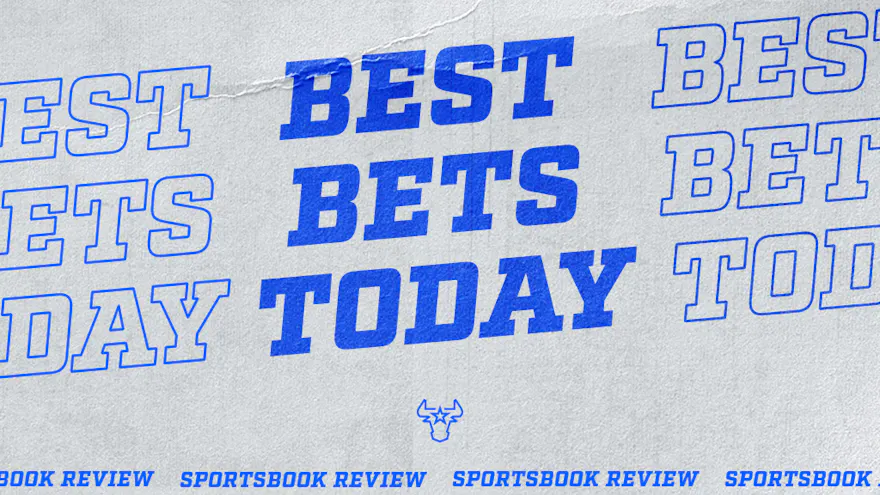 We've shopped the odds and lines at our best sportsbooks in search of today's best bets for Wednesday, March 22. Our top picks include offerings from college basketball, the NBA, NHL, this week's PGA Tour event, and the upcoming MLB season.
College basketball has dominated the sports landscape in recent weeks, and it will continue to do so on Wednesday. We'll also highlight this week's PGA Tour event, as well as Wednesday's NBA and NHL action.
Read on for today's best bets for Wednesday, March 22, based on the odds from our best sportsbooks.
Wednesday's best bets
College basketball: UAB-Vanderbilt Under 153.5 (-110 via FanDuel) ⭐⭐⭐⭐
NBA: Bam Adebayo Over 19.5 points + Julius Randle Over 3.5 assists (+251 via FanDuel)
NHL: Colorado Avalanche (-160 via BetMGM) vs. Pittsburgh Penguins
MLB: Esteury Ruiz to lead MLB in stolen bases (+800 via Caesars)
PGA: Tyler Duncan to win Corales Puntacana Championship (+4000 via DraftKings)
Wednesday's college basketball best bet
UAB-Vanderbilt Under 153.5 (-110 via FanDuel) ⭐⭐⭐⭐
UAB plays at a frenetic pace (31st in tempo, per KenPom) and averages just over 16 seconds per offensive possession (37th), which are big reasons it ranks in the top 10 in scoring nationally at 81.5 points per game. However, those numbers are a tad inflated, with the non-conference portion of the schedule supplying much of those gaudy numbers.
When the competition has gotten more challenging over the previous four games (two C-USA Tournament games and two NIT games), the Blazers have averaged just 74.3 points per game and have combined to shoot 24-for-89 (26.9%) from 3-point range.
Conversely, UAB's trapping zone pressure is difficult to prepare for on short turnarounds in tournament settings, and the SEC does not have many teams that mimic the Blazers' unique style. In addition, Vanderbilt's offense is heavily predicated on ball screens, which UAB will look to take away with harassing pressure.
The Over is 20-16 in Vanderbilt's 36 games this year, but the Under has cashed in 11 of 19 home games. Memorial Gymnasium has one of the most unique setups in the country, with benches underneath the baskets, making communication when teams are on the other end of the floor nearly impossible. That is a big reason this is a four-star play, along with the fact that the Under has cashed in each of Vanderbilt's last seven games against C-USA competition.
UAB-Vanderbilt odds and predictions made by Mike Spector.
Check out our best March Madness odds and Wooden Award odds.
Wednesday's NBA best bet
Bam Adebayo Over 19.5 points vs. Knicks (-106)
Adebayo just earned us a green checkmark on a straight bet on his points prop on Saturday, and I'm back for more. Adebayo was trading with a total of 18.5 points on Saturday, and though that number has moved to 19.5 for Wednesday, I'm here to tell you that it's still not enough of an adjustment.
As Adebayo is projected to score 21.4 points against the Knicks, the Over 19.5 points should trade at -135 instead of -106. There has already been an increase in juice at BetRivers to -120 on Adebayo's Over 19.5 points and I expect FanDuel to follow suit soon.
Julius Randle Over 3.5 assists vs. Heat (-120)
Randle had Mike Breen shouting "bang!" in the third quarter on Monday, after dropping 57 points with one assist.
There was a lot of attention paid to this stat line on Monday, and I believe that it's helping you extract some value from Randle's assist prop on Wednesday. There's absolutely no reason why this prop should be trading at Over 3.5 (-120).
Randle is projected to drop 4.4 dimes against the Heat, so we can price this prop at -170. This bet has a positive expected value of 17% based on this projection.
Parlay odds = +251
NBA SGP predictions made by Jon Metler.
Check out all of our NBA best bets, and our 2023 NBA Finals odds and 2023 NBA MVP odds.
Wednesday's NHL best bet
Avalanche ML vs. Penguins (-160 via BetMGM)
These are two teams headed in opposite directions. The Avalanche, even through all of their injuries, are gearing up for another Stanley Cup run, while the Penguins' playoff hopes continue to dwindle.
Goaltending has been one of Pittsburgh's main issues, and that could continue Wednesday. Tristan Jarry is likely to start in the first half of a back-to-back, and he's been poor as of late. He is 0-3 in his last four appearances, allowing 13 goals on 79 shots (.835 save percentage).
Colorado starter Alexander Georgiev has been great in his first season with the Avs. He boasts a 32-14-5 record with a 2.53 GAA and .920 SV%.
Home-ice advantage is extra important in the Mile High City. Colorado is 19-11-5 at home while Pittsburgh is a paltry 15-15-5 on the road.
Penguins-Avalanche odds and predictions made by Ryan Gilbert.
Wednesday's MLB best bet
Esteury Ruiz to lead MLB in steals (+800 via Caesars)
Esteury Ruiz has multiple factors working in his favor.
First, he plays for a bad Oakland Athletics team. It's not necessarily guaranteed that teams out of playoff contention let their players run more often, but three of the top four clubs in stolen bases last season won fewer than 75 games (Texas Rangers, Miami Marlins, and Chicago Cubs).
The other good thing about playing for a bad team - especially as a younger player - is that it'll be more inclined to see what it has in said player. Ruiz is projected to hit at the bottom of Oakland's lineup, but he could move up to the leadoff spot if he shows good plate discipline and base-running ability during the first couple of weeks of the season.
Ruiz struggled in a very small sample size last season, managing just a .191 OBP in 17 games. However, he posted a .428 OBP in 65 Triple-A games last year and a .447 clip across two minor-league levels.
The other stat to take note of is, of course, his eye-popping stolen-base total from 2022. Ruiz stole 85 bases in just 114 games, good for one steal every 1.3 games.
Stealing bases in bunches isn't new for Ruiz, either. He nabbed 36 in 84 games in 2021, 34 in 98 games in 2019, and 49 in 117 games as a 19-year-old in 2018. As he's gotten older, his on-base skills have improved, which puts him in more opportunities to punish the opposition.
Steamer projects Ruiz to finish 13th in steals, one behind Mondesi in a similarly limited number of games (only 100 to Mondesi's 97). However, Mondesi has nearly no chance of ascending to the top of the Boston Red Sox lineup, while Ruiz could find himself serving as Oakland's leadoff hitter as early as late April if things break right.
The Athletics have a potential log jam in the outfield, which could be the reason for the conservative estimate of 100 games. However, Steamer600 (which projects all players' stats over 142 games/600 plate appearances) projects Ruiz to finish third in steals, behind two players who are unlikely to play nearly enough to compete for the crown.
If Ruiz puts on a strong showing during spring training and earns a spot in the Opening Day lineup, these odds will likely plummet. I'm betting on talent and base-stealing prowess before it's too late.
MLB stolen base leader futures bets made by Andrew Brennan.
Check out all of our MLB best bets.
Wednesday's PGA Tour best bet
Tyler Duncan to win Corales Puntacana Championship (+4000 via DraftKings)
Getting this number on Duncan is an indictment of the quality of this field.
Duncan is 227th in the OWGR off of his missed cut at the Valspar Championship. However, that came just two weeks after a third-place finish in a weaker field at The Honda Classic. He also made the cut in the elevated WM Phoenix Open and Players Championship.
Duncan's lone professional victory came in the PGA Tour's RSM Classic in November 2019. That was in a playoff over former major winner Webb Simpson. That means something in this field of thin resumes.
Again, we're getting some value with these odds relative to what FanDuel is offering. The market-low price of +3100 for Duncan to win this event makes this +4000 ticket much easier to swallow, but I wouldn't go lower.
Corales Puntacana Championship odds and predictions made by Esten McLaren.
(21+. Gambling Problem? Call 1-800-GAMBLER)
* Bonuses not applicable in Ontario.
Related pages