Heisman Trophy Odds, Picks, Predictions 2022: Williams Favored Among 4 Finalists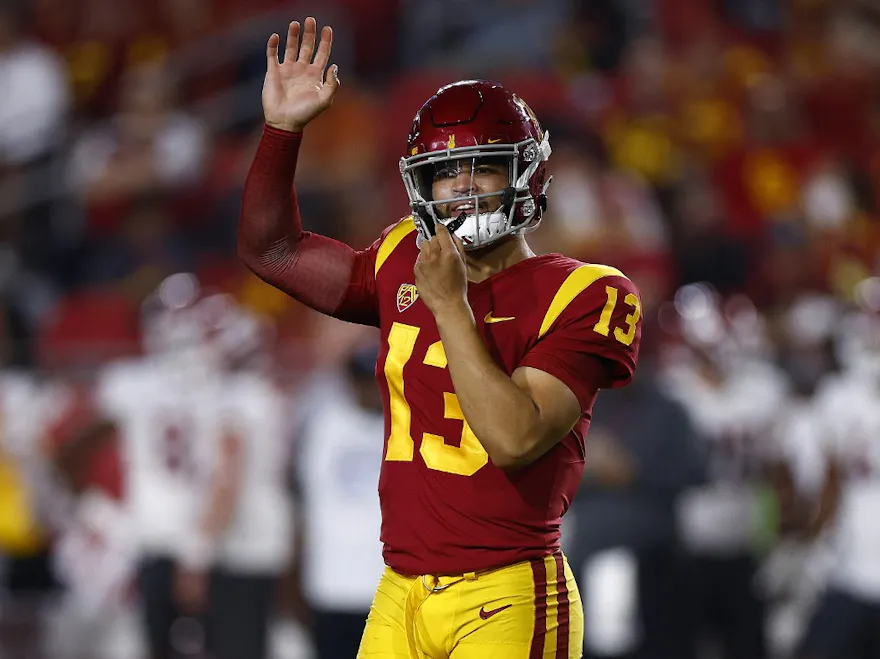 Caleb Williams is expected to win the Heisman Trophy, but is there a possibility of an upset following USC's loss to Utah? Let's examine the 2022 Heisman Trophy futures markets and try to determine which players offer the best value.
The Heisman Trophy finalists have been announced, and they include quarterbacks Caleb Williams, Max Duggan, C.J. Stroud, and Stetson Bennett. The finalists will gather Saturday night in New York City for the official announcement of the Heisman Trophy winner. Is there any value left in the Heisman Trophy betting markets with the winner being announced this week?
Let's identify the potential value picks among the 2022 Heisman Trophy futures odds.
Check out the top sportsbooks for futures betting and our 2023 National Championship odds and picks.
Heisman Trophy Odds
| | | |
| --- | --- | --- |
| Player | FanDuel | BetMGM |
| Caleb Williams | -2200 | -2500 |
| Max Duggan | +2000 | +2000 |
| Stetson Bennett | +3000 | +3000 |
| C.J. Stroud | +5000 | +5000 |
Heisman Trophy Best Bets
Maye, QB, North Carolina (+8000 via PointsBet), Oct 4
Hooker, QB, Tennessee (+500 via PointsBet), Oct. 18
Stroud, QB, Ohio State (+200 via FanDuel Sportsbook), Nov. 1
Harrison, WR, Ohio State (+20000 via DraftKings), Nov. 21
Duggan, QB, TCU (+2500 via BetMGM), Nov. 29
Heisman Trophy Picks: Favorites
Williams, QB, USC (-2200 via FanDuel)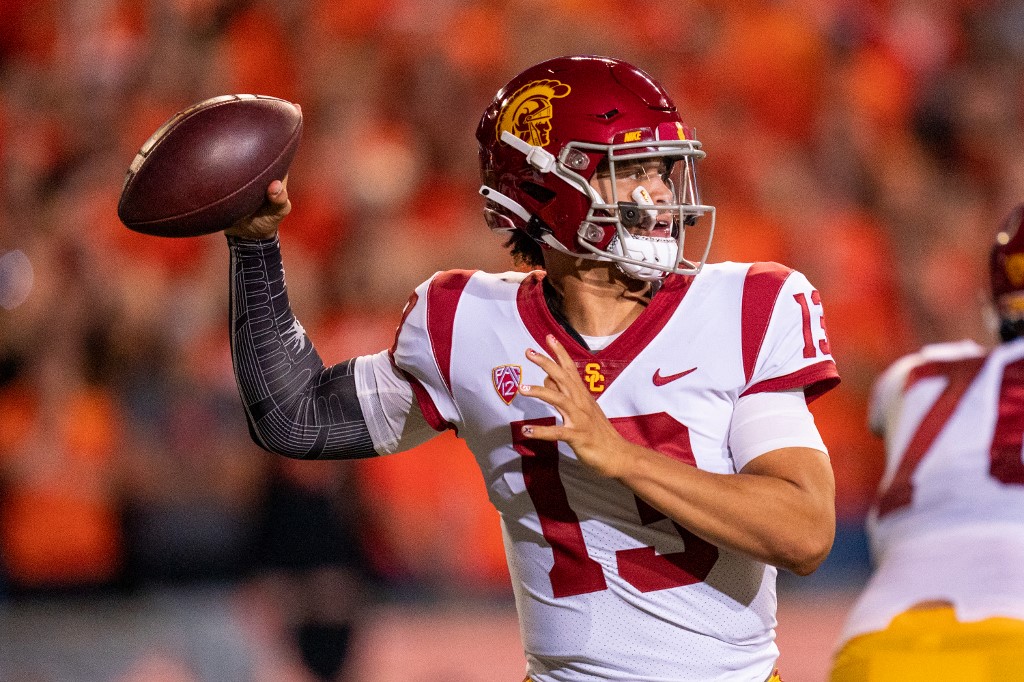 Williams and the USC Trojans lost the Pac-12 Championship to the Utah Utes, which briefly affected Williams' odds of winning the Heisman Trophy. Having traded at -2500 prior to the Pac-12 Championship, Williams fell to -500 before the conference championship games began on Saturday. Due to Duggan and TCU's loss in the Big 12 Championship, Williams' price was re-adjusted back to -2200.
At this point in the process, it's not advisable to bet on Williams at this price point. Williams will probably benefit from the fact that voters submitted their ballots early and didn't see him lose by such a significant margin to Utah in the Pac-12 Championship.
Heisman Trophy Picks: Contenders
Duggan, QB, TCU (+2000 via BetMGM)
There's only one player who can pass Williams for the Heisman Trophy, and it's Duggan. His stats aren't quite as impressive as some of the other contenders, but he's led TCU to a 12-1 record and a College Football Playoff appearance.
Based on the +2000 price point and the game Duggan had in the Big 12 Championship, I believe this is the best bet on the board. Duggan has a strong narrative in his corner, but the question is whether voters even watched TCU this season and didn't overlook the TCU quarterback. I believe Duggan is trading as the favorite this week if he and TCU won the Big 12 Championship.
If there has ever been a season where someone you didn't expect to win the Heisman Trophy won it, such as a quarterback from TCU, this would be the one. I've already bet on Duggan to win the Heisman at +2500, and I might bet some more at +2000 before Saturday's ceremony.
Bennett, QB, Georgia (+3000 via BetMGM)
If you voted for Bennett to win the Heisman Trophy, you should have your vote revoked. Bennett didn't even make the All-SEC Team and is not a finalist for the Davey O'Brien Award. The first team all-SEC quarterback was Hendon Hooker of the Tennessee Volunteers, and the second team all-SEC quarterback was Bryce Young of the Alabama Crimson Tide.
Since this is betting, there is always a price point that can sway my opinion, but even at +3000, I wouldn't bet on Bennett to win the Heisman Trophy. Considering the other three quarterbacks were also nominated for the Davey O'Brien Award this year, there's no way he lucked into winning the Heisman Trophy vote; I would imagine he finished fourth out of the four quarterbacks who are finalists.
Stroud, QB, Ohio State (+5000 via FanDuel)
Stroud represents a unique situation because traditionally, the winners of the Heisman Trophy have been the best player on a team that makes the College Football Playoff. There is a possibility that this is Stroud and people would be aware of Ohio State's College Football Playoff status depending on when they voted.
I doubt Stroud will be able to cash this ticket since he was blown away by Michigan at home and then sat idle during Conference Championship week. However, at +5000, Stroud may be worth a wager, especially considering that he plays for a brand name like Ohio State and was a finalist last season.
Previous Heisman Trophy Winners
| | | | |
| --- | --- | --- | --- |
| Year | Player | Team | Opening Odds |
| 2021 | Bryce Young | Alabama | +800 |
| 2020 | DeVonta Smith | Alabama | +10000 |
| 2019 | Joe Burrow | LSU | +20000 |
| 2018 | Kyler Murray | Oklahoma | +3000 |
| 2017 | Baker Mayfield | Oklahoma | +1000 |
| 2016 | Lamar Jackson | Louisville | +10000 |
| 2015 | Derrick Henry | Alabama | +2500 |
| 2014 | Marcus Mariota | Oregon | +500 |
Where To Bet on Heisman Trophy Odds
Check out our top-rated sportsbooks: