Heisman Trophy Odds, Picks, Predictions 2022: Stroud Extends Heisman Lead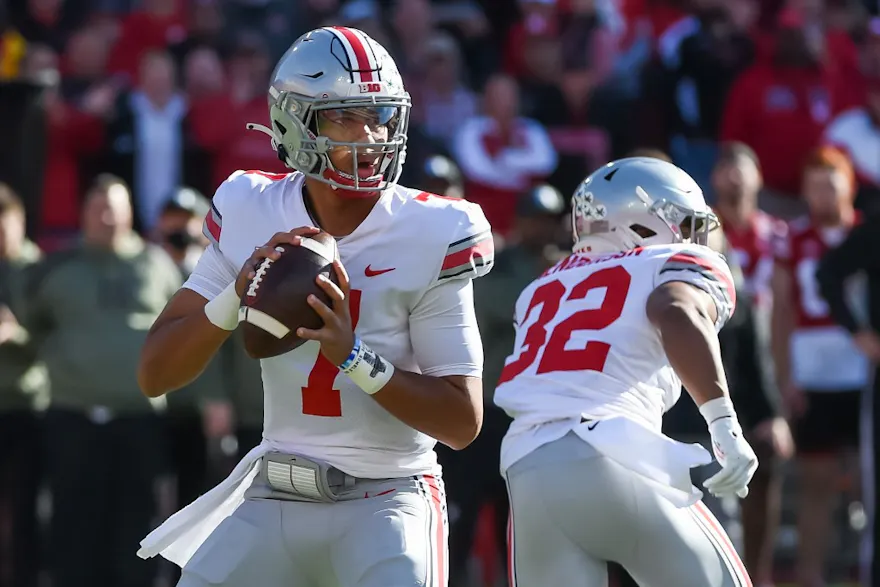 Ohio State quarterback CJ Stroud once again demonstrated in Week 4 why he is the favorite to win the 2022 Heisman Trophy. To determine which players represent value picks at their early odds, we examine the Heisman Trophy futures markets.
In leading Ohio State to a 52-21 victory over Wisconsin in Week 4, Stroud demonstrated why he is the favorite to win the Heisman Trophy. Against one of the better defensive teams in the Big Ten, Stroud threw for 281 yards and five touchdowns. After Stroud's performance against Wisconsin, the best price for him to win the Heisman is +160 via Caesars Sportsbook.
Our objective in this article is to identify potential value picks in the 2022 Heisman Trophy futures odds. Check out the top sportsbooks for futures betting here.
Heisman Trophy Odds
| | | | | |
| --- | --- | --- | --- | --- |
| Player | PointsBet | Caesars | DraftKings | FanDuel |
| Stroud | +125 | +160 | +140 | +125 |
| Young | +500 | +450 | +350 | +500 |
| Williams | +650 | +500 | +600 | +600 |
| Hooker | +1700 | +1600 | +1600 | +1600 |
| Bennett | +2200 | +1600 | +1800 | +2500 |
| Anderson | +6000 | +4000 | +3000 | +5000 |
| Gabriel | +4000 | +4000 | +3000 | +4000 |
| Daniels | +6000 | +4000 | +2500 | +3000 |
| Hartman | +4000 | +5000 | +3500 | +4000 |
| Corum | +4000 | +3000 | +3500 | +4000 |
Heisman Trophy Picks: Favorites
Stroud is someone I would like to include in my Heisman Trophy portfolio, but not at this price. If he were trading at +400, I would be inclined to purchase this before Week 5 began; however, at +160, I do not believe there is much risk in waiting for better odds.
With 14 touchdown passes through his last three games, Stroud is now tied for the NCAA lead with 16 TDs on the season. Stroud is dominating the counting stats as well as being efficient, as evidenced by his 90.0 player grade with Pro Football Focus.
Bryce Young winning the Heisman Trophy in back-to-back seasons does not interest me. In the history of the award, only one player has won it in back-to-back seasons, Archie Griffin in 1974 and 1975. There have been several instances where Heisman winners had better statistics the following year and were not considered for the award. I see Young as a complete fade at +500.
Williams, QB, USC (+650 via PointsBet)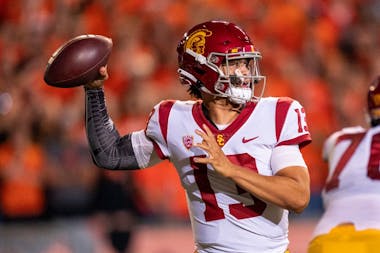 Despite USC escaping a trap game against Oregon State with a victory, Caleb Williams' Heisman campaign was adversely affected by his performance in Corvallis. Williams completed only 16 of 36 passes for 180 yards, which has caused his Heisman odds to increase.
Before Week 4, Williams was trading at +350 for the Heisman Trophy. Now Williams is trading at +600. Still, we are not seeing the same rushing output from Williams as we did last season at Oklahoma, which is concerning for a quarterback trading at such a low price in this market.
Check out the latest comprehensive and most trusted Sportsbook Reviews by SBR.
Heisman Trophy Picks: Contenders
Hooker, QB, Tennessee (+1700 via PointsBet)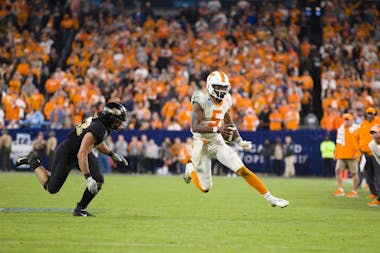 It tends to affect your Heisman odds when you go for 461 total yards and three touchdowns against a rival in the SEC. Before playing Florida, Hendon Hooker was available at +5000 to win the Heisman, and the best we are seeing now is a +1700 via PointsBet.
The success of Hooker's Heisman campaign is directly related to Tennessee's success as a team, and the Volunteers have one of the most challenging schedules remaining. Although he has the skillset necessary to be a part of the discussion, his price point of +1700 does not excite me enough to make me run to the window and make this bet.
Check out our College Football National Championship picks here.
Bennett, QB, Georgia (+2500 via FanDuel)
During Week 4, Stetson Bennett faced Kent State from the MAC, a game in which Heisman hopefuls are typically seen padding their stats. The opposite happened for Bennett, who threw zero touchdowns and one interception.
Bennett's price point is an overreaction to his performance against Oregon in Week 1. His odds have not really adjusted since then when they should be getting longer. Bennett is a complete fade for me at +2500, as he will lack the necessary counting statistics to win the Heisman Trophy.
Gabriel, QB, Oklahoma (+4000 via Caesars)
The odds for Dillon Gabriel to win the Heisman Trophy have been significantly adjusted in back-to-back weeks. Gabriel's odds were moved from +5000 to +1300 following Oklahoma's dominating victory over Nebraska in Week 3. It appeared that Gabriel would have a serious opportunity to win the Heisman Trophy, but Oklahoma lost at home to Kansas State 41-34 in Week 4, and we are now seeing Gabriel trade as high as +4000.
I find it interesting to see Gabriel's price point fluctuate so much based on wins and losses, as he was arguably more impressive at quarterback in the Kansas State loss than in the Nebraska victory.
Corum, RB, Michigan (+4000 via PointsBet)
Michigan faced Maryland in a tight game in Week 4 and head coach Jim Harbaugh relied heavily on running back Blake Corum. Corum carried the ball 30 times for 243 yards and two touchdowns. As a running back, Corum has the potential to combine team success, production, and volume into a Heisman Trophy campaign.
Having earned an overall player grade of 87.5 on Pro Football Focus, Corum is a player you should consider adding to your Heisman Trophy portfolio. Before investing in Corum for the Heisman Trophy, I would wait until after his matchup with Iowa in Week 5.
Hartman, QB, Wake Forest (+5000 via Caesars)
It's funny to see Gabriel's odds move from +1300 to +4000 following a loss to Kansas State, but then Sam Hartman's odds move from +15000 to +5000 following a loss to Clemson. The sportsbooks are trying to protect themselves because Hartman put on a show against Clemson, but the truth is he needed that win to be taken seriously in his bid for the Heisman Trophy.
Hartman's +5000 isn't a good price, and it should be much higher following the double-overtime loss to Clemson. Team success is crucial when it comes to winning the Heisman Trophy.
Daniels, QB, Kansas (+6000 via PointsBet)
It is quite an accomplishment to lead the Kansas Jayhawks to a 4-0 start and the statistics are equally impressive. The ability of Jalon Daniels to stuff the stat sheet in the passing and rushing categories attracts your attention, but I do not anticipate Daniels to be near the top of the odds board within a few months.
It is a great start for Kansas, but the Jayhawks are about to begin their Big 12 schedule in which they will lose multiple games. When Kansas' losses begin to mount, Daniels will trade at a price much higher than +6000.
Anderson, Edge, Alabama (+6600 via PointsBet)
Will Anderson Jr. will undoubtedly be one of the best edge rushers in college football history and be a top three pick in the 2023 NFL Draft, but I do not believe he will be able to mount a meaningful campaign for the Heisman Trophy. While Anderson's season last year was one for the record books, he managed to finish only fifth in the voting. To consider buying Anderson for the Heisman, I would need a price north of +15000.
Previous Heisman Trophy Winners
| | | | |
| --- | --- | --- | --- |
| Year | Player | Team | Opening Odds |
| 2021 | Bryce Young | Alabama | +800 |
| 2020 | DeVonta Smith | Alabama | +10000 |
| 2019 | Joe Burrow | LSU | +20000 |
| 2018 | Kyler Murray | Oklahoma | +3000 |
| 2017 | Baker Mayfield | Oklahoma | +1000 |
| 2016 | Lamar Jackson | Louisville | +10000 |
| 2015 | Derrick Henry | Alabama | +2500 |
| 2014 | Marcus Mariota | Oregon | +500 |
Where To Bet on Heisman Trophy Odds
SEE ALSO: All picks, odds, and sports betting news. Be sure to check out SportsbookReview.com's community forums and betting tools.