New Jersey First to Reach Unfathomable $1 Billion Monthly Handle Mark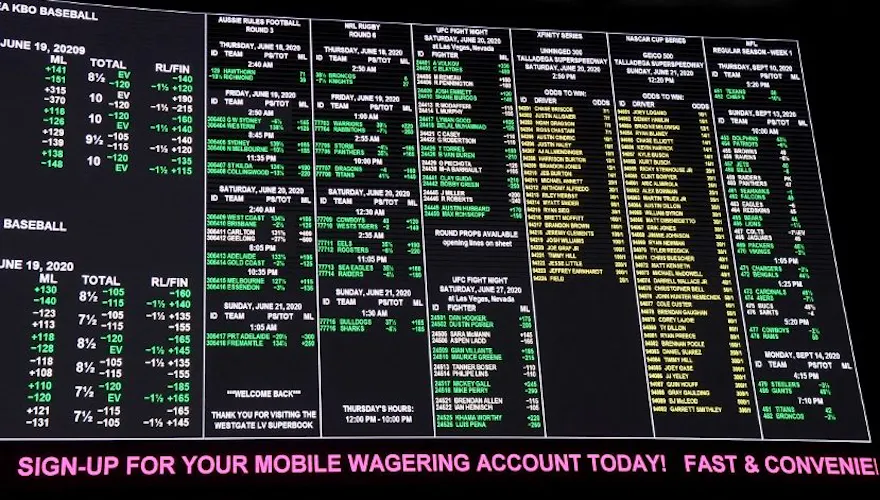 Legal sports betting in New Jersey continues to soar with the state reporting a record $1 billion in revenue for September.
The U.S. legal sports betting industry is officially on fire! Already, Indiana, Illinois and Michigan have reported record monthly handles for their respective industries. Their news seems to pale in comparison to Monday, Oct. 18's report that one of America's top jurisdictions surpassed a magical $1 billion handle mark for one month.
The state of New Jersey, otherwise known as the "King of the Bet-Friendly States" is out with its September figures. Not only are they a record for the state, but also a high-water mark for other jurisdictions to shoot for in order to be in the Garden State's class. Jersey's assault on a $1 billion monthly handle was expected sometime in 2021 - not sure if many expected it in September when just over three weeks of NFL football were on the slate.
Deep dive into New Jersey numbers
New Jersey sportsbooks took in an almost unfathomable $1.011 billion in September and made the Garden State the first to reach the impressive milestone. It is a 52.1 percent increase from August's handle of $664.7 million and a year-over-year spike of 35.1 percent from September 2020's $748.6 million.
The previous national and state record for sports betting handle came from New Jersey in December 2020 when $996.3 million was taken in.
Revenues for the New Jersey legal sports betting scene also experienced an impressive month-to-month increase. New Jersey sportsbooks made $82.4 million in September, which represents a 58.5 percent spike from $52 million in August profits. It's also an 82.9 percent jump from the $45.1 million in September 2020.
Revenues fell just short of the $82.6 million reported in January 2021.
A whopping $10.2 million in tax contributions were made by New Jersey sportsbooks to state and local coffers in September.
New Jersey's September handle drivers
New Jersey has boasted one of the most impressive mobile sports betting markets in the country since its launch. September was no different. Over $918 million of the overall $1.011 billion, or 90.8 percent, was taken in by the state's mobile apps.
The $918.4 million fell just short of the mobile handle record for not only New Jersey, but also the national sports betting scene. That record came in December, when $929.3 million was reported.
Not surprisingly, it was football that was the most bet on sport in September ... by far. New Jersey sportsbooks reported $400.8 million in football bets - $42.8 million in revenue! Parlays accounted for $216.1 million, baseball was responsible for $185.2 million in bets, and "other" sports came fourth with $175.9 million in wagers.
New Jersey going forward
New Jersey's status as the most successful legal sports betting jurisdiction in the U.S. is far from being in danger. Its September handle will likely come in about $300-$400 million more than any other state. The next highest state record is Nevada's $659.9 million in October 2020, nearly $350 million behind what New Jersey just accomplished
For the first nine months of 2021, the Garden State has eclipsed the $7 billion mark in bets taken in. The state now owns the 13 highest monthly handles ever recorded in the U.S. legal sports betting industry.
The arrow keeps pointing way up on the New Jersey legal sports betting scene. September was unbelievable; October brings the NBA and NHL onto betting menus and November, December, and January have traditionally been the strongest betting months for New Jersey sportsbooks.
Expect more records to fall for New Jersey's sports betting scene and for the Garden State to continue setting the exceptionally high bar going forward.