NHL Projected Point Totals & Over/Under Points Odds 2023-24: High Hopes in Florida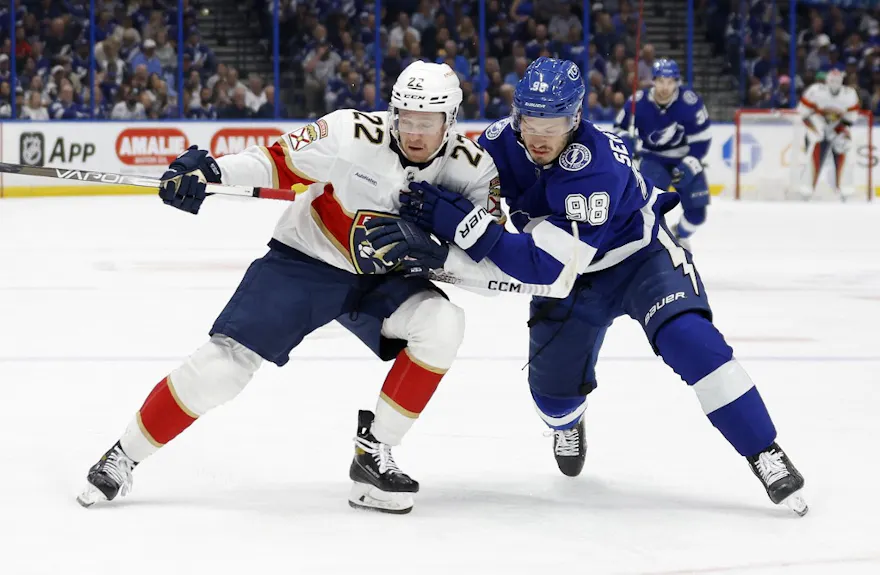 NHL training camps and preseason games are in full swing, so Sportsbooks Review betting analyst Neil Parker has evaluated the 2023-24 NHL point total odds from our best sports betting apps to share his thoughts on the market.

2023-24 NHL point total odds
Following a quick peek at the NHL point total odds available across our best NHL betting sites, there were a couple immediate takeaways.
Per usual, prospective bettors can benefit from shopping for outlier high and low point totals. There are a number of teams with a notable disparity in their point totals, and shopping for the best numbers available remains the easiest way to improve as a bettor.
Additionally, most of the teams that finished at the top of the standings last year sport lower point totals than what they finished with in 2022-23. Similarly, improvement is expected across the board for last year's basement dwellers.
Here's our look at the 2023-24 NHL point total odds across the league from our best sports betting sites.
Atlantic Division point total odds
Atlantic Division point total odds analysis
Oddsmakers are projecting a steep decline for the Boston Bruins in 2023-24, after the club posted 135 points in a historic regular season last year. The Florida Panthers, Ottawa Senators and Detroit Red Wings are all pegged to improve, while the Toronto Maple Leafs are trading short of their 111 point-showing last year.
Additionally, it's also worth highlighting the disparity in totals for the Tampa Bay Lightning across our best sportsbooks. FanDuel has the Bolts at 100.5, and DraftKings and bet365 both have the total at 96.5.
Metropolitan Division point total odds
Metropolitan Division point total odds analysis
Three teams from the Metropolitan Division hit triple-digit points in 2022-23, and the Carolina Hurricanes, New Jersey Devils, and New York Rangers all have totals above 100 for this season, too. Just note, all three teams have lower point totals than what they finished with last year.
While the Columbus Blue Jackets have the lowest point total in the division, they are still forecasted to fare much better than last year's 59 points. The Pittsburgh Penguins and Washington Capitals are also projected to be better in 2023-24.
Finally, there are also a number of sizable gaps in the high and low totals available for the Hurricanes, Devils, Rangers, and Islanders.
Central Division point total odds
Central Division point total odds analysis
Both the St. Louis Blues and Arizona Coyotes have seen slight movement to their respective point totals. The Blues have dipped at multiple shops, while the Coyotes have climbed. As a result, there are gaps in the available numbers across our best live betting sites.
The Central Division point total odds also have the Chicago Blackhawks winning far more games than a year ago when they finished with just 59 points. It's led to each of the other seven teams in the Central having a lower point total than their final result last year.
Pacific Division point total odds
Pacific Division point total odds analysis
The Pacific Division was competitive at the top last year, while also featuring two of the worst four teams in the league. The Vegas Golden Knights, Edmonton Oilers, Los Angeles Kings, and Seattle Kraken all finished with at least 100 points.
Seattle is the interesting team because the available point totals for the Kraken are both much lower than last year's 100 points, and there is also a wide range in the number itself from sportsbook to sportsbook.
Additionally, the Anaheim Ducks and San Jose Sharks are pegged to show improvement, while it's expected to be more of the same from the Calgary Flames and Vancouver Canucks in 2023-24.
How to bet NHL season Over/Under point totals
Sports betting sites create a number for a projected win total for each team with specific odds for both the Over and the Under.
Bookmakers set the total based on each team's individual roster, offseason transactions, and past results. The strength of their particular division is also factored in. It's also important to note there's a vig attached to each team total, which can change based on the betting action and other factors.
NHL team win totals are futures bets. They can be placed up to the beginning of the regular season and are graded at the conclusion of the regular season. Sometimes sportsbooks will make team win totals available during the season, too.
Not intended for use in MA
Affiliate Disclosure: Sportsbook Review may receive advertising commissions for visits to a sportsbook
Kentucky bettors: Sports betting is here!
Kentucky sports betting launched on Sept. 28 - so sign up with the best Kentucky sportsbook promos now! And check out our list of the best Kentucky sports betting apps!
21+ and present in KY. Gambling Problem? Call 1-800-GAMBLER
NHL betting odds pages
(21+. Gambling Problem? Call 1-800-GAMBLER)
* Bonuses not applicable in Ontario.
Related pages