Monday Night Football Prop Picks, Predictions Week 12: Two Seasons in the Balance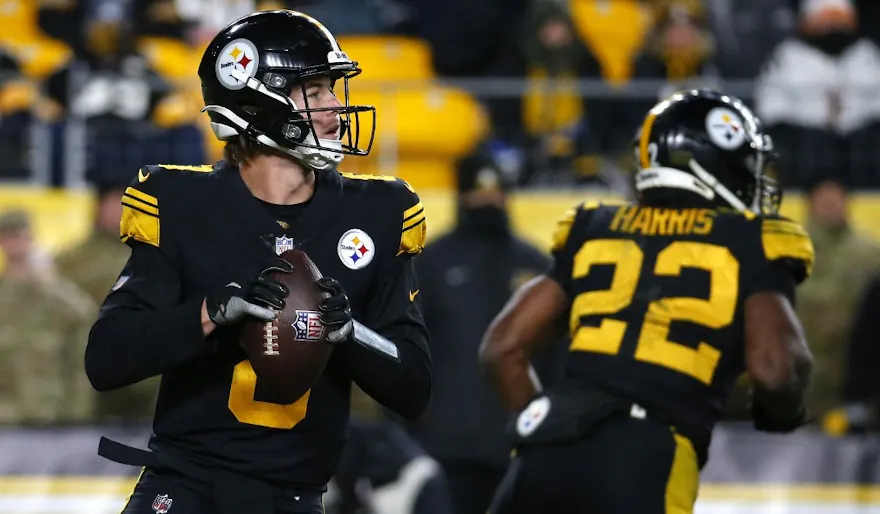 Week 12 in the NFL wraps up with a matchup between the Pittsburgh Steelers and the Indianapolis Colts. Find out our favorite betting opportunities with these Monday Night Football prop picks for Week 12.
Monday night puts a bow on a weekend of football and thanksgiving. Two teams fighting to find an identity close out Week 12 as the Pittsburgh Steelers travel to Lucas Oil Stadium to take on the Indianapolis Colts.
Pittsburgh head coach Mike Tomlin is attempting to stave off his first losing season at the helm. Indianapolis head coach Jeff Saturday is making his third appearance in that role and hopes to turn around the struggling Colts franchise.
Here are our top Monday Night Football prop picks for Week 12 (odds via DraftKings Sportsbook, FanDuel Sportsbook, and Caesars Sportsbook).
Check out our Steelers-Colts picks and our same-game parlay!
Steelers vs. Colts Odds
Monday Night Football Prop Picks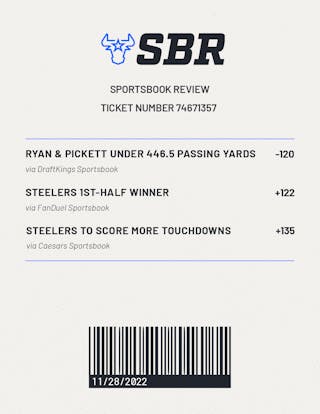 Check out our top sites for Maryland sports betting.
Monday Night Football Prop Predictions
Ryan+Pickett Under 446.5 total passing yards (-120)
Matt Ryan has made nine appearances out of Indianapolis' 11 games this season. He's averaged 271.4 passing yards in those outings. However, that number has dropped to 226 over his last three starts.
The veteran signal caller has faced the Steelers three times in his career and averages 282.3 yards through the air against them. Pittsburgh is allowing 272.1 passing yards per game to opposing quarterbacks this season.
The Steelers' rookie quarterback Kenny Pickett has made six starts this season but has appeared in seven games. Pickett is off to a slow start to his career, throwing for an average of 203.7 yards per game this season. Only half of his games have eclipsed even 200 yards of total passing. This week, he faces an Indianapolis defense that has allowed an average of 179.3 passing yards over their last three games.
Steelers 1st-half winner (+122)
Both of these teams are slow starters. However, Pittsburgh holds a five-point edge over the Colts in terms of first-half scoring. The Steelers head into Monday night averaging 10.3 points before halftime per game. They have gone into the locker room at the half with the lead four times this year. Pittsburgh has had trouble stopping teams early, surrendering 14.3 points before halftime to their opposition.
Luckily for the Steelers, they are facing a Colts team that averages just 5.9 points in the first 30 minutes of their games. Indianapolis has trailed at the half in all but two games this season. The Colts defense is giving up 11.4 points per game in the first half.
Steelers to score more touchdowns (+135)
Pittsburgh and Indianapolis both have 16 total touchdowns this season, tied for the second fewest in the league. The Steelers have crossed the goal line at least twice in six of their contests this year including three six-point plays last week against the Cincinnati Bengals. The Steelers have outpaced the Colts' touchdown count in two out of the last three weeks.
Indianapolis has had four games this year in which they scored one touchdown or less. Seven of their TDs - almost half - have occurred in two games. The Colts are allowing 2.2 touchdowns a game on defense, but are also only scoring 1.5 touchdowns per contest themselves.
Where to bet on Steelers vs. Colts Prop Picks
Steelers-Colts prop picks made 11/27/2022 at 8:01 p.m. ET.