How to Bet on March Madness: NCAA Tournament Betting Strategy 2023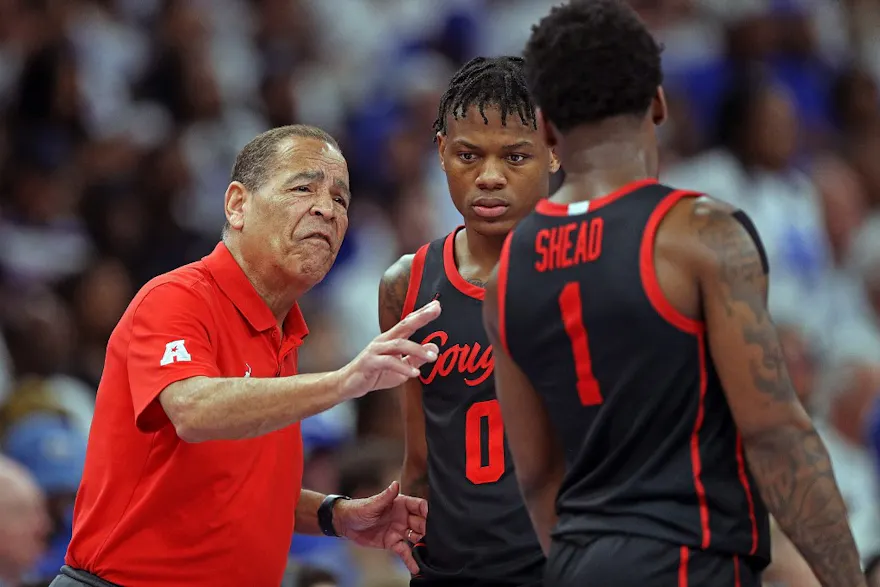 Whether you're looking to bet on March Madness for the first time or increase your profits from last year, our March Madness betting guide has you covered with the various trends and betting strategies for how to bet on March Madness.
There is no event in sports quite like the NCAA tournament. Sixty-eight teams vie for a coveted national championship, with even the smallest of Division I conferences sending at least one representative.
Most of our best March Madness betting sites have just three teams – Houston, Alabama and Kansas – with March Madness odds shorter than +1000 to win the national championship. Betting on the eventual champion and the March Madness Final Four odds are just two ways bettors can make huge profits during the tournament.
Here is our March Madness betting guide for the 2023 tournament to help you nail all of your March Madness picks.
How does March Madness betting work?
With 67 games played throughout the NCAA tournament, numerous opportunities exist to wager on traditional point spreads, moneylines, and totals. However, part of the allure of March Madness is identifying the Cinderella team that will make a deep tournament run, which bettors can do in various ways with various college basketball futures bets.
Many sportsbooks will have their NCAA tournament odds broken down by regional props, as the 68 teams are divided among East, West, Midwest, and South Regionals. Every team will have odds to win their region and advance to the Final Four, and other enticing wagers await, like who will be the first No. 1 seed to lose and how many No. 1 seeds will make the Final Four.
And if you have a conference affiliation, there are even wagers for which conference the eventual champion will come from.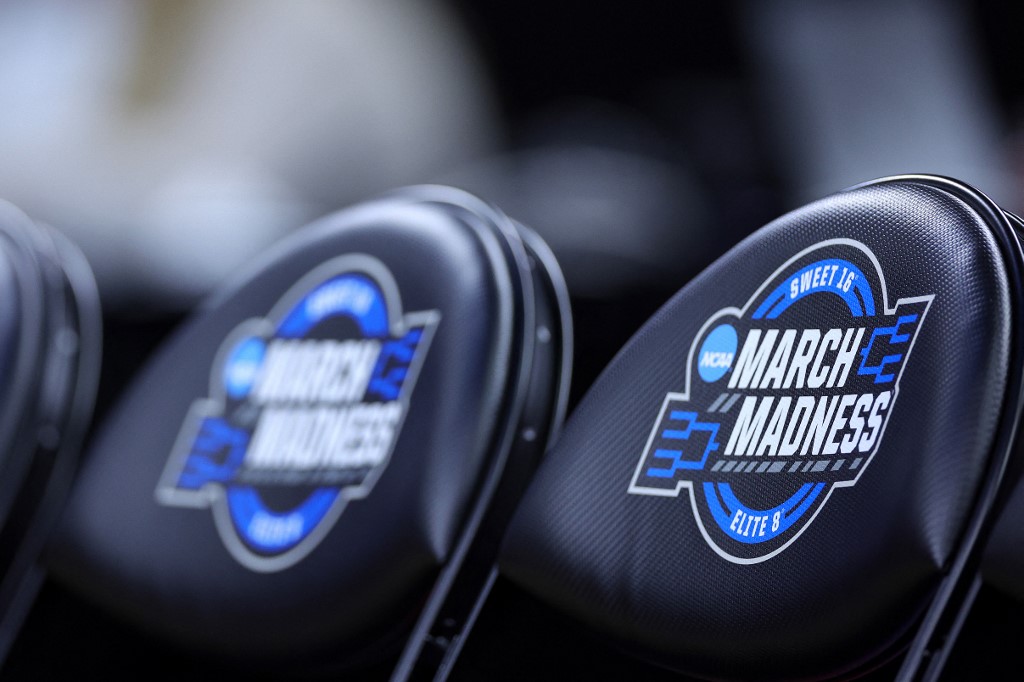 March Madness betting odds explained
Point spread
Spread betting is wagering on a certain amount of points regarding the margin of victory. For example, in last year's national championship game, Kansas was a 4-point favorite over North Carolina. When the Jayhawks won 72-69, anyone who backed the Tar Heels at +4 won their bets since the final score, including the point spread, implied North Carolina won by one.
The game came close to a "push" (a tie when the point spread is factored in), which is why point spreads often involve half-points, so that pushes do not occur.
Editor's note: Hey Massachusetts! Welcome to legal online sports betting. Check out the best sites for Massachusetts sports betting and the best Massachusetts sportsbook promos! 21+ and present in MA. Gambling Problem? Call 1-800-GAMBLER
Over/Under
Instead of rooting for a particular side, Over/Under bets offer bettors the opportunity to bet on the amount of points that will be scored in a game. More specifically, it is a wager on whether the actual total will be over or under the line offered by the sportsbook.
The North Carolina vs. Kansas national championship matchup had a total of 151, and bettors who wagered on this were choosing whether they thought the final score would be more (over) or less (under) than the posted total. Under backers cashed their tickets when the game ended with 141 total points.
Moneyline
Moneyline wagers ask bettors to decide which team will win the game outright. Take the example of North Carolina and Kansas, with Kansas as the -200 moneyline favorite and North Carolina having +165 moneyline odds. The negative sign before the college basketball odds lets bettors know that team is the favorite, and you would have to bet $200 to win $100. Of course, you'll always have to pay more for the favorite, but they're usually favored for a reason.
In this same scenario, bettors would risk $100 to win $165 betting on the underdog Tar Heels to win outright. These monetary values are just the scales used to determine payouts, but any dollar amount can be wagered.
March Madness bet types
Futures
Unlike point spread, Over/Under, and moneyline bets, which are paid out after every game, futures bets operate under a longer timeframe, such as who will win each region or what team will win the national championship. As such, these odds are usually more enticing to bettors and are typically updated after each round of March Madness.
Props
Prop wagers offer bettors different ways to bet on games, whether it be game props (ex. winning margin for a team), team props (ex. team totals), or player props like how many points or rebounds will a specific player accrue.
Visit our best March Madness betting sites to test your skills in their free March Madness bracket challenges.
First to 15
"First to 15" bets are wagers on which team will reach the 15-point plateau before the other. These wagers offer bettors a suspense-filled first few minutes of the game, with the winners typically paid out well before halftime.
Tournament MVP
You may have heard of the Tournament MVP prop called the Final Four Most Outstanding Player. These wagers tend to pay out very handsomely, as it is hard enough to determine which team(s) will be most successful, let alone which players on those teams will play the best.
Derivatives
Derivative wagers break down a full game into segments, most commonly first-half and second-half bets. Thus, one can wager on a team to cover, an Over/Under, or back either team on the moneyline in each half of the game at differing odds.
March Madness 2023 betting strategy
One thing that makes March Madness one of the most popular sporting events of the calendar year is the frequency of Cinderella stories, so be sure to make some March Madness upset predictions when charting your way to the Sweet Sixteen, Elite Eight, and Final Four. For example, in last year's tournament, Saint Peter's (a small private school with just over 2,000 undergraduate students) upset one of the sport's biggest blue bloods (Kentucky), and its Elite Eight run captivated the nation.
Similarly, Sister Jean is still a household name after Loyola Chicago's Final Four run in 2018. Thus, many bettors believe the No. 1 seeds are ranked that high because they proved their dominance over an entire season. But it is also important to remember that all four No. 1 seeds have made the Final Four just once in NCAA tournament history (2008), and three No. 1 seeds have made it five times.
Stats to know for March Madness
When using statistics to help analyze teams' chances of success, one typically telling metric is KenPom's adjusted defensive efficiency. In the last 10 iterations of March Madness, just three Final Four teams ranked outside of the top 40 in adjusted defensive efficiency. Conversely, 17 of the 40 Final Four participants ranked in the top 10 in adjusted defensive efficiency, and nine were in the top three.
When picking an eventual national champion, those teams typically have a solid balance in KenPom's adjusted offensive and defensive efficiency metrics. Since 2010, 11 of the 12 eventual winners ranked in the top 22 at the season's end in both categories. And on five occasions, the eventual champion was rated in the top seven in both categories. At the time of this writing, only Houston ranks in the top seven in both for the 2022-23 season, while UConn, Texas, and Alabama join the Cougars in ranking in the top 20 in each category.
When filling out your printable March Madness bracket (learn how to fill out a March Madness bracket here) or making your wagers, pay attention to the location of games, as all games are played in neutral sites around the country. However, certain teams will have built-in advantages if they wind up in a region near where they play their home games.
And if we have one eye on the future, the Final Four is in Houston, which would give the Cougars a clear edge if they make it that far.
However, since all NCAA tournament games are played at neutral sites, bettors should give more credence to a team's road and neutral site record from the regular season, as their built-in home-court advantages will not help them in a tournament setting.
March Madness FAQs
Who won March Madness last year?
The Kansas Jayhawks defeated the North Carolina Tar Heels 72-69 to win the 2022 NCAA Tournament.
When does March Madness 2023 start?
Selection Sunday is set to occur on Sunday, March 12, 2023, four days before the tournament kicks off on March 16. The first round will be played on March 16 and 17.
When will March Madness be decided?
The 2023 Final Four will be held on Saturday, April 1, 2023. The National Championship Game takes place the following Monday on April 3, 2023.
Where will March Madness be played?
The 2023 Final Four and National Championship Game will be held in Houston, TX, at NRG Stadium.
(21+. Gambling Problem? Call 1-800-GAMBLER)
* Bonuses not applicable in Ontario.
Related pages