Best Bets Today: Top Picks, Predictions from Monday's Sports Slate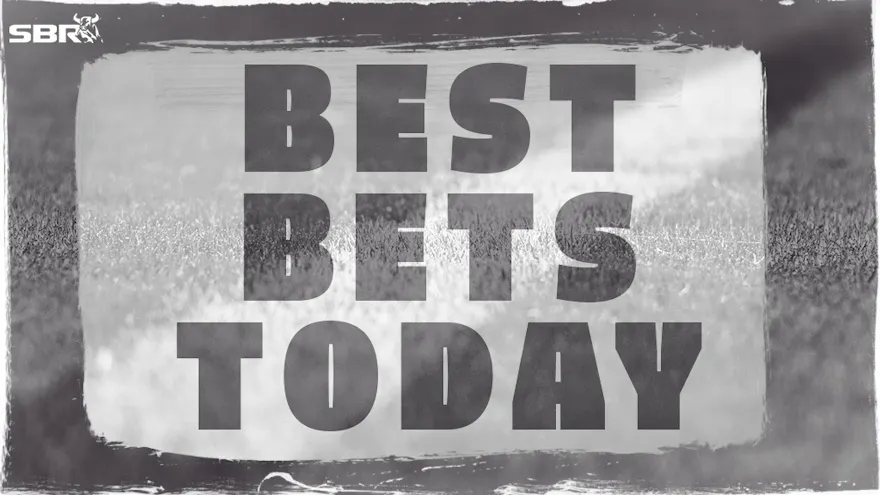 Check out our sports betting experts' top picks for today's slate based on the odds from our top-rated sportsbooks. Top picks from college basketball, the NBA, NHL, and NFL.
Week 13 in the NFL concludes with a divisional clash between the New Orleans Saints and Tampa Bay Buccaneers. There's also plenty of hoops action both around the NBA and in the college ranks, and some intriguing NHL matchups.
Read on for our best bets for Monday, Dec. 5 based on the odds from our top-rated sportsbooks.
Today's Best Bets
NFL: Saints +3.5 (-107 via PointsBet) vs. Buccaneers★★
NBA: Suns +3.5 (-105 via DraftKings) vs. Mavericks ★★★★
NHL: Canadiens (+176 via FanDuel) vs. Canucks ★★★★
College Basketball: Charleston Southern (+160) vs. Kennesaw State ★★★
Monday's NFL Best Bet
Saints +3.5 (-107) ★★
New Orleans has made Brady's life miserable since he joined the Buccaneers. Despite coming out with a 20-10 win in Week 2, the Tampa Bay offense scored only 13 points (seven came on a pick-6), and Brady's 27.0 QBR was his worst in a game this season. In fact, four of his five lowest QBR outputs since joining Tampa Bay have come against the Saints.
One can argue whether Andy Dalton gives the Saints a better chance to win than Jameis Winston does, but the latter did nothing to help the team in the first matchup. He was responsible for three of the team's five turnovers, and his 9.9 QBR left something to be desired.
New Orleans is 0-5 against the spread on the road this season, but that poor trend is negated by the fact that Brady is 2-14 ATS in his previous 16 prime-time games, including covering just twice in his 13 opportunities (including playoffs) as Tampa Bay's quarterback.
Not even fourth-quarter leads are safe for Tampa Bay anymore, as the Buccaneers are coming off their third loss (29-3) when leading in the final 15 minutes since Brady joined the team. It was also a Brady-led team's first loss (had been 218-0) when holding a touchdown-or-more lead in the final two minutes of regulation.
We are jumping at anything more than a field goal with the underdogs.
Saints-Buccaneers picks made by Mike Spector
Check out our Monday Night Football prop picks, same-game parlay picks, and Tom Brady prop picks.
Monday's NBA Best Bet
Suns +3.5 (-105)★★★★
Dallas is just 6-15-1 against the spread in all games this season, but 0-10 ATS after a win. The team's defense has been absolutely atrocious with the exception of Saturday's win over the Knicks, which saw the Mavs post a 99 defensive rating in what was their second-best showing of the season.
That was against an offense ranked 15th in the NBA and one which has looked significantly worse than that of late. Now, the Mavericks have to try and find a way to stop the second-most efficient offense in the NBA.
One thing I will continue to preach here with the Mavericks is their atrocious frontcourt play. Luka Doncic has single handedly carried them to several wins this season, but this team is missing a backbone outside of him. Phoenix ranks sixth on the glass this year and Dallas is all the way down in 29th. The Mavs are allowing a poor 60.8% shooting on contested looks inside of 10 feet, while also being third-worst in field goal percentage inside of 10 feet on the other end.
Suns-Mavericks picks made by Kenny Ducey
Check out our NBA Best Bets for Monday.
Monday's NHL Best Bet
Canadiens (+176)
The Canadiens have been mostly mediocre this season, and that is a notable step up for the team that had the worst record in the league last season. Montreal is 6-5-1 on the road this season. The underlying numbers are not so kind, as the Habs are pulling just 45.3% of five-on-five score-and-venue-adjusted expected goals.
That possession deficit might not be the end of the world for Montreal, though. The Vancouver Canucks have been even worse, controlling 45.0% of five-on-five score-and-venue-adjusted expected goals. They are also just 4-6-1 on home ice. With Thatcher Demko injured, the Canucks will have Spencer Martin in net.
Two mediocre teams with no glaring goaltending advantage makes Montreal quite appealing as a sizeable underdog. The Habs are priced at +176 at FanDuel, better than +165 at DraftKings and +170 at other top sportsbooks.
Monday's NHL best bets made by Scott Cullen.
Check out our Avalanche-Flyers picks.
Monday's College Basketball Best Bet
Charleston Southern (+160)
Charleston Southern has lost five of six games, but we can't pass up this value at BetRivers, as the next-closest competitor has the Buccaneers at +146 Moneyline odds.
Kennesaw State does not do much of anything well except hit 3-pointers at a high clip (39.3% ranks 23rd), but it doesn't often use that skill as a strength, as it ranks 247th in the percentage of field-goal attempts coming from behind the arc.
Charleston Southern turns the ball over and grabs offensive rebounds at top-60 rates. In addition, its 5-point road loss at Virginia Tech looks better and better, given that the Hokies have beaten Minnesota and North Carolina by 18 combined points since then.
Monday's college basketball best bets by Mike Spector
Check out our college basketball picks and predictions.
Where to Bet on Today's Best Bets
Check out our top-rated sportsbooks: