College Football Player Props Week 3: Predictions, Picks for Saturday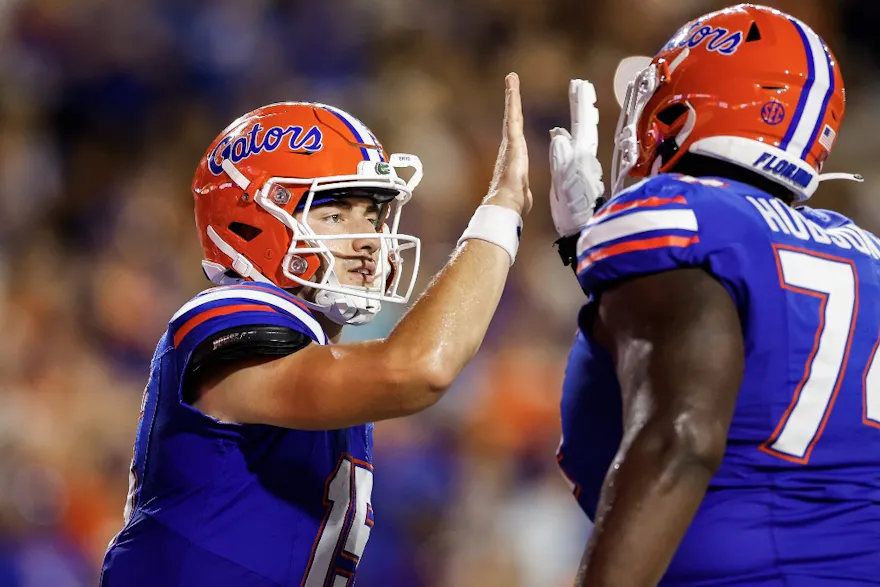 It's Week 3 of the college football season, and we're sharing our top player props based on the best college football odds across our best college football betting sites.
We pushed some money around in Week 2 but ultimately ended up exiting with a profit thanks to starting with a +240 payout on an anytime touchdown bet for Kansas running back Daniel Hishaw Jr.
Unfortunately, Texas running back CJ Baxter couldn't keep the good times rolling with a similar +240 payout during the Longhorns' upset victory over Alabama.
This player props column has returned 2.39 total units entering Week 3. We continue to finetune the process and have some additional action throughout the 2023 college football season.
For even more college football coverage, we're hitting you with our college football best bets, the most lucrative college football upset picks, and our favorite college football parlay predictions!
And for those looking for all of our favorite college football picks in one place, we've got you covered with our college football Week 3 predictions.
To accompany your college football Week 3 predictions, here are our best college football player props for Week 3 (odds via our best college football betting sites; pick confidence based on a 1-to-5-star scale).
College football player props for Week 3
Not intended for use in MA
Affiliate Disclosure: Sportsbook Review may receive advertising commissions for visits to a sportsbook
College football player props for Saturday Week 3
Graham Mertz Over 205.5 passing yards (-115 via BetMGM) ⭐⭐⭐
Who is ready for a fun ride during this Florida-Tennessee primetime matchup?
Betting on quarterback Graham Mertz, a transfer from Wisconsin, is certainly an experience. That said, he's actually been better than expected in his first season as the starting quarterback for the Gators. Mertz has thrown for 526 yards through two games, which includes a 333-yard outing in a 24-11 loss to Utah in Week 1.
Tennessee isn't often favored by nearly a touchdown at Florida, but if oddsmakers are right, then perhaps we get some negative game script for Mertz and Co. Even if we don't, the Vols lead the country in plays per minute and their fast-paced tempo should lead to more opportunities for the Gators.
In a game we project Mertz to clear 225 yards, there is value in taking this current offering at BetMGM when a shop like FanDuel has set the line at 212.5. Let's enjoy this ride together, shall we?
Philip Wood believes the Gators can keep it close in his favorite Tennessee vs. Florida prediction, so perhaps we can all cash our tickets in the biggest game of the Week 3 slate.
Graham Mertz prop made on 9/16/2023 at 4:40 p.m. ET
Jordan Travis Over 208.5 passing yards (-114 via FanDuel) ⭐⭐⭐⭐ ✔️
Yes, this is a look-ahead spot for the Seminoles, who have a trip to Clemson on deck. Yes, Florida State should make quick work of Boston College as a 25-point favorite early on Saturday. Yes, quarterback Jordan Travis only threw for 175 yards in last week's 66-13 thumping of Southern Miss.
But we don't care.
This number is too low for a Heisman candidate, particularly one with a talented group of receivers who are plenty capable of producing yards after the catch. Keon Coleman and Johnny Wilson demonstrated that in a Week 1 win over LSU, when Travis finished with 342 passing yards and four scores.
With a projection closer to 250 passing yards and most of our other best sports betting apps setting this line around 220, we recommend taking advantage of this price at FanDuel before it's too late. This Over is good up to 224 passing yards before we'd prefer to look elsewhere.
Travis and Co. should make quick work of Boston College before getting ready for a much-anticipated showdown with Clemson next week.
Jordan Travis prop made on 9/15/2023 at 6:15 p.m. ET
Jadon Jackson Under 36.5 receiving yards (-115 via BetMGM) ⭐⭐⭐ ✖️
Kansas State receiver Jadon Jackson has started the season strong, recording six catches for 115 yards and two touchdowns. He has cleared this mark in both games during K-State's wins over SEMO and Troy.
However, Jackson has simply been incredibly efficient in his limited work. According to PFF, Jackson is fourth on the team in targets behind receivers Phillip Brooks and RJ Garcia II, as well as tight end Ben Sinnott. He's also played only 35 passing snaps through two weeks, including 21 last week.
This number is a bit inflated for a No. 3 receiver in a road rivalry matchup. We will take the Under at the only shop bold enough to hang a receiving yardage prop for Jackson.
Jadon Jackson prop made on 9/16/2023 at 11 a.m. ET
College football player props for Friday Week 3
Roman Hemby Over 83.5 rushing yards (-115 via DraftKings) ⭐⭐⭐⭐ ✖️
My favorite part about doing these prop pieces, especially on weeknight games, is that it allows us to get familiar with some names that we could see on NFL RedZone one day. Allow me to introduce you to Maryland running back Roman Hemby, who figures to be a promising prospect in the 2024 NFL Draft class. He also happens to be on my college fantasy team, which is probably a bigger honor.
Hemby, a 6-foot-2, 202-pound back, has recorded 220 yards and two touchdowns on 31 attempts through two games. He has also added 69 yards on six catches. In last week's 38-20 win over Charlotte, Hemby came alive in the second half to finish with 162 yards on 19 attempts.
If Friday's showdown ends up being as close as our top Virginia vs. Maryland prediction is suggesting, Hemby is going to get a decent workload in this one. And we are projecting him to flirt with 100 rushing yards if that ends up being the case, thanks in large part due to the matchup advantage.
According to collegefootballdata.com, the Terrapins are averaging 3.6 line yards per rush this season. The Cavaliers' defense is surrendering 3.8 line yards per rush during an 0-2 start. Pro Football Focus actually ranks Virginia as the second-worst run defense in all of college football, with a grade of 45.3 entering Week 3.
Hemby is set to have a big night under the bright lights, which is why we'd be comfortable exploring alternate rushing markets at FanDuel. Hemby is +114 to record 90-plus rushing yards and +164 to finish with 100-plus yards on the ground.
That's why this is a four-star play on his rushing yardage prop of 83.5 at DraftKings, which offers the biggest discount on the market.
Roman Hemby prop made on 9/15/2023 at 12:15 p.m. ET
College football player props for Thursday Week 3
SGP: Blake Watson anytime touchdown scorer and Memphis ML (-109 via FanDuel) ⭐⭐⭐ ✔️
Similar to the weeknight game in Week 2, we're going with a same-game parlay to get some action on Thursday's matchup. Our Phillip Wood likes the Tigers (2-0) to cover the 14.5-point spread for his best Navy vs. Memphis prediction.
I prefer betting on Memphis' starting running back Blake Watson, who has become a focal point of this offense during the tailback's first season with the team after transferring from Old Dominion. Watson has carried the ball 30 times while producing 126 yards and three scores. He's also added 62 yards on nine catches.
The best part is that Watson really hasn't received an extended run due to the Tigers crushing their first two opponents. He scored all three of his rushing touchdowns in the first half of the opener, becoming the first Memphis player to record three rushing touchdowns in a half since Darrell Henderson did it against UCF in 2018.
The Tigers only recorded four red-zone trips during a 37-3 win over Arkansas State. Only three of Watson's 20 carries occurred in the red zone, which led to him not finding paydirt in Week 2.
We like betting on Watson to take advantage of a weak Navy run defense that surrendered 191 yards and two scores to Notre Dame in Week 0. Oddsmakers are banking on Watson to produce a big day, too, listing his rushing prop above 80 yards across our best sports betting apps.
The better angle is on his anytime touchdown odds. FanDuel is offering an outlier -145 price, while bet365 has set the value at -188. Adding Memphis' ML to make this a same-game parlay was an easy decision, especially when SP+ gives the Tigers a 94% chance of victory.
Thursday's college football player props made 9/13/2023 at 2:35 p.m. ET.
College football betting odds pages
(21+. Gambling Problem? Call 1-800-GAMBLER)
* Bonuses not applicable in Ontario.
Related pages