FanDuel Sportsbook Refunds Pat McAfee Super Boost Following Wild TNF Finish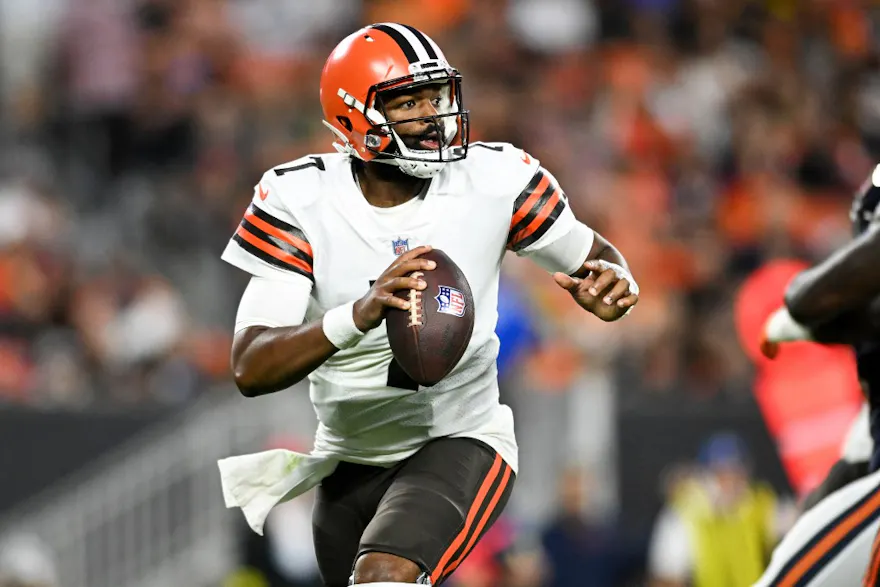 Thursday Night Football produced one of the worst beats of the early NFL season for sports bettors – though at least one sportsbook found a way to ease the pain.

Cleveland's Denzel Ward scored a fumble-return touchdown on the final play of a 29-17 Browns victory, prompting this call from play-by-play legend Al Michaels: "That's going to be a touchdown, there's going to be no extra point but that might be meaningful to some of you."
You are correct, Al Michaels! The Cleveland Browns' last second defensive touchdown meant a lot to a lot of people. That six-point score put the game over the opening line of 40.5 for the game total, and blew up a number of teaser legs. Steelers teasers became immediate losers, as did alternate totals teased up from 38.5.
There were screenshots of losing bets and bad beats all over Twitter, but the heat was turned up even more due to a special super boost available at FanDuel via Pat McAfee. In response to the final result, McAfee took to Twitter and posted a video of himself in utter dismay.
Previously, we have seen sportsbooks offer some bad beat insurance on bets like these. Would any sportsbooks do the same following Thursday's game between the Cleveland Browns and Pittsburgh Steelers?
FanDuel Refunds Pat McAfee Super Boost
After the game, I took to Twitter to ask which sportsbook would refund some of these bets or grade them as winners? With 51% of the votes, FanDuel won by a landslide. And guess what: those 51% of voters were correct.
The only sportsbook that offered something for the bad beat bettors took on the final play of the game was FanDuel. All bets placed on former-NFL-punter-turned-FanDuel-megastar Pat McAfee's super boost on FanDuel were refunded: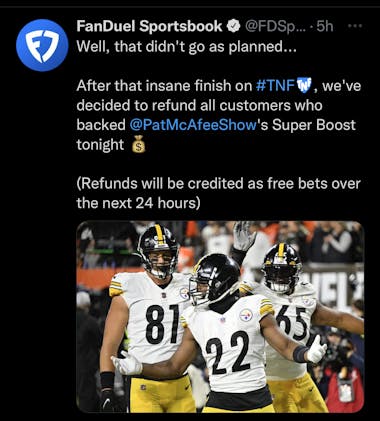 Since FanDuel sponsors Pat McAfee's show, it should not be surprising that they offered a refund for his super boost. McAfee signed a four-year sponsorship deal with FanDuel, which is worth $120 million to him over the course of the deal.
Although I applaud FanDuel for offering a refund after all, why not go the extra mile and grade all the bets as winners? It still feels like a loss mentally as a bettor when you offer me a refund because I was so close to winning a +800 wager. Personally, I would prefer the sportsbooks to be all in or completely out on these scenarios.
What About the Rest of Us?
It is understandable that FanDuel will refund the McAfee Super Boost, but what about the rest of us? I received a screenshot from my buddy Kevin of his same game parlay from Thursday night. What a bad beat!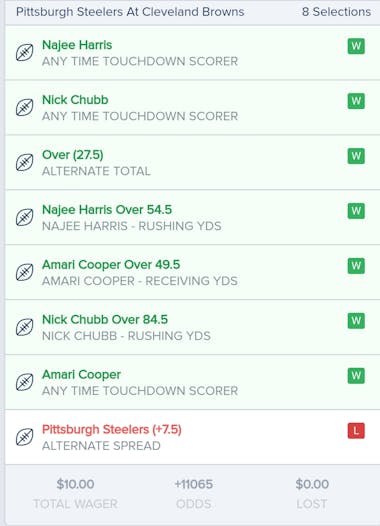 Denzel Ward's touchdown on the final play of the game cost him a new set of TaylorMade Stealth irons. And Kevin is not the only one feeling the pain: all kinds of screenshots are circulating on Twitter in which the final play ruined someone's same game parlay.
And then there's this: Any bettor who took the Over on Chase Claypool's receiving yards also suffered a catastrophic betting loss on that fateful final play.
Claypool's total receiving yardage was set at 35.5 yards; before the final play of the game, he had 41. With the fumble going six yards backwards, Claypool lost those yards and finished the game with 35 – a half-yard below his total.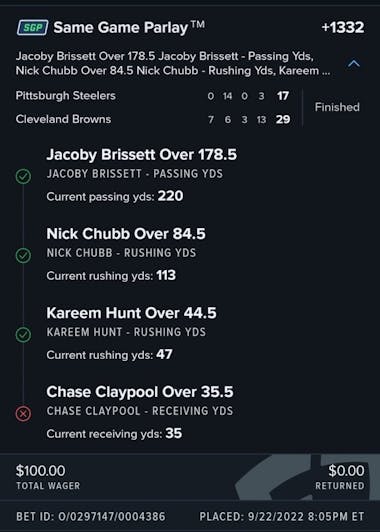 FanDuel refunding the boost is greatly appreciated, but bad beats of that magnitude on national television are extremely rare. In the aftermath of this game, I believe we should have seen much better offers from all the sports betting sites. The opportunity to make several sports bettors sleep better last night was there, but none of the sportsbooks took advantage of it.
Sportsbook Reviews
Caesars | BetMGM | FanDuel | DraftKings | PointsBet | Barstool
Sportsbook Bonuses (U.S. Only)
Caesars | BetMGM | FanDuel | DraftKings | PointsBet | Barstool