Dodgers Odds Drop After Signing Freddie Freeman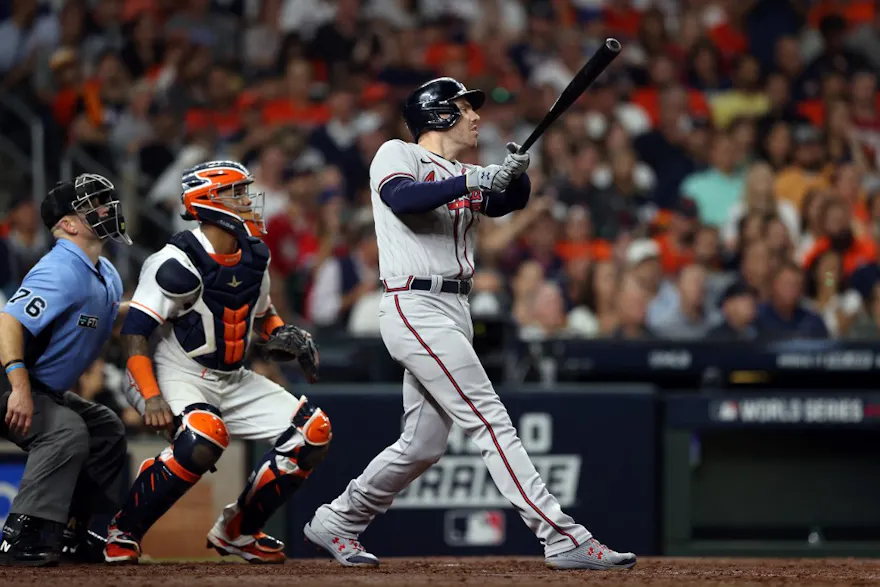 The Los Angeles Dodgers reportedly signed free-agent first baseman Freddie Freeman to a $162 million, six-year contract early Thursday morning, ESPN MLB Insider Kiley McDaniel tweeted.
Check out the latest comprehensive and most trusted Sportsbook Reviews by SBR here.
After 12 years with Atlanta, Freeman declined an $18.4 million qualifying offer from the organization in the fall.
The 31-year-old first baseman won the 2020 National League MVP and was also a key contributor to Atlanta winning the 2021 World Series. Freeman also won a Gold Glove in 2018, and he's gone to the All-Star Game five times.
Freeman's durability is also a huge asset, as he's only missed seven games over the past four years. He has a high-end .306/.398/.532 slash line during that stretch and has topped 30 home runs in each of the past two full seasons.
RELATED: Blue Jays Acquire Matt Chapman from A's
It's an obvious boost for Los Angeles, and the Dodgers were already the favorites to win the World Series.
Still, Los Angeles' World Series odds dropped in short order following the signing of Freeman.
Dodgers World Series Odds - March 1 to Current:
FanDuel Sportsbook: +600 to +550
Caesars Sportsbook: +600 to +500
DraftKings Sportsbook: +700 to +500
RELATED: MLB Transaction Tracker with Odds Significance
It's also worth noting that Freeman (+900) is now listed with the third shortest odds to win the National League MVP Award at Caesars Sportsbook.
Switching to Atlanta, the Braves traded for first baseman Matt Olson from the Oakland Athletics on Monday, March 14. The acquisition should probably be considered a lateral move, at worst, and potentially an upgrade by prospective bettors.
After all, Atlanta's World Series futures have seen their numbers drop at DraftKings and FanDuel, similar to what we've seen for Los Angeles since signing Freeman.
Braves World Series Odds - March 1 to Current:
FanDuel Sportsbook: +1400 to +1300
Caesars Sportsbook: +1300 to +1300
DraftKings Sportsbook: +1400 to +1100
RELATED: Braves Acquire Matt Olson From A's; Futures Odds Adjusted
Make sure to keep an eye on our Live Odds page throughout the week to get the best lines possible and connect with others in the SBR community on our popular sports betting forum.