Betting Futures: Which Sportsbooks Offer the Most Value on NFL Division Bets?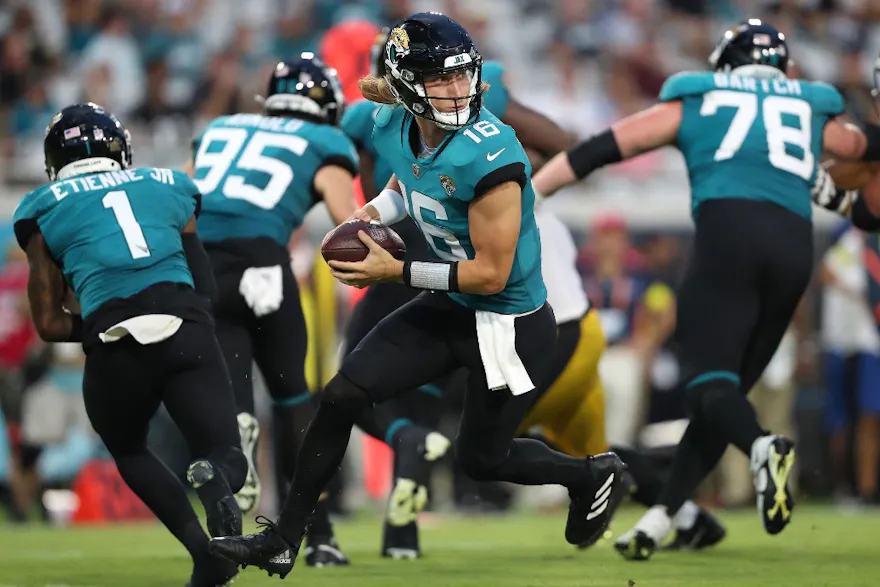 Is it possible for the Jacksonville Jaguars to win the AFC South? That's a good question – and here's an even better one: If you believe they can, where should you bet it?
Through two weeks of the NFL season, we have seen plenty of movement in the odds for teams to win their divisions. Due to teams like the Indianapolis Colts stumbling out of the gates, you may be interested in betting on a different team to win the AFC South. And what about the AFC North, where the defending conference-champion Cincinnati Bengals are 0-2 so far?
As I continue to analyze the division futures ahead of Week 3, I highlight which sportsbooks have the lowest hold percentage by division. The hold percentage at each sportsbook varies, even across divisions. It may be worthwhile to open an account at a sportsbook in which you do not already have one depending on the division on which you intend to wager.
| | | | | | |
| --- | --- | --- | --- | --- | --- |
| Division | PointsBet | Caesars | DraftKings | FanDuel | BetRivers |
| NFC East | 7.86% | 7.59% | 9.59% | 8.29% | 9.28% |
| NFC South | 7.94% | 7.76% | 6.90% | 5.88% | 8.48% |
| NFC North | 8.41% | 7.84% | 8.20% | 8.15% | 8.94% |
| NFC West | 7.52% | 7.93% | 7.31% | 7.34% | 8.08% |
| AFC East | 9.61% | 7.79% | 8.00% | 7.25% | 10.21% |
| AFC South | 8.92% | 7.78% | 6.51% | 8.44% | 8.69% |
| AFC North | 8.29% | 7.77% | 7.35% | 8.67% | 8.50% |
| AFC West | 8.35% | 7.89% | 5.86% | 8.77% | 8.67% |
PointsBet Sportsbook
There are a number of things that PointsBet has going for it, but the hold percentages on division futures are not among them. It is particularly disappointing to see a 9.61% hold in the AFC East. With the Buffalo Bills and Miami Dolphins, PointsBet clearly took on too much money, and is trying to offset that now. There is not a single division among the five sportsbooks listed here where PointsBet has the lowest hold.
Read our PointsBet Sportsbook review
Check out PointsBet Sportsbook bonuses (U.S. players only)
Caesars Sportsbook
It's clear that Caesars is trying to maintain a consistent hold of between 7.5 and 8% between all eight NFL divisions. Caesars is the only sportsbook where we see that steady hold rate across all the markets, regardless of the division. Caesars is the sportsbook to choose if you are interested in investing in the NFC North or NFC East odds.
Read our Caesars Sportsbook review.
Check out Caesars Sportsbook bonuses (U.S. players only)
DraftKings Sportsbook
In all honesty, I am surprised to see that DraftKings has four of the lowest hold percentages among the eight NFL divisions. Unlike Caesars, there is no objective to maintain a certain hold percentage. DK is as high as 9.59% in the NFC East and as low as 5.86% in the AFC West.
Clearly, the AFC West has gone in favor of DraftKings liability, whereas the NFC East has not. This explains why DraftKings has the highest price on the Denver Broncos at +550 and the lowest hold percentage in the AFC West at 5.86%. In the NFC East, DraftKings' hold could be larger than usual because it is trying to balance liability with the Dallas Cowboys.
Read our DraftKings Sportsbook review
Check out DraftKings Sportsbook bonuses (U.S. players only)
FanDuel Sportsbook
FanDuel is the big winner when it comes to the NFC South odds, where it has a meager 5.88% hold. This is what we look for in a sportsbook. From a liability standpoint, FanDuel is clearly in a good position in this division since it is welcoming more money on the Tampa Bay Buccaneers. It is because FanDuel has the longest price on the Buccaneers at -460 that its hold percentage is so low in the NFC South.
Read our FanDuel Sportsbook review
Check out FanDuel Sportsbook bonuses (U.S. players only)
BetRivers Sportsbook
Having an AFC East hold of 10.21% is not the best way to attract futures bettors. That hold percentage is actually an attempt to avoid additional liability on the Dolphins and Patriots. It's true that BetRivers offers the longest price in the market on the Bills, but its high hold rate can be attributed to short prices on the New England Patriots and Miami Dolphins.
If it wants to trade the Dolphins at +333 and Patriots at +1000, it should have the Bills at -285 rather than -335.
Read our BetRivers Sportsbook review
Sportsbook Reviews
Caesars | BetMGM | FanDuel | DraftKings | PointsBet | Barstool
Sportsbook Bonuses (U.S. Only)
Caesars | BetMGM | FanDuel | DraftKings | PointsBet | Barstool