Best Sportsbooks for 2022-23 NHL Awards Futures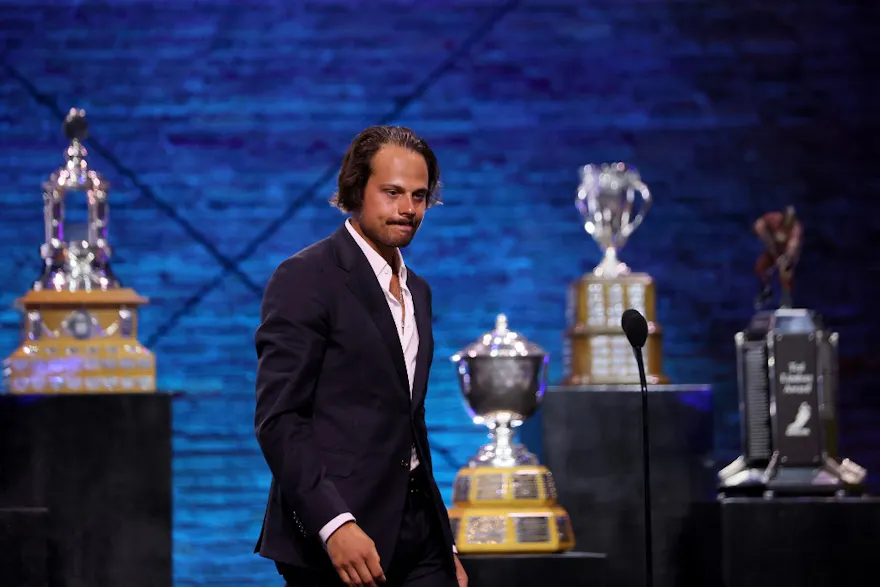 NHL training camps have started, and it is a good time to look at NHL Futures, including which players will win individual awards. Here is my ranking of the leading sportsbooks when it comes to NHL Awards Futures.
This week, I have written about the Hart Trophy for MVP, the Vezina Trophy for top goaltender, the Calder Trophy for rookie of the year, and the Norris Trophy for best defenseman. Going through each of the leading sportsbooks, clear trends have emerged.
While each sportsbook has positives and negatives relative to the others, it is notable that Caesars has the most compelling odds overall related to NHL awards futures.
Here are my rankings of the top sportsbooks for wagering on NHL Awards Futures.
1. Caesars Sportsbook
✅ Better odds than any other notable sports betting site
❌ Shorter numbers on awards favorites

When it comes to betting NHL Awards Futures, Caesars is far and away best in the marketplace, offering consistently longer odds on a greater percentage of the field. It tends to offer shorter odds for the absolute favorite or even the top few, but anything beyond those choices offers better value at Caesars.
For example, Cale Makar's Norris Trophy odds are shorter at Caesars than any of the other sportsbooks in this ranking, yet Caesars offers the longest odds on 10 of the next 12 contenders. Unless your plan is to bet the favorite to win an NHL award, Caesars is most likely to be the place offering the longest odds.
Read our Caesars Sportsbook review
Check out Caesars Sportsbook bonuses (U.S. players only)
2. DraftKings Sportsbook
✅ Better-than-average odds across most markets
❌ No significant value plays for bettors

Despite not typically offering the longest odds, DraftKings does tend towards longer than average odds when it comes to NHL Awards contenders. Its Norris Trophy odds offer little appeal, but both the Vezina and Calder markets are better than average among the top sportsbooks.
While some sportsbooks have a higher variance from the average when it comes to the longest and shortest, DraftKings NHL Futures tend not to stray as far from that average. That might leads to fewer instances to get the very best price on the board, but also fewer instances of the worst price.
Read our DraftKings Sportsbook review
Check out DraftKings Sportsbook bonuses (U.S. players only)
3. FanDuel Sportsbook
✅ Favorable odds for Makar, Calder favorites
❌ Lack of value in Norris Trophy market

Although FanDuel's odds are not favorable overall, they do earn a few bonus points. For one, it has the longest odds (+155) among the top sportsbooks for Cale Makar to win the Norris Trophy and, more notably, has the most favorable distribution of Calder Trophy odds, with the best price for more contenders resting at FanDuel.
It is also notable that FanDuel has longer Calder Trophy odds because this is a marketplace with more risk involved – there is a degree of uncertainty about players going into their first seasons in the league in a way that there is not when it comes to who might be the best defenseman, for example.
As for those Norris Trophy odds, while Makar has slightly longer odds relative to other sportsbooks, FanDuel offers the longest odds on only two other defensemen among the consensus Top 25, and one of them is Boston Bruins defenseman Charlie McAvoy, who is expected to miss the first two months of the season.
Read our FanDuel Sportsbook review
Check out FanDuel Sportsbook bonuses (U.S. players only)
4. Barstool Sportsbooks
✅ Strong odds offerings in Hart Trophy market
❌ Absence of Calder Trophy odds

Barstool Sportsbook's Hart Trophy odds are quite strong relative to other top sportsbooks, though no listed odds for New Jersey Devils center Jack Hughes could be considered a miss, especially with Clayton Keller, Sean Couturier, and Seth Jones among those included.
Otherwise, Barstool Sportsbook's Norris Trophy odds for top contenders are excellent, unless you want to pick Victor Hedman or Miro Heiskanen. Vezina odds that tend to be shorter than average for the top sportsbooks and no Calder Trophy odds are areas for improvement.
Read our Barstool Sportsbook review
Check out Barstool Sportsbook bonuses (U.S. players only)
5. PointsBet Sportsbook
✅ Betting value on Hart Trophy favorites
❌ Vezina, Calder odds markets lacking

When it comes to Hart Trophy odds, PointsBet is taking a page out of the Caesars playbook, offering the shortest odds for favorites Connor McDavid and Auston Matthews, but then ranging from above average to the best on the board for nearly all of the next 30 contenders.
Its Vezina odds are short on the top end, too, but do not have nearly as much appeal down the board, and the lack of Calder Trophy odds is not ideal.
Read our PointsBet Sportsbook review
Check out PointsBet Sportsbook bonuses (U.S. players only)
6. BetMGM Sportsbook
✅ McDavid, Matthews offered at solid odds
❌ Below-average just about everywhere

While BetMGM offers relatively favorable prices on Connor McDavid or Auston Matthews for the Hart Trophy, it is not nearly so generous for other candidates.
Not including Hart Trophy odds for Matthew Tkachuk or Jack Hughes, or any Calder Trophy odds seem like missed opportunities. No Calder Trophy odds and frequently conservative odds for the Hart, Vezina, and Norris leave room for improvement.
Read our BetMGM Sportsbook review
Check out BetMGM Sportsbook bonuses (U.S. players only)
Sportsbook Reviews
Caesars | BetMGM | FanDuel | DraftKings | PointsBet | Barstool
Sportsbook Bonuses (U.S. Only)
Caesars | BetMGM | FanDuel | DraftKings | PointsBet | Barstool