Norris Trophy 2023 NHL Odds, Picks, Predictions: Can Anyone Dethrone Makar?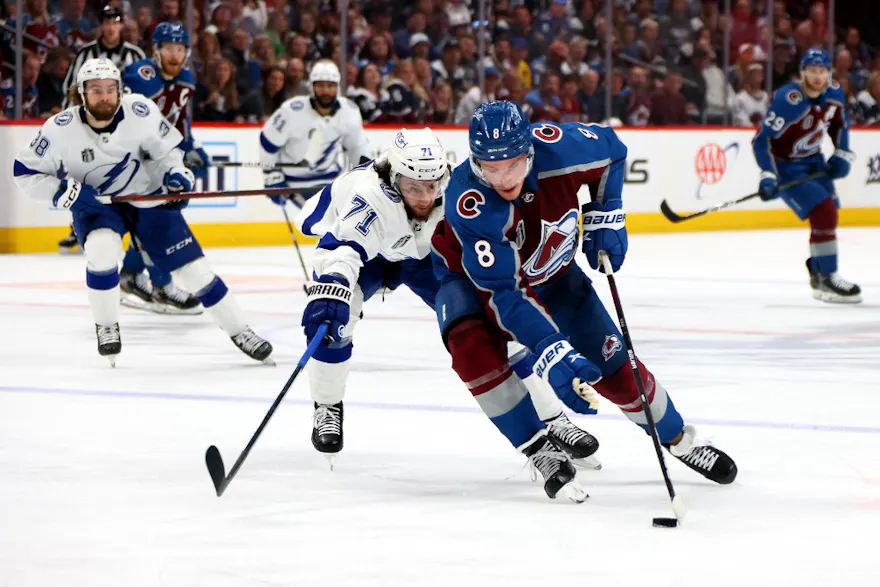 Colorado Avalanche defenseman Cale Makar had a tour de force season in 2021-2022, establishing that he is the player to beat when it comes to winning the Norris Trophy this season. Check out our 2022 NHL Norris Trophy odds, picks, and predictions.
The Norris Trophy is an interesting award because players tend to build up to winning it. There are exceptions, such as Adam Fox in 2020-2021 and P.K. Subban in 2012-2013, but usually, the winner of the Norris Trophy has been a player who has previously been a contender.
Part of this is due to the award relying on votes from hockey writers, and there is a tendency among those writers to decide that "it's time" for a particular candidate.
Evaluating defensive play has not typically been a strong suit for hockey media, so unless it is Nicklas Lidstrom taking control of the award for a decade, often the highest-scoring defensemen have the best shot at capturing the Norris Trophy.
Sometimes, that is the right choice, but it does make the path more challenging for defensemen who are not producing big numbers offensively. Keep that in mind when handicapping this year's Norris Trophy race.
Here is a look at Norris Trophy odds now that NHL training camps are underway, with odds via our top-rated sportsbooks.
2023 Norris Trophy Odds
| | | | | | |
| --- | --- | --- | --- | --- | --- |
| Player | DraftKings | FanDuel | Caesars | BetMGM | PointsBet |
| Cale Makar | +135 | +155 | +100 | +150 | +150 |
| Roman Josi | +700 | +750 | +1200 | +650 | +650 |
| Victor Hedman | +900 | +750 | +1500 | +750 | +750 |
| Adam Fox | +900 | +850 | +1200 | +650 | +900 |
| Aaron Ekblad | +1200 | +1100 | +1800 | +1200 | +1200 |
| Charlie McAvoy | +1600 | +2500 | +1800 | +1000 | +1600 |
| Miro Heiskanen | +2000 | +2000 | +2000 | +2000 | +2500 |
| Quinn Hughes | +2000 | +2000 | +2200 | +2000 | +2200 |
| Moritz Seider | +2000 | +2000 | +3000 | +2000 | +2500 |
| Devon Toews | +2500 | +2500 | +3500 | +2500 | +2200 |
Norris Trophy Picks: Favorites
After winning the Norris Trophy and Conn Smythe Award as Playoff MVP for the Colorado Avalanche last season, Makar enters the 2022-2023 season as a massive favorite. However, there is little value to taking him to win, especially considering that he has missed more than a dozen games in two of his three NHL seasons.
He is a phenomenal player who put up 86 points last season and could challenge for the Hart Trophy. He's likely going to win the Norris several more times in his career, but this season's early prices on Makar are prohibitive.
Even though he scored 96 points last season (the most by a defenseman since Phil Housley had 97 points for the Winnipeg Jets in 1992-1993), Josi finished second to Makar in Norris Trophy voting. The Nashville Predators captain has finished in the top seven of Norris voting six times in the past eight seasons, winning the award in 2019-2020.
Josi scored an astonishing 43 points in 29 games to finish last season, so he is the defenseman in the league who is most likely to outscore Makar. That's not everything, but Josi does offer more relative value at their current prices.
Victor Hedman (+1500)
Sometimes, defensemen will get referred to as perennial Norris Trophy contenders, but the perennial part of that description ends up doing a lot of work. Hedman is a truly perennial contender for the Norris Trophy, finishing in the top three in each of the past six seasons, winning in 2017-2018.
Hedman scored a career-high 85 points for Tampa Bay last season, and if he is going to continue to produce like that, Hedman remains a very likely Norris Trophy finalist, which makes his price at Caesars rather appealing.
Norris Trophy Picks: Contenders
Adam Fox (+1200 via Caesars)
The New York Rangers blue-liner won the Norris Trophy following the 2020-2021 season, his second season in the NHL, and he finished fifth in the voting last year. Fox had 74 points in 78 games for the Blueshirts in 2021-2022 but has consistently provided strong play-driving metrics and goal differentials through his three NHL seasons.
There is also the matter of playing in New York, insuring that the spotlight shines a little brighter on his performance, so the 24-year-old will be a viable contender this season and probably for many more.
Miro Heiskanen (+2500 via PointsBet)
Opportunity knocks for the 23-year-old Dallas Stars blue-liner who has established his defensive credentials in his first four NHL seasons, but he has offensive potential that has mostly been untapped.
Heiskanen finished with a career-high 36 points in 70 games last season. With John Klingberg departing via free agency, Heiskanen should have a clear path to first unit power-play time in Dallas, and he thrived with that responsibility before, producing 26 points in 27 playoff games during Dallas' run to the Stanley Cup Final in 2019-2020.
If the offensive numbers pick up, Heiskanen has the overall game that will earn him praise. Will it be enough to win the Norris? It might be worth investing to find out.
Norris Trophy Picks: Long shots
MacKenzie Weegar (+6000 via Caesars)
Traded to Calgary as part of the Matthew Tkachuk deal in the summer, Weegar scored a career-high 44 points last season and finished 14th in Norris Trophy voting after finishing eighth the year before. If he could secure a role on the Flames' top power-play unit, that might push his scoring numbers to a high enough level that the rest of his game gets fully appreciated with Norris votes.
It would be a big jump to go all the way to winning the award, but if Weegar has a big season and the Flames are successful, there is a path to him being a contender, which at least makes him worth considering at long odds.
The first overall pick in the 2018 draft, 22-year-old Dahlin has already had some ups and downs early in his NHL career, but he took a step forward last season, producing a career-high 53 points while playing more than 24 minutes per game.
The Buffalo Sabres should continue to improve this season, which offers Dahlin more support, and if he continues his own individual improvement, Dahlin could climb into Norris Trophy consideration.
Since the odds are relatively long, there is not necessarily a rush to get in on Dahlin now but be ready to dive in if he gets off to a strong start.
Dougie Hamilton (+7500 via Caesars)
One of the players who causes the greatest rift between "The Hockey Men" and stats nerds, Hamilton has been a dominant play-driver for his entire career, though he was not controlling play as effectively last season with the New Jersey Devils as he did in previous stops with Carolina and Calgary.
Hamilton finished fourth in Norris Trophy voting in 2020-2021, and the 29-year-old has a ceiling high enough to contend for the award. The Devils should be significantly improved this season, and if better team results help get Hamilton's play noticed, his long-shot pricing could offer potential value.
Recent Norris Trophy Winners
| | | |
| --- | --- | --- |
| Season | Player | Team |
| 2021-2022 | Cale Makar | Colorado Avalanche |
| 2020-2021 | Adam Fox | New York Rangers |
| 2019-2020 | Roman Josi | Nashville Predators |
| 2018-2019 | Mark Giordano | Calgary Flames |
| 2017-2018 | Victor Hedman | Tampa Bay Lightning |
| 2016-2017 | Brent Burns | San Jose Sharks |
| 2015-2016 | Drew Doughty | Los Angeles Kings |
| 2014-1015 | Erik Karlsson | San Jose Sharks |
| 2013-2014 | Duncan Keith | Chicago Blackhawks |
| 2012-2013 | P.K. Subban | Montreal Canadiens |
Where to Bet on Norris Trophy 2023 Picks
SEE ALSO: All picks, odds, and sports betting news. Be sure to check out SportsbookReview.com's community forums and betting tools.