Super Bowl Betting Strategies 2023: What to Know for Your Big Game Picks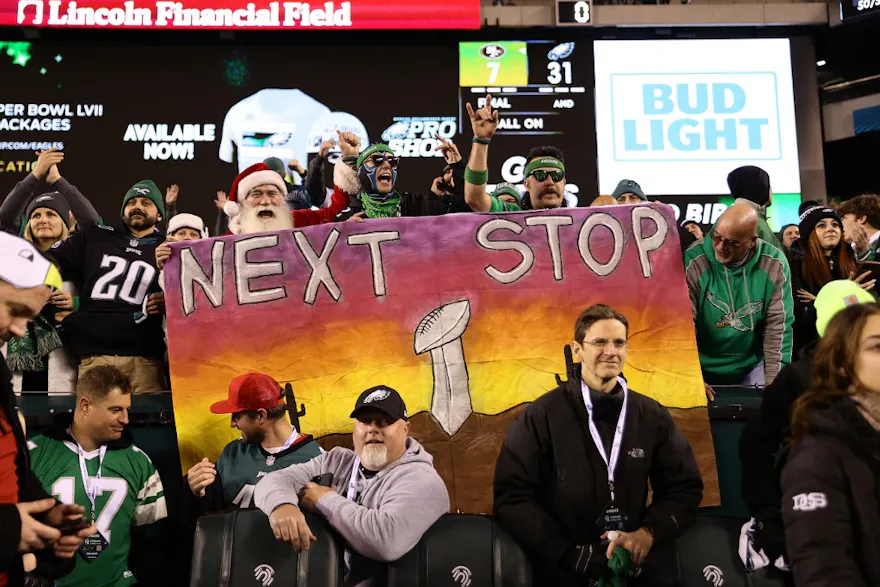 Whether you're betting on the Super Bowl for the first time or looking for better results than last year, our Super Bowl betting strategies will help you get ready for a big payday when the Kansas City Chiefs clash with the Philadelphia Eagles on Sunday.
Sportsbook Review is here to help you make your Super Bowl 57 picks as the Eagles and Chiefs get set to square off in the NFL's championship game. We help break down the moneyline, spread, totals, and Super Bowl prop bets. The sky is the limit when it comes to the various ways you can bet on The Big Game and the best Super Bowl odds.
The Chiefs and Eagles are the first pair of No. 1 seeds to match up in the Super Bowl since the Eagles and New England Patriots in 2017. With two titans of this NFL season facing off to crown a champion, the betting markets project a close, compelling Super Bowl.
Here are our best Super Bowl betting strategies and tips to help you prepare for The Big Game.
Check out our best Super Bowl betting sites and our best Super Bowl betting promotions and bonuses.
How to bet on Super Bowl odds
The Chiefs opened as the immediate Super Bowl 57 favorites but that quickly flipped thanks in large part to early money backing the Eagles, who are consensus 1.5-point favorites through Thursday, Feb. 9. That means you're looking at negative odds if you want to bet Philadelphia on the moneyline. Don't want to choose a side? Aim to predict the style of game we're going to see by predicting the total points that will be scored — Over or Under the number prescribed by our best Super Bowl betting sites.
Moneyline: Who will win the Super Bowl?
A moneyline bet is a strict prediction of which side will win the game. The Eagles are -125, meaning a bettor would need to wager $125 to profit $100 on a winning moneyline bet on Philadelphia.
The Chiefs are +105 on the moneyline, meaning a bettor would stand to profit $105 on a $100 moneyline bet on Kansas City, if the Chiefs were to pull the upset and win outright.
Spread: Who will cover the Super Bowl line?
The point spread has the Eagles as 1.5-point favorites, meaning Philadelphia would need to win by at least two points to cover and cash a winning bet. That makes the Chiefs +1.5, meaning they would cover the spread by winning the game or losing by only a single point.
Philadelphia has won more against the spread than it has lost this season, going 10-9 ATS on the campaign. Kansas City comes into the Super Bowl at 6-12-1 ATS on the season.
Over/Under: How many points will be scored?
Totals list a number and task bettors with deciding whether the combined points scored by both teams in the game will go Over or Under that line. The adage goes that life is too short to bet the Under, but the Under actually has a slight 28-27 edge in Super Bowl history. The last four Super Bowls cashed Under tickets.
The total for Super Bowl LVII sits at 49.5 across the board. Eagles games went 10-9 to the Over this season. Chiefs games came in at 8-11 to the Under. Sportsbook Review contributor Mike Spector is predicting a high-scoring game in his Super Bowl 57 picks.
Check out our Super Bowl odds and Super Bowl MVP odds.
Other popular Super Bowl bets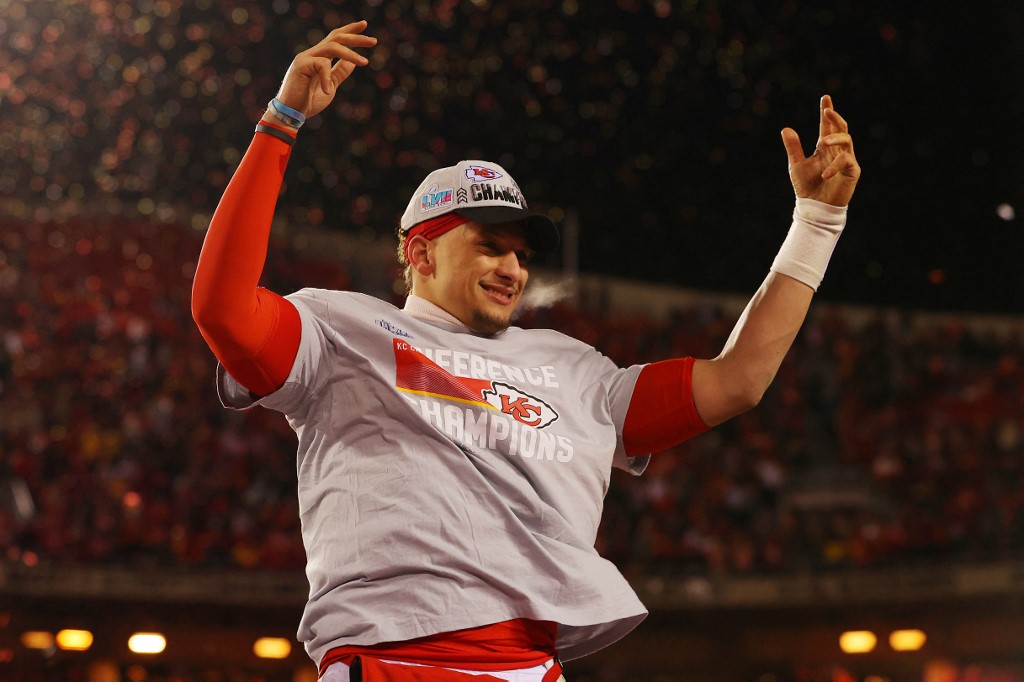 Bettors can choose Over or Under on individual player totals on categories including passing yards, receiving yards, rushing yards, sacks, and whether a player will score an anytime touchdown. At DraftKings, for instance, you can bet whether Chiefs quarterback Patrick Mahomes will throw for Over or Under 285.5 passing yards.
Game props
Game props include a variety of bets pertaining to various game-related outcomes. You can predict the precise margin of victory for either team or you can call your shot on whether the game will reach overtime.
If you like the Chiefs to prevail in a closely-contested but high-scoring affair, you could wager 'Yes' on the game prop 'KC Chiefs to Win and Both Teams to Score 30 or More Points' with juicy +900 odds via DraftKings.
These props are for your friend at the Super Bowl party who wants to be invested in the spectacle of the event without really caring about the on-field action.
The length of the national anthem performance, the color or style of Rihanna's outfit during the Super Bowl halftime show, the result of the coin toss, and the color of Gatorade poured on the winning head coach all fit under the exotic props umbrella.
Parlay/SGPs
Parlays are for those chasing the long odds of a big payout by combining multiple outcomes into one bet. It's more difficult to accurately predict multiple outcomes than it is one singular outcome, so the return on investment of a winning ticket is higher.
Same-game parlays (SGPs) are ways to combine various player props or team-related outcomes from the same game into one larger parlay with a higher payout.
Though the 2023 Super Bowl has not yet taken place, that shouldn't keep you from betting on the 2024 event.
The Chiefs top the board at DraftKings with +550 odds to win the 2024 Super Bowl. Kansas City is followed by the Buffalo Bills (+650), San Francisco 49ers (+700), and Philadelphia (+800) as the most likely winners of next year's Super Bowl.
Super Bowl betting strategies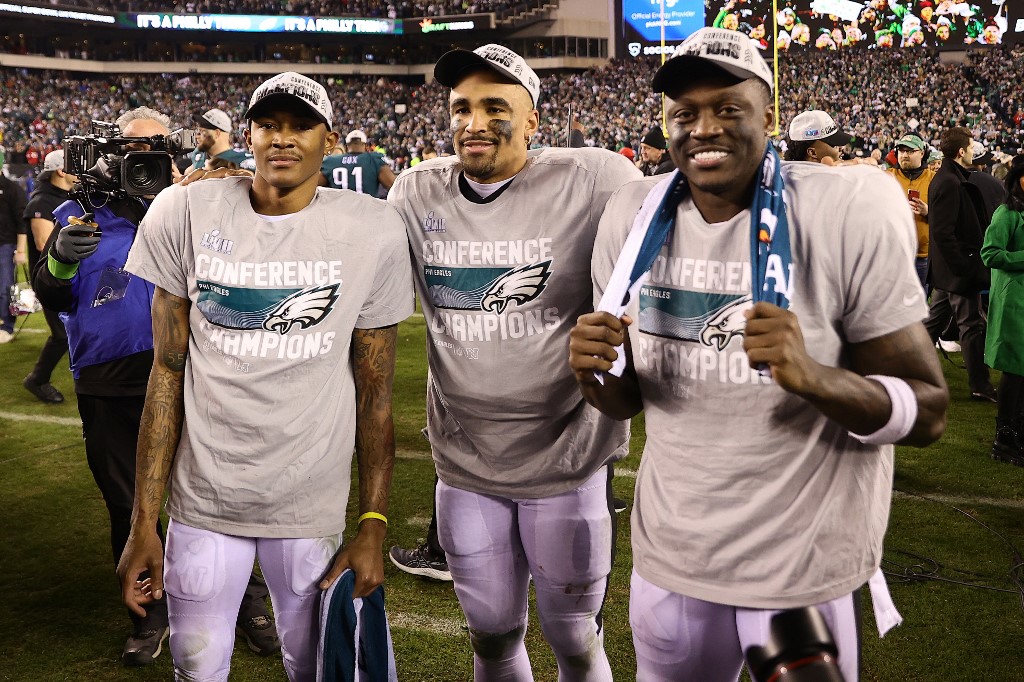 Track line movement
Knowing the line movement and following along with our Super Bowl 57 price shopping for various markets can give bettors an idea of where the value might be. If you see the total go from 49.5 to 52.5, for instance, it's worth wondering whether the value might have been sapped from a bet on the Over before you got around to betting it.
Becoming a late adopter and chasing line movement could hurt you in the long run if you're sacrificing value just to be part of the "popular" pick.
Create a narrative and stick with it
Do your research and settle on what style of game you expect to see in the Super Bowl. There are enough stats and trends out there to form a cogent argument about almost any potential outcome.
Deciding which stuff to trust — and then staying committed to it — is an important practice for a disciplined bettor.
Shop around for markets AND odds
With the growing number of legal options available to the modern sports bettor, you're doing yourself a disservice if you're not shopping around for the best combination of a favorable line (spread, total, etc.) at the best Super Bowl 57 prices you can find. Be sure to check out our best Super Bowl betting sites in the process.
Super Bowl prop bets
Prop bet enthusiasts have a lot to choose from for Super Bowl 57; here's a look at some of the more popular Super Bowl prop bets across all of the best sportsbooks:
Need help keeping track of your Super Bowl prop bets? Use our printable Super Bowl prop bet sheet! We also have Super Bowl bingo cards for up to four people to use!
(21+. Gambling Problem? Call 1-800-GAMBLER)
* Bonuses not applicable in Ontario.
Related pages