Rams vs. Bengals 2022 Super Bowl Picks: All Picks You Need for the Big Game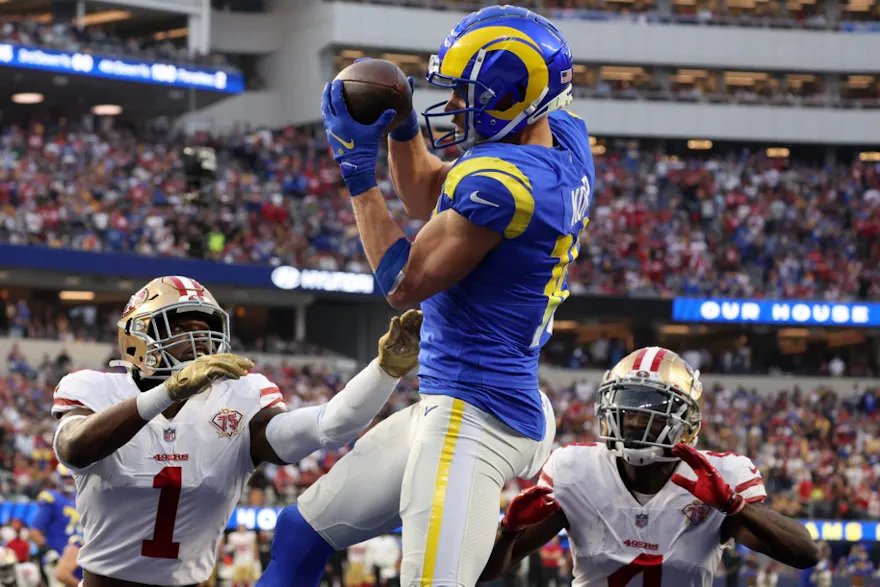 For the Los Angeles Rams, there's no alternative to winning this Super Bowl in their home stadium. Meanwhile, the Cincinnati Bengals are playing with house money, even if QB Joe Burrow doesn't see it that way. Find out where we lean with our Rams-Bengals picks for the 2022 Super Bowl.
They have the stadium, the quarterback (Matthew Stafford), and the AP Offensive Player of the Year in receiver Cooper Kupp. Is there anything the Rams don't have heading into Sunday's Super Bowl? The time to capitalize on all this momentum is fast approaching. Will the Rams be ready for it?
Are you ready to stop classifying Burrow and the Bengals as underdogs yet? The Bengals quarterback said after his team upset the top-seeded Tennessee Titans in the Divisional Round that he was tired of the "underdog narrative" surrounding his team.
SEE ALSO: Super Bowl Promos from Top Sportsbooks
Well, the Kansas City Chiefs certainly messed around and found out, didn't they? Now, the Rams look to avoid falling victim to that same hungry group from Cincy, a team that has been doubted at every turn throughout these NFL Playoffs.
Here are my Rams-Bengals picks and predictions for the 2022 Super Bowl (odds via DraftKings Sportsbook unless otherwise noted; pick confidence based on a 1-to-5 star scale).
SEE ALSO: 2022 Super Bowl Betting Guide
Rams vs. Bengals Game Info
Date/Time: Sunday, Feb. 13, 6:30 p.m. ET.TV: NBCLocation: SoFi Stadium, Inglewood, CAWeather: Indoors
Rams vs. Bengals Odds Analysis
The Rams opened as 4-point Super Bowl favorites at the major U.S. sportsbooks. Over nearly two weeks since the lines were formed, the number has fluctuated between -4 and -4.5 across various books. As of the morning of Friday, Feb. 11, the line seems to have settled back into its original number at most places, including DraftKings and FanDuel Sportsbook, as the Rams are pretty universally sitting at -4. Caesars Sportsbook took a different approach by dropping the line to 3.5 on Thursday.
The Bengals had been seeing the bulk of the tickets from the beginning, but it was the Rams that drew the early advantage on the cash. Though the sharps hit the Rams more heavily in the early days of the betting window, the Bengals have drawn more action in the second week. Cincinnati has drawn 56% of the handle while holding an advantage on the ticket count at 63%.
A significant reason for that lean toward Cincy is that whenever a book has briefly snuck the Bengals up to +4.5, their customers have consistently poured money onto the underdog. At the 4.5-point number, the Bengals have seen 65% of the cash and 67% of the tickets go to their side.
After opening at 49, the total quickly dipped to 48 before rising back up to 48.5 at most books. That's pretty much where the total has remained glued for several days now, as both DraftKings and FanDuel list either side of a 48.5 total at -110. The outlay on the Over has continued to increase as game day draws nearer, with 64% of the tickets having been placed on the Over, and 59% of the cash doing the same.
SEE ALSO: Super Bowl Market Report
Rams Betting Preview
Record: 15-5 SU, 10-10 ATS, 10-9-1 O/UKey Players: WR Cooper Kupp, QB Matthew Stafford, DT Aaron Donald, CB Jalen RamseyNotable Trend: 7-10 against the spread as favorites this season
The Rams did it. It turns out, mortgaging NFL draft capital in order to go all-in for a Super Bowl played in your own stadium is a viable plan after all. Los Angeles traded for star pieces at every turn, and it signed receiver Odell Beckham Jr., when the opportunity arose earlier this season. For all the narratives about Beckham being a diva or a locker room cancer, he sure has assimilated remarkably into this offense.
After all those years toiling in Detroit, Stafford found his perfect match with McVay. The Rams are favorites to win the Super Bowl in the veteran QB's first season with his new team. The Rams also have a three-headed backfield with Cam Akers, Sony Michel, and the returning Darrel Henderson Jr. L.A., is one step away from its aggressive roster construction paying off in the ultimate fashion.
https://twitter.com/johnewing/status/1491109069242863616
Bengals Betting Preview
Record: 13-7 SU, 13-7 ATS, 8-12 O/UKey Players: QB Joe Burrow, WR Ja'Marr Chase, RB Joe Mixon, DE Trey Hendrickson, LB Logan WilsonNotable Trend: 6-1 ATS as road underdogs this season, winning five of those six games outright
Burrow doesn't want the Bengals viewed as underdogs, but that's exactly where Cincy finds itself heading into this clash with the Rams. With one more win under the improbable circumstances, though, all anyone will be able to call Burrow would be a Super Bowl Champion.
The Bengals' performance on the road this season remains a relevant notable trend heading into the Super Bowl, despite the fact they'll officially be recognized as the home team. So as the home team, Cincy is still kind of the road team. Weird.
By now, though, the Bengals have pretty much proven they don't care where a game is played. They also don't seem to care about a halftime deficit. Rookie kicker Evan McPherson straight up doesn't miss kicks. He's 12-for-12 this postseason, including walk-offs each of the last two weeks.
The biggest concern for Cincinnati has to be its offensive line, which has regularly put Burrow in harm's way throughout these playoffs. Though it often felt like the Bengals had too many flaws and inconsistencies to get to the Super Bowl, they haven't blinked under the gravity of the moment. So here they are, one win away from that which would have been unthinkable at times earlier this season.
Rams vs. Bengals Picks
Rams -4 (-110) ??Over 48.5 (-110) ???Rams moneyline (-198 via FanDuel) ?????Kupp first TD (+500) ??Kupp Super Bowl MVP (+600) ?Same-game Parlay: Rams ML, Burrow 225+ passing yards, Stafford 250+ passing yards, Beckham 50+ receiving yards, Kupp Over 90+ receiving yards, Kupp anytime touchdown (+535 via FanDuel) ??
Check out our top-rated sportsbooks here
SEE ALSO: Rams vs. Bengals Player Props
Rams vs. Bengals Predictions
Rams -4 (-110)
The Rams have fluctuated between -4 and -4.5 across the major U.S. Sportsbooks all week. As of Friday morning, both DraftKings and FanDuel have the Rams at -4, with FanDuel offering slightly better odds at -112. I like the Rams a heckuva lot more at -4 than I do -4.5, so if you're worried the line might jump back up at some point, perhaps now is the time to get in if you want to ride with the Rams for the Super Bowl. Even then, though, this pick is far from a lock.
For as much as Los Angeles was the easier team to envision getting to this point, this Rams team isn't one that has made a habit of blowing teams out of the water. They've underachieved against the spread on the season, going an even 10-10 ATS.
The notion that this is another field-goal game like each of the Rams' last two playoff wins is the one that scares me off of making this a more confident star-rated play. However, I still lean toward the road team playing in its home stadium with our Rams-Bengals picks for two reasons: Cooper Kupp. Aaron Donald.
Kupp and Donald drive Rams to victory
Offensively, Kupp has been the straw that stirs the drink for the Rams. Even when everybody knows where the ball is going, he has consistently left defenses completely baffled as to how they're supposed to do anything about it. The connection with Stafford is strong, and there's no reason to believe that's going to change. Even when the Rams offense isn't clicking, Kupp lingers as a threat to change that on a dime. It takes only one play, one slip-up by the secondary to let Kupp loose and wreck the game.
The only player on the Rams' side of the ball with the potential to impact the game at an even higher degree than Kupp is Donald. Consistently lackluster offensive line play for the Bengals is one of the reasons that I'm stunned they've made it this far. Don't get me wrong, Cincinnati has a lot of special players and it's going to be a threat in the AFC for years to come. The Bengals just seem to me like they're a year early on their Super Bowl window because you can't be as regularly beaten in the trenches as they've been and expect to win a championship.
You definitely can't expect to do it when the other side has Donald bearing down on you all night. Burrow's fourth-quarter escape from Kansas City Chiefs' defensive lineman Chris Jones was one of the signature moments of Cincinnati's AFC Championship win. Donald will simply not allow Burrow, or this Super Bowl, to slip through his fingers the way Jones did.
SEE ALSO: Kupp Super Bowl Prop Bets
Over 48.5 (-110)
Each of the Bengals' three playoff wins so far cashed the Under. Cincinnati has done a surprisingly effective job of the 'bend, don't break' mentality on defense. The Bengals have given up their fair share of yardage without allowing the opponent to capitalize on scoring opportunities.
That's going to be a theory put to the test against the Rams, though, whose offense is capable of scoring in bunches. I like the Rams' chances of pushing for 30 points in this game. The way to put away the Bengals is by keeping up the pressure offensively even when it feels like the game is in hand. The Chiefs wish they had figured out a way to do it, but the Rams should know better than to sit back with a second-half lead.
Assuming they don't, I'm having a hard time imagining the explosive weapons of the Bengals failing to put up some scoring drives of their own given that kind of script. Scores of 27-23, 30-23, 31-20 are all within the range of possible outcomes for this game, as I see it.
Though the Over has thus far been a popular choice with the betting public with 59% of the tickets falling toward that side (life's too short to bet Unders, etc., etc.), I still see value in the current line of 48.5. The line has fluctuated thus far between 48 and 49 points since it opened last Sunday. If it starts creeping back up toward 50, I'm less likely to attack it as the big day approaches. Sneaking in beneath the 49 mark doesn't provide an advantage in all too many potential final scores, but it's nice to be on the proper side of 28-21 anyway with this Rams-Bengals pick.
https://twitter.com/FOXBetLive/status/1491541314432737280
Rams ML (-190)
I made the case for the Rams as a two-star bet against the spread in the Super Bowl against the Bengals. I want to take the opportunity here to specifically stump for Los Angeles with confidence when it comes to the moneyline.
Burrow is really good. The Bengals have a lot of talent. But they're a year early, and they still need to improve the offensive line. The expectation was to get their feet wet in these playoffs, maybe even win a home game to get that monkey off the back of the franchise, and then bow out gracefully to give way to the more experienced teams.
SEE ALSO: How to Win Your Super Bowl Prop Pool
They weren't supposed to go to the Super Bowl this year. It's just that nobody gave them the memo. So they're going to head to SoFi Stadium to represent the AFC despite being arguably the third- or fourth-best team in their conference.
The Rams, on the other hand, have literally been hand-crafted and built for this moment. They've been all-in, forsaking every first-round draft pick for the last five years for this particular opportunity to play a Super Bowl in their new home stadium. Maybe this is just the scorned St. Louisan in me (full disclosure: I was a diehard Rams fan from birth until the team left my town in 2015) but I can't envision a scenario where the Bengals' Cinderella story doesn't end with Burrow turning into a pumpkin at the expense of the Rams star-studded defense.
Just know it's -10000 that I turn off the television before they show Stan freakin' Kroenke raising the Lombardi. Nope, not watching that!
Kupp first TD (+500)
This was a winning wager in the neighborhood of +550 if you bet it for the NFC Championship. I think it's as good of a bet as any once again for the Super Bowl with our Rams-Bengals picks.
The Rams run everything through Kupp. When they get into scoring range, there's a good chance the plays will be drawn up with him in mind. If he's not the guy catching the score, he's a decoy for whoever is going to do so. So even though the odds have been nerfed a bit to minimize the return on investment after Kupp found paydirt early in the NFC Championship, it still feels like pushing our chips in on the Rams' best offensive weapon is a sensible call for a game that we expect Los Angeles to win.
SEE ALSO: Cooper Kupp Super Bowl Prop Bets
Since Dec. 5, Kupp has had only one game in which he didn't catch a touchdown. He might as well cap off his magical season by catching one to lead off the Super Bowl.
Same-game parlay: Rams ML, Burrow 225+ yards, Stafford 250+ yards, Beckham 50+ yards, Kupp 90+ yards, Kupp anytime TD (+535)
Though I believe the Rams win this game thanks to a standout performance by their defensive front harassing Burrow, I don't think it happens without Burrow making a few plays of his own to demonstrate why we can expect him to hang around in this league for a long time. Clearing this low-yardage total shouldn't be a problem; there has been only one game since the beginning of December in which he failed to amass 230 passing yards.
It's a similar mindset regarding Stafford, who passed for 337 yards in the NFC Championship. Even Mahomes, who struggled mightily in the second half of the AFC title game, managed 275 passing yards against the Bengals last week. That he didn't have more was based on his deficiencies in that game more so than it was any specific scheme wins for Cincinnati.
SEE ALSO: Top Super Bowl 56 Prop Bets
Beckham and Kupp both sailed over the 100-yard mark in the win over the 49ers. These low-ball totals shouldn't be an issue for either in a game where I expect the Rams to find some success throwing on the Bengals defense. Only six NFL teams allowed more yards through the air than Cincinnati this season. Beckham and Kupp should both be in for productive days. Add the Kupp-down to the ledger because basically, it's free money at this point.
For a chance at a massive win with our Rams-Bengals same-game parlay picks, add Tee Higgins anytime TD to the existing parlay for odds of +1100. Higgins has been a bit hot and cold for Cincinnati, but he has been more of a factor as opposing teams grapple with the task of slowing down Chase. My original version of this article had the Same Game Parlay set at DraftKings, but we're now getting the better value at FanDuel.
Rams-Bengals Picks: Super Bowl MVP Bet
Kupp Super Bowl MVP (+600)
Stafford winning his first Super Bowl after 13 years in the league and not getting the MVP nod would seem pretty unlikely. That's why the quarterback of the favored team is the most likely candidate for the award according to the current odds (+100 at DK, +120 at FD). But stick with me for a moment. In a scenario where the majority of Stafford's power flowed through his favorite target en route to a Rams win, might it be Kupp that gets the hardware?
SEE ALSO: 2022 Super Bowl MVP Picks
Donald is notable as a 'sneaky' MVP pick given his ability to impact the game defensively. As a fan of Donald going back to his St. Louis days, it would certainly take the sting out of Los Angeles winning its first Super Bowl if Donald was the reason it happened. But for a defensive tackle to make the kind of highlight-worthy plays necessary to garner MVP consideration, he'd have to have an abnormally great performance even by his own lofty standards.
https://twitter.com/FieldYates/status/1491231982785019905
For Kupp to get on the MVP radar, though, he might only need the kind of otherworldly production that he seems to accumulate on a weekly basis. Julian Edelman once won a Super Bowl MVP with 10 catches and 141 yards. He accounted for more than half of the New England Patriots' receiving yards in that game, but he didn't even catch a touchdown. In his last two playoff games, Kupp has totaled 20 catches for 325 yards and three scores.
I mean… That's MVP-type stuff if he does it in the Super Bowl, right?
SEE ALSO: Bettors Loving Kupp Overs
If Stafford's stats dictate his worthiness, it's probably because Kupp made them that way. We could lose this wager to politics, but I like a taste of the Rams' best offensive weapon at +600 to complete our Rams-Bengals Super Bowl picks.
Where to Bet on Super Bowl Picks
Here are our top-rated sportsbooks for betting on the 2022 Super Bowl:
FanDuel SportsbookCaesarsDraftKings SportsbookPointsbetBetMGM
SEE ALSO: All picks and odds. Be sure to check out SportsbookReview.com's community forums and betting tools.
Rams-Bengals picks made on 2/11/2022 at 2:50 a.m. ET.