2022 Cleveland Browns Team Futures Odds, Picks, and Preview: Super Bowl, Win Total, and Playoff Predictions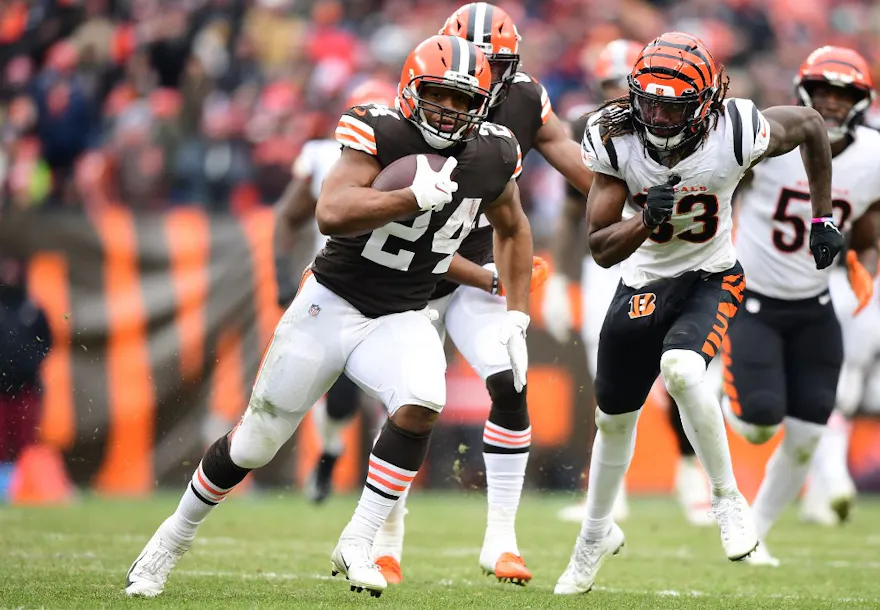 The Cleveland Browns are searching for answers after a chaotic offseason. Here are our Brown futures odds, picks, and preview for the upcoming season.
There's a lot of uncertainty surrounding a team that not too long ago had a very promising future. After dealing for embattled quarterback Deshaun Watson, the Browns are about to enter training camp without a clear idea as to what will happen at that position going forward. After trading Baker Mayfield to the Carolina Panthers, they're projected to start with Jacoby Brissett under center Week 1.
Still, Cleveland will return much of the core that made it such a force defensively last year, including Miles Garrett and Jadeveon Clowney.
Below, we preview the 2022 NFL season for the Browns with a look at their futures odds and make our top picks (odds via DraftKings Sportsbook, Caesars Sportsbook, FanDuel Sportsbook, and BetRivers).
Cleveland Browns 2022 Futures Odds
https://datawrapper.dwcdn.net/9I9G4/1/
Cleveland Browns 2022 Picks
Cleveland Browns to win AFC North (+333 via BetRivers)Win total previewNick Chubb Over 1150.5 Rushing Yards (-112 via FanDuel)Browns to make the playoffs (+100 via FanDuel)
Check out the latest comprehensive and most trusted Sportsbook Reviews by SBR.
Browns to win AFC North (+333)
The 2022 season for the Cleveland Browns will be a good test of just how much a quarterback means to a team. Sure, Cleveland may be without Watson for the entirety of the campaign, but the rest of this team is still as strong as ever.
Cleveland will still enter the season with the second-best offensive line in football according to Pro Football Focus, and behind that line will be the very dangerous running back duo of Chubb and Kareem Hunt. On defense, Denzel Ward has developed into a star, John Johnson III is still one of the best safeties around and the aforementioned pass rush should be a nightmare.
Can this team win the division? It sure can. We've seen more parity in the AFC North than any other conference in recent years and with the amount of bad losses the Ravens and Bengals took in 2021, it'd be no surprise to see Cleveland shock everyone and win the most games in the division.
Win total preview
We should note here that the total is currently off the board due to Watson's impending suspension. With that, we have to take a look at the schedule to come up with a value on the win total but we should still be able to crack the code.
We've already covered how the Browns should still dominate in just about every facet of the game. The quarterback position may be a tricky one, but you have to think that even with a game manager like Jacoby Brissett, this team will be capable of moving the ball down the field enough on offense behind this big line to win games.
Cleveland should beat the Panthers, Miami Dolphins, Houston Texans, New Orleans Saints, and Washington Commanders. With five in its pocket and three or four wins likely within the division, I'd bet the Over on wins at nine games or better. I'm not going to be interested if it's at 9.5 or above.
Chubb Over 1150.5 Rushing Yards (-112)
Chubb hit this over in his sleep last year, going for 1,259 in just 14 games. While durability is certainly a concern, we have to take into consideration that the fifth-year back went for 1,494 in his second season in the NFL behind what was probably a worse offensive line.
This is now the second-best line in football — if not the best — and Chubb should have no issues with touches as the clear lead back ahead of Hunt. He went for 5.5 yards per carry in 2021 and 5.6 in 2020, and in an offense that figures to be run-heavy, you'd have to fancy his chances of going for a monster season.
Browns to make the playoffs (+100)
This is the more conservative route to go with the Browns, particularly if you're betting ahead of the Watson news in hopes that he may play some of the season.
I think it's important to remember just how mediocre the AFC was a season ago compared to the NFC. The Kansas City Chiefs and Tennessee Titans won 12 games, the Buffalo Bills won just 11, and the 10-game winners were the Cincinnati Bengals, Las Vegas Raiders, and Patriots. There is serious skepticism that the latter three teams will even sniff that total again, and this is a conference where the Jets picked off two of the top four seeds last season.
You arguably don't have powerhouses in the AFC like you do elsewhere. We've touched on how this team is strong everywhere but quarterback, and I'd again implore you to think about the fact that Cleveland's QB while Watson is suspended will likely just have to hand the ball to Chubb the entire game and collect a paycheck. It can and should happen.
Where to Bet on Cleveland Browns Team Futures Picks
Here are our top-rated sportsbooks:
FanDuel Sportsbook
Caesars Sportsbook
DraftKings Sportsbook
PointsBet
BetMGM
SEE ALSO: All picks, odds, and sports betting news. Be sure to check out SportsbookReview.com's community forums and betting tools.
Cleveland Browns futures picks made on 7/21/2022 at 5:36 p.m. ET.