AFC South Betting Preview 2023: Futures Picks & Predictions for All Teams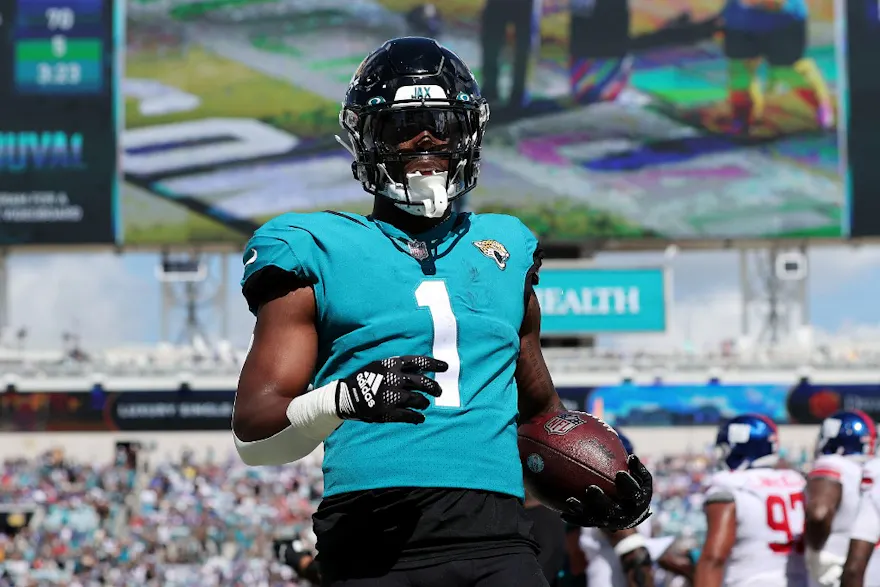 Week 1 is almost here, and our AFC South betting preview looks at the available markets involving the division and features a four-pack of picks and predictions based on the top NFL odds from our best sports betting apps.
The Jacksonville Jaguars took down the AFC South last season, and the Tennessee Titans missed the playoffs for the first time since 2018. They are respectively trading as the two most likely teams to win the division in 2023.
It's the Indianapolis Colts and Houston Texans that might just be the more interesting teams, though. The two clubs selected quarterbacks in the first round of the 2023 NFL Draft and Anthony Richardson will open the season as the No. 1 in Indy, and it looks like C.J. Stroud will also be set to start in Houston.
Add the Titans signing wide receiver DeAndre Hopkins and wideout Calvin Ridley returning from suspension to bolster the Jacksonville offense, and there are no shortage of storylines in the AFC South.
Check out our 2023 AFC South betting preview based on the odds from our best NFL betting sites (pick confidence based on a 1-to-5-star scale).
Visit our Google News page and click "Follow" (⭐) for the latest odds, picks and news!
AFC South betting preview 2023
AFC South betting preview picks as of Aug. 16.
Titans to win AFC South (+350 via DraftKings) ⭐⭐⭐⭐
| Team to win division | DraftKings | FanDuel | BetMGM | Caesars | bet365 |
| --- | --- | --- | --- | --- | --- |
| Jaguars | -155 | -155 | -155 | -175 ❄️ | -160 |
| Titans | +350 🔥 | +310 | +300 ❄️ | +340 | +320 |
| Colts | +600 | +550 | +550 | +700 🔥 | +600 |
| Texans | +800 | +1000 | +1100 🔥 | +850 | +800 |
(Odds as of Sept. 1)
It took a five-game winning streak to end the season for the Jaguars to win the AFC South in 2022, and the Titans spoiled a 7-3 start with seven straight losses to miss the postseason for the first time in three years.
A Tennessee rebound under head coach Mike Vrabel is in the cards, and Jacksonville isn't sneaking up on anyone in 2023.
I have the Titans projected for 8.9 wins and priced at +111 to win the division. As a result, we're landing an enormous positive expected value of 113% on the +350 odds available through DraftKings.
Texans to finish last in AFC South (+145 via DraftKings) ⭐⭐⭐
I'm doubling down on Houston failing to take notable strides forward in 2023. Jacksonville has a well-rounded roster, Tennessee is well-coached and set to rebound, and Indianapolis is going to improve on its 4-12-1 finish last year.
Growing pains are ahead for rookie quarterback C.J. Stroud, and I have the Texans projected for the fewest wins (6.5) in the division.
Additionally, it's also noteworthy that bet365 is hanging a significantly lower +110 number for Houston to finish last in the AFC South. The +145 odds through DraftKings present a positive expected value of 17% over the +110 price.
DeAndre Hopkins to lead the AFC South in receiving yards (+300 via DraftKings) ⭐⭐
I'm narrowing the race to lead the AFC South in receiving yards down to Calvin Ridley and DeAndre Hopinks. My projections for the two wide receivers are incredibly similar, too.
| Player | Receiving yards projection | DraftKings odds |
| --- | --- | --- |
| Calvin Ridley | 933 | +200 |
| DeAndre Hopkins | 919 | +300 |
Based on those projections I've got Ridley finishing with more receiving yards 51.9% of the time, and as a result, the better bet is Hopkins at +300.
Additionally, if you also view this market as a two-way race, betting a unit on both Ridley and Hopkins would still return a full unit as long as one of them pulls off the feat. Just something to keep in mind if you're willing to tie up some of your bankroll in a futures market.
Travis Etienne to lead the AFC South in rushing yards (+1200 via DraftKings) ⭐
The time is now to take a flier on Etienne to pace the division in rushing yards.
Colts running back Jonathan Taylor is still on the active/PUP list and wants to be traded. Tennessee rusher Derrick Henry has led the NFL in carries in three of the past four seasons. Barring a significant injury, Henry is going to be just fine, but he's still entering his Age-29 season with 1,750 career rushing attempts on the odometer.
That's a lot.
There's a decent gap in my projections for Henry and Etienne, but the better bet is with Etienne. I give the Jacksonville back a 36.4% chance of finishing the year with more rushing yards than Henry, which equates to a +175 price if we're turning this into a two-way race.
| Player | Receiving yards projection | DraftKings odds |
| --- | --- | --- |
| Derrick Henry | 1,245 | -135 |
| Travis Etienne | 1,015 | +1200 |
Editor's note: DraftKings has removed this betting market as of Sept. 1, but if available again or at another sportsbook, it still presents value to +500.
(21+. Gambling Problem? Call 1-800-GAMBLER)
* Bonuses not applicable in Ontario.
Related pages