Clash at The Coliseum Power Rankings 2023: NASCAR Season Kicks Off with L.A. Exhibition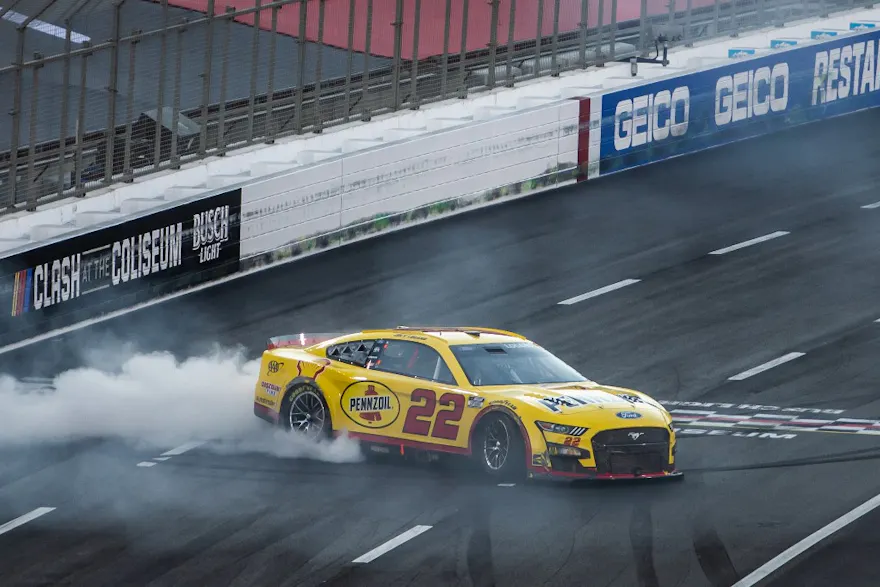 Looking at the top contenders to monitor with our Clash at The Coliseum NASCAR Power Rankings.
For the second year in a row, the NASCAR Cup Series open its season in Southern California at the L.A. Memorial Coliseum with an annual exhibition race. There may not be points at stake this weekend, but a shiny gold medal awaits the winning driver.
Last year, Joey Logano was victorious in NASCAR's first-ever foray in L.A. Logano went on to capture the NASCAR Cup Series Championship as well. As if the drivers participating in the 2023 Busch Light Clash need any additional motivation, his success after winning last year's exhibition race is certainly a positive omen.
Here are our 2023 Busch Light Clash at the Coliseum power rankings (odds via BetMGM, DraftKings Sportsbook, FanDuel Sportsbook and PointsBet).
Check out our Clash at the Coliseum picks and our early look at the Daytona 500 odds.
NASCAR power rankings: Clash at The Coliseum
10. Ryan Preece (+5000 via BetMGM)
Last year, Ryan Preece wasn't even driving full-time in the NASCAR Cup Series. In 2023, he takes over the No. 41 Ford for Stewart-Haas Racing. Preece got after it in his opportunities across all three national series last year. This included qualifying for the main feature at The Busch Light Clash in inferior equipment.
9. Chase Briscoe (+3000 via DraftKings)
After making the Round of 8 in last year's playoffs, Chase Briscoe aims to take the next step in 2023. He has ample dirt and short-track experience in his racing background that could serve him well in The Clash. Briscoe was a top-10 finisher in both races at Martinsville last year, the track that is by far most comparable to the L.A. Coliseum.
8. Denny Hamlin (+1300 via FanDuel)
Denny Hamlin remains in search of the NASCAR Cup Series Championship that's eluded him his entire career. While the Clash at The Coliseum has no bearing on him winning the title in 2023, the No. 11 team is no doubt out for vengeance after a DNF in last year's main feature. Hamlin's short-track skills are reflected in stats from tracks like Martinsville.
7. Kevin Harvick (+2500 via FanDuel)
On a chaotic short-track configuration like the 0.25-mile oval at the Coliseum, surviving is half the battle. Kevin Harvick is as resilient as they come in the NASCAR Cup Series today. He finished 10th in The Clash a year ago and has one of the best average finishes at Martinsville.
6. William Byron (+1500 via FanDuel)
William Byron is the first of three Hendrick Motorsports drivers included in the top-6 of our NASCAR power rankings this week. The No. 24 car finished sixth at The Clash in 2022 and also won the spring race at Martinsville. A subsequent seventh-place showing in the fall run at "The Paperclip" is further proof Byron knows how to get it done on the short tracks.
5. Chase Elliott (+800 via BetMGM)
As the sports' current fan-favorite, it's safe to say there's plenty of Chase Elliott supporters at the Coliseum Sunday night. He finished 11th in the Busch Light Clash last year but is pegged as a co-betting favorite for this year's event. Elliott is more than capable of winning on short tracks. With HMS power under the hood, a strong showing seems inevitable.
4. Ryan Blaney (+1000 via DraftKings)
Believe it or not, Ryan Blaney is tied for the best average finish (6.5) over the last 10 races at Martinsville among active Cup Series drivers. He achieved that status despite not winning a single one of those races. However, his ability to consistently run well at a compact short track bodes well for this weekend's exhibition event in L.A.
3. Christopher Bell (+1100 via PointsBet)
If we use Martinsville as our track comparison of choice, it only makes sense to have the most recent winner situated highly in Busch Light Clash power rankings. Christopher Bell finished eighth in The Clash in 2022 and came through in the clutch twice in the NASCAR Playoffs to make the Championship 4. His dirt track background makes him well-equipped to battle on a 0.25-mile oval.
2. Joey Logano (+800 via BetMGM)
The defending NASCAR Cup Series Champion is also the defending Busch Light Clash at The Coliseum winner. Joey Logano kicks off his defense of the former by trying to run it back in L.A. Sunday. Logano is also tied with Team Penske running mate Blaney for the best average finish at Martinsville over the past 10 races.
1. Kyle Larson (+900 via FanDuel)
When it comes to drivers with a background of racing on dirt and short tracks, Kyle Larson can't be ignored. In fact, he still competes at various dirt tracks even during the NASCAR season. Larson finished fifth at The Coliseum a year ago and was runner-up at Martinsville in the fall. Add in one of the sport's best crew chiefs and the No. 5 team will no doubt be a factor in Sunday's season-opening event.
Busch Light Clash at the Coliseum picks made 2/4/2023 at 1:34 p.m. ET
(21+. Gambling Problem? Call 1-800-GAMBLER)
* Bonuses not applicable in Ontario.
Related pages