MLB Home Run Props, Predictions & Best Bets 2023: Plenty of Value in the Long Ball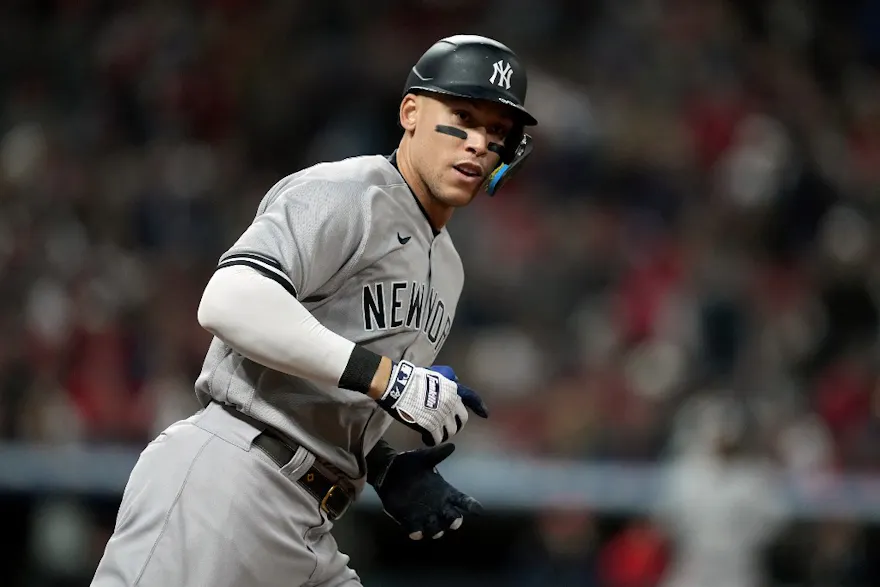 As sports bettors prepare for what should be an entertaining season of MLB picks, James Bisson hones in on his top value plays for one of the most popular MLB prop options. Here's a look at his top value plays for preseason MLB home run props based on the latest MLB odds.

You don't need a complicated betting system to know who tops the list of this year's MLB home run leader props.

Aaron Judge is the runaway favorite following his incredible 62-homer performance in 2022. And that's not the only intriguing dinger-centered storyline entering a 2023 season full of rules and address changes. I've combined projections from several sites to come up with my master list of home run totals, and will share five potential value plays you should seize right now.

Here's a look at the most notable home run props for the 2023 MLB season, along with odds for the Over and Under courtesy FanDuel Sportsbook.

MLB 2023 home run props
| Player | HR Total | Over odds | Under odds |
| --- | --- | --- | --- |
| Aaron Judge | 42.5 | -120 | -106 |
| Kyle Schwarber | 35.5 | -122 | -104 |
| Mike Trout | 35.5 | -113 | -113 |
| Pete Alonso | 35.5 | -113 | -113 |
| Vladimir Guerrero Jr. | 34.5 | -111 | -115 |
| Matt Olson | 32.5 | -113 | -113 |
| Shohei Ohtani | 32.5 | -118 | -108 |
| Austin Riley | 32.5 | -108 | -118 |
| Fernando Tatis Jr. | 31.5 | -120 | -106 |
| Kyle Tucker | 29.5 | -113 | -113 |
Check out our updated MLB MVP odds here!

MLB 2023 home run prop picks
Aaron Judge Over 42.5 home runs (-120)
My projection: 45 home runs

This isn't just a big number, but it's easily the biggest of any player in baseball in 2023. And believe it or not, it still isn't high enough.

Judge smashed expectations en route to setting the American League single-season home-run record, but his overall approach at the plate wasn't all that different than in previous seasons. His hard-hit rate was up only slightly, and while his HR/FB percentage was on the high side at 35.6%, he had reached that plateau twice before in his career.

His ungodly 26.2% barrel rate likely won't be repeated, I'm a big believer that the boost in fly-ball rate (from 35.5% to 43.5%) will carry over. And even a dip to 40% should keep Judge firmly in the 50-homer discussion, which is a lot of cushion for this Over play.

Byron Buxton Under 28.5 home runs (-113)
My projection: 25.5 home runs
Projecting Byron Buxton goes well beyond looking at the power potential he finally realized during his baseball-mashing exhibition in 2022.

I want to believe this will be the season Buxton avoids all physical calamities and gets to 550 plate appearances for the first time ever. The outfielder showed he doesn't even need that many to reach this total after hitting 28 home runs over just 382 plate appearances in 2022.

Still, Buxton has exceeded 400 plate appearances just once in his career. He turned 29 in December. His lack of plate discipline, declining contact rates, and extreme-pull tendencies are all concerns. I can't see a path to him setting new playing-time standards, and as a general rule, a player this at risk for injury is an ideal Under candidate. Add it all up, and that's my play here.

Anthony Santander Over 26.5 home runs (-120)
My projection: 30 home runs
"But the fences!" became a major talking point for any sports bettor investing in (or steering clear of) a Baltimore Orioles hitter in 2022.
Yes, Camden Yards' left-field wall was moved further away from home plate. But Santander simply shrugged his beefy shoulders and mashed baseballs to the tune of a career-best 33 home runs.

The 27-year-old should get all the playing time he can handle for a Baltimore team that expects to be competitive. His profile screams home-run threat, as Santander finished just outside the top 40 in hard contact rate in 2022, and he posted a higher FB% than all but one player ahead of him on that list.

Fewer games against the elite rotations from the Yankees, Blue Jays, and Rays should help, as will his improved plate approach after setting a career-high in walk rate and a personal best in strikeout rate in 2022.
There's a lot to like here, which is why I'm taking the Over on 26.5, even at slightly juicier odds.
Gear up for Opening Day with our latest MLB win totals and Over/Under odds!

Corey Seager Under 27.5 home runs (-113)
My projection: 24.5 home runs
Seager doesn't quite carry the all-caps INJURY RISK of Buxton, but there's still plenty of reason for caution here.

He was a relative picture of health in the mid-2010s but has fallen on rough times since. The 2022 campaign marked his only one with 550-plus plate appearances since 2017. And while his 33 home runs from 2022 are encouraging, Seager's FB% of 39.0 was considerably higher than his 34.6% career rate. His average long-ball distance of 404 feet also ranked 69th among qualified hitters.

Seager is one of the most gifted hitters in baseball, but 2022 was a statistical outlier. He sold out for power at the expense of a 61-point drop in batting average and a 77-point dip in on-base percentage.
He'll get back to his old self in 2023, which is why I'm more comfortable taking the Under here.

Check out our 2023 World Series Odds, 2023 MLB steals leader odds, and 2023 MLB RBI leader odds.
Kyle Schwarber Over 35.5 home runs (-122)
My projection: 39.5 home runs
While some players on the home run props list will need every last one of their projected plate appearances to reach the Over, Schwarber (like Judge) has a comfortable cushion.

Schwarber easily exceeded expectations in 2022, swatting 46 home runs on the strength of a career-high 669 plate appearances. And like Santander, Schwarber should benefit from not needing to run through the gauntlet of one of the top pitching divisions in baseball quite so often.

This man produced the batted-ball profile of a rawhide-obliterating stud in 2022, ranking fourth in barrels per plate appearance, fourth in average exit velocity, and fourth in hard-hit rate.
Even with my projections dialing back his plate appearances by about 50, I still have him well above his home run total from FanDuel.
Check out our MLB 2023 Cy Young odds and picks, and MLB 2023 Rookie of the Year odds and picks.
(21+. Gambling Problem? Call 1-800-GAMBLER)
* Bonuses not applicable in Ontario.
Related pages