Horse Racing Betting: Flightline Reaches New Heights, Queen's Passing Rocks the Sport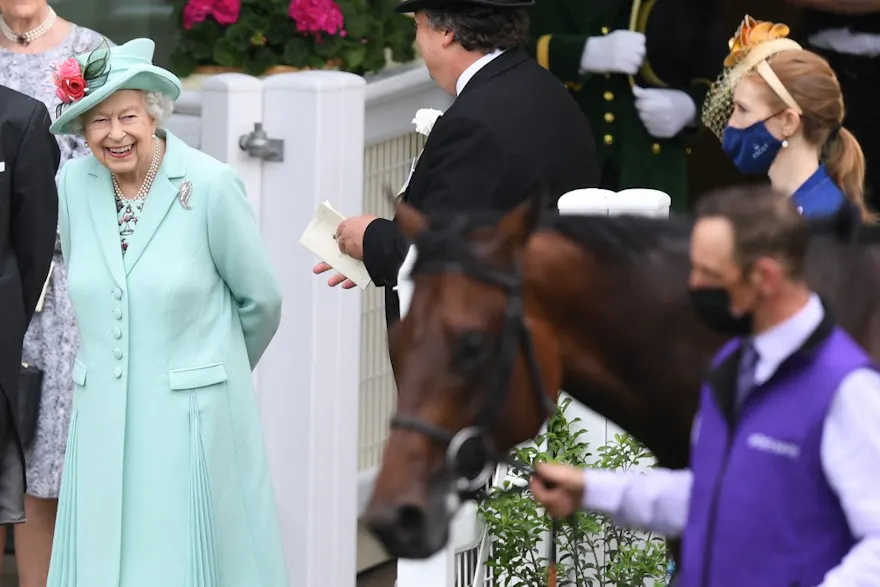 Trevor Denman, Southern California's horse racing voice, called Zenyatta's remarkable last-to-first victory in the 2009 Breeders' Cup Classic. His "THIS IS UN-BELEEEEVABLE" call on the filly's drive down the Santa Anita stretch remains one of the sport's memorable moments this century.
Now, unlike the subject of Denman's rapturous call, it has company.
"Take a good look at this, because this is something you're not going to see too often, maybe never again," Denman serenaded the Del Mar crowd on Pacific Classic Saturday.
What you're not going to see too often is what Flightline did to his overwhelmed competitors in Del Mar's flagship race. If any doubts remained that this is a superhorse, Flightline disabused everyone of that notion not even a mile into the 1 ¼-mile trip. He destroyed a field featuring three Grade/Group 1 champions by 19 ¼ lengths, stopping the clock in 1:59.28.
The sub-2-minute 10-furlong trip was .17 off the track record set by Argentinian standout Candy Ride in the 2003 Pacific Classic. Had Flavien Prat not wrapped up Flightline after turning around – a-la Ron Turcotte in that iconic photo from Secretariat's 1973 Belmont Stakes 31 ½-length victory – Flightline would have shattered that mark handily.
As it was, he posted an otherworldly 126 Beyer Speed Figure. That's the second-highest Beyer recorded since racing writer Andrew Beyer's figures moved into the public domain in 1991. Only Ghostzapper's 128 in the 2004 Philip Iselin Stakes at Monmouth Park was superior.
Flightline's lowest Beyer in his five races was a 105. He owned the top Beyer registered in 2021: a 118 for his 11 ½-length demolition of the Grade 1 Malibu Stakes last December at Santa Anita. That was a seven-furlong race, meaning Flightline has now won Grade 1 races at seven furlongs, a mile (June's Metropolitan Handicap at Belmont Park) and now 10 furlongs. He's also won his five races by a combined 62 ¼ lengths.
It begs pointing out that Flightline didn't dismantle the equine version of tomato cans. There was runner-up Country Grammer, winner of March's Dubai World Cup, runner-up in the $20 million Saudi Cup and winner of the 2021's Grade 1 Hollywood Gold Cup. There was Royal Ship (third), who won multiple Group 1 races in his native Brazil and multiple Grade 2 races here. And there was Express Train, one of the best older horses on the West Coast: a multiple graded stakes winner who captures this year's Grade 1 Santa Anita Handicap.
This was a strong, if not, deep Pacific Classic field. And Flightline made his rivals look like claimers.
So what's next? Trainer John Sadler, who has won four of the last five Pacific Classics, said Flightline came out of his effortless victory in good shape and will begin prepping for his next outing: the Nov. 5 Breeders' Cup Classic at Keeneland, Sept. 12 at Santa Anita. Flightline closed as the prohibitive 4/5 favorite in the second and final Breeders' Cup Classic Future Pool, which closed Monday.
By way of comparison, his next closest pursuer is Travers winner Epicenter. The Kentucky Derby and Preakness runner-up checks in at 7-1. Country Grammer is 34-1 and Express Train 99-1.
The overriding question that begs answering will have to wait: will Flightline run at 5? Both Sadler and majority owner Kosta Hronis of Hronis Racing, did not rule it out. If there's a nit to pick here, it's the fact Flightline has raced only five times. Some of that is due to injuries as a yearling and a few other health-related setbacks. But the culprit is the usual one facing standout colts: a more lucrative future as a stallion in the breeding shed than as a racehorse in the starting gate.
Meanwhile, at Saratoga …
While Flightline was making his statement at Del Mar, on the other end of the country, Todd Pletcher was surveying his Breeders' Cup Classic contenders after watching his four Jockey Club Gold Cup competitors finish 2-4-5-6.
The star of Pletcher's barn was Americanrevolution, who finished two lengths behind winner Olympiad. Pletcher said his Jockey Club Gold Cup quartet was compromised by a slow pace that didn't fit their running styles. That explains how Untreated finished fourth, Keepmeinmind fifth and Dynamic One sixth.
This was in contrast to the Grade 1 Whitney in early August, where Pletcher's star colt Life Is Good breezed to victory by opening up on the backstretch.
"It was a tricky race where there was no pace, and it makes it difficult for horses trying to close ground against very soft fractions," Pletcher said after the race. "That's where you saw a difference in the Jockey Club and the Whitney. Life Is Good turned up the backside and throws down a 23 (second) opening quarter and changes things a lot. For our horses, the pace scenario didn't play to their sterngths, but I thought Americanrevolution kept fighting hard to the wire."
Life Is Good is the third choice on the Breeders' Cup Classic Future Wager. He's 8-1, as is Bill Mott's Olympiad. Americanrevolution, who finished second to Olympiad in July's Grade 2 Stephen Foster at Churchill Downs, is 42-1, while Dynamic One and Keepmeinmind are 99-1.
Racing Loses its Biggest Royal Fan
It was one of the highlights of every Royal Ascot meet: the horse-drawn carriage rolling down the track with Queen Elizabeth II waiving to the crowd before exiting and making her way to the Royal Enclosure. It was a tradition that extended from every Royal Ascot meet from her 1952 coronation to 2019.
That streak stopped with the COVID Royal Ascot meet of 2020. And now, that streak remains permanently etched at 68.
The queen, one of the biggest racing fans in any country, died Thursday at 96, leaving a legacy that went into nearly every element of 20th century life for the remnants of the British Empire and the Commonwealth.
One of those biggest legacies was in horse racing. She not only built on the legacy created by her predecessors on the throne – a legacy going back to the Stuarts in the 17th century – but expanded it. As an avid owner/breeder, the queen sent out nearly 2,000 winners, all resplendent in the Queen's purple, gold and scarlet silks. Those were used by her great-grandfather, King Edward VII.
You can win a bar bet by challenging someone to name the queen's first winner: Monaveen, who won a race at Fontwell in 1949. She won every British Classic except the Derby, capturing honors of champion owner in British flat racing in 1954 and 1957.
One of her biggest victories came at Royal Ascot nine years ago when Estimate won the Gold Cup. That race, considered the most prestigious at Royal Ascot, made the queen the first reigning monarch to win that race.
This was how seriously the queen took her avocation. She visited the US several times to glean tips on breeding and training from American breeders and trainers in Kentucky. This included a 2007 side trip to see Street Sense win that year's Kentucky Derby.
And this was how seriously she took her avocation. The BBC produced a documentary: "The Queen's Racehorses: A Personal View" that described in detail her love affair with the sport.
"My philosophy about racing is simple. I enjoy breeding a horse that is faster than other people's," she said. "And to me, that is a gamble from a long way back. I enjoy going racing, but I suppose basically, I love horses, and the thoroughbred epitomizes a really good horse to me."
Upon the news, the British Horseracing Authority suspended racing for the rest of Thursday and all of Friday.
"All of British Racing is in mourning today following the passing of Her Majesty The Queen," the BHA said in a statement. "Her Majesty has been one of the greatest and most influential supporters in the history of horseracing. Her passion for racing and the racehorse shone brightly throughout her life, not only through her close involvement in breeding and racing horses, but in her roles as a patron of The Jockey Club and Thoroughbred Breeders' Association, and as the figurehead of Royal Ascot."