NFL Betting Trends to Know for Week 14: Will Kansas City Continue its Dominance of Denver?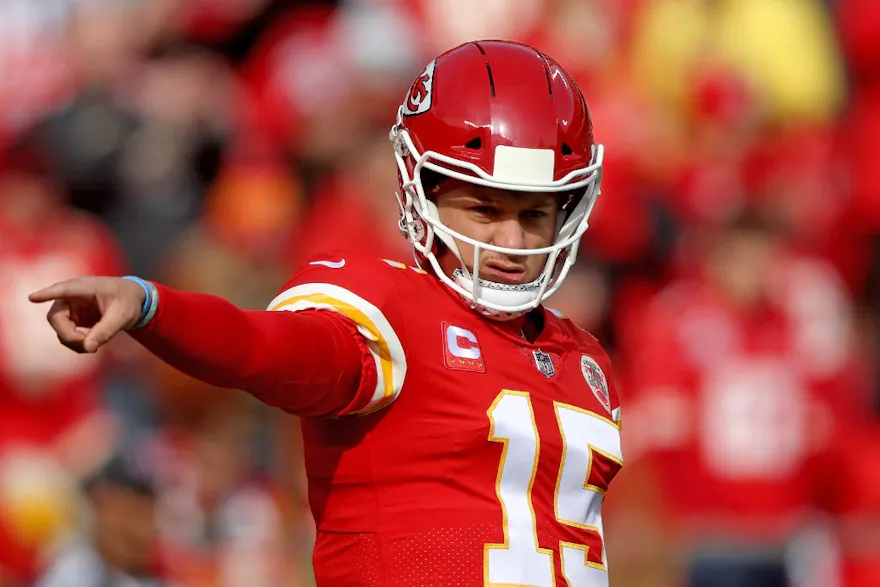 There has not been much rivalry between the Kansas City Chiefs and Denver Broncos in recent years, but this week's AFC West matchup should be interesting. We dive into that and more in our list of Week 14 trends to know in the NFL.
One of the more challenging things for novice NFL bettors is to sift through the countless trends in each game and determine their relevance or impact on the game at hand. For example, head-to-head data between two teams dating back to the 1970s provide little insight since none of the players taking the field were born at that time. Thus, we aim to give you the most relevant information and trends to use when making your weekly wagers.
Here are our top NFL trends to know for Week 14 (odds via DraftKings Sportsbook).
Top NFL Betting Trends for Week 14
Chiefs (-410) ML vs. Broncos
The Kansas City Chiefs have won 13 consecutive games against the Denver Broncos.
The Chiefs had one historic streak broken last week, as their 26-game winning streak in November and December ended with a three-point road loss to the Bengals. Now Kansas City hopes to keep another impressive streak intact, as a win against Denver would be the 14th straight in the rivalry, which would tie the Patriots-Jets for the longest active winning streak by one opponent against another. The Chiefs still have a ways to go to break the record for consecutive wins between division rivals (since 1970), as the Dolphins beat the Bills 20 straight times from 1970-1979. However, the current 13-game winning streak is already the sixth-highest on that list.
It is not just the Broncos that Mahomes beats up on, as he is 24-3 in his career against AFC West opponents. In addition, he has not lost a divisional game on the road in his career, including a 5-0 record at Mile High Stadium. Mahomes is 14-0 in road games against division rivals, which is the second-longest winning streak by a quarterback in division games since the 1970 merger. He needs seven more such wins to break Joe Montana's record of 20 set from 1984-93.
Mahomes has beaten Denver 27-24, 27-23, 30-6, 43-16, and 28-24 on the road in his career, and the Chiefs are -9.5 point favorites this week.
Texans (+17) vs. Cowboys
The Houston Texans are the only team in the NFL to be underdogs in every game this season.
Houston's 1-10-1 start is their worst since 2005. The Jets had been the second-to-last team to have been underdogs in every game but broke that streak in Week 12 when they were 7.5-point home favorites against Chicago.
After last week's loss to Cleveland, Houston has lost 10 or more games for the third consecutive season and has a losing streak of seven or more games for the second straight year. The Texans also have the dubious distinction of being the first team not to cover a spread as a home underdog of seven or more points this season (8-1) after losing 27-14 as 7-point underdogs to the Browns.
On the other side, Dallas has been an NFL-best 21-8 ATS since the start of last season.
AFC East and NFC East Moneylines
Entering Week 13, the AFC East and NFC East had the best combined win percentage by two divisions since the 1970 merger.
Entering last week, the AFC East and NFC East had combined winning percentages of .685 (61-28). The following two highest winning percentages before that were in 2016, when the AFC West and NFC East combined for a .665 winning percentage (58-29-1), and in 2008 when the NFC East and NFC South were also a combined 58-29-1 (.665). All teams in the AFC East and NFC East are still .500 or better, and they enter Week 14 a collective 64-31-2 (.670).
This week, there are two divisional matchups between the Jets and Bills and the Eagles and Giants. Elsewhere, all other AFC East/NFC East teams are favored (Dallas -1500 over Houston, Miami -140 over Los Angeles, New England -130 over Arizona).
Where to Bet on the NFL