2023 NBA MVP Award Futures: Target Players on Teams Trending Upward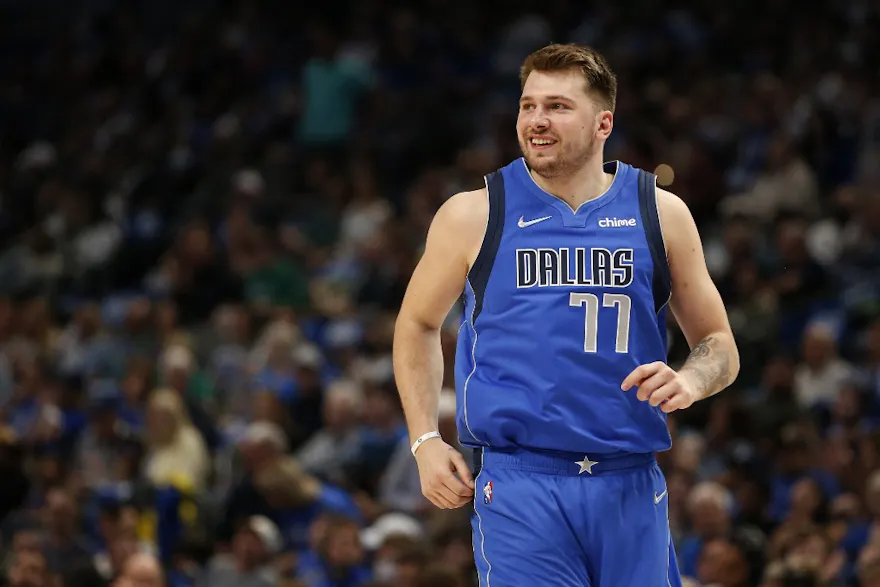 With the 2021-22 NBA season in the books, it's time to turn our attention to the futures markets for next year's campaign. Here are the odds and our picks for 2023 NBA MVP.
Not every book has posted odds for the winner of next year's MVP. That means we can safely expect the market to fluctuate as different books release their own odds. However, we can still find an edge on the limited markets already open.
I'm targeting one two-time MVP winner and two who have yet to win the award for next year. Notably, I'm not targeting this year's runner-up, Joel Embiid. But it's no slight to the elite big man - I just think bettors can find more value elsewhere.
Here are my top NBA MVP picks for the 2022-23 season (odds via BetMGM and DraftKings Sportsbook).
2022-23 NBA MVP Odds
| | |
| --- | --- |
| Player | DraftKings |
| Luka Doncic | +550 |
| Joel Embiid | +550 |
| Nikola Jokic | +800 |
| Giannis Antetokounmpo | +850 |
| Ja Morant | +1000 |
| Kevin Durant | +1200 |
| Jayson Tatum | +1200 |
| Stephen Curry | +1700 |
| LeBron James | +2000 |
| Devin Booker | +2200 |
| Trae Young | +3000 |
| Kawhi Leonard | +4000 |
| Karl-Anthony Towns | +4500 |
| Jimmy Butler | +5000 |
NBA MVP Picks
Luka Doncic (+550 via DraftKings)
Nikola Jokic (+900 via BetMGM)
Kawhi Leonard (+4000 via DraftKings)
Check out our top-rated sportsbooks here
Who Will Win NBA MVP for the 2022-23 Season?
Doncic (+500)
Luka Doncic and Embiid are currently co-favorites at BetMGM. Both players earned MVP votes in 2021-22, although only Embiid earned first-place votes. That said, the early moves in the offseason point to more value on Doncic.
The Dallas Mavericks shipped a pick and several reserve players off to Houston for Christian Wood. The move gives Dallas a versatile big man who can shoot efficiently, which should draw some defensive pressure away from Doncic. Further, it'll give him a more efficient target than Dwight Powell in the pick-and-roll.
The 23-year-old Slovenian superstar flashed serious talent down the stretch this year. He averaged 32 points and 9.5 rebounds after the Kristaps Porzingis trade, better than the 26.2 points and 8.9 rebounds that he had been averaging beforehand. He then averaged 31.7 points and 9.8 rebounds in the playoffs. Although Doncic's assists fell off without Porzingis (and with Spencer Dinwiddie), the Wood trade gives him a chance to improve in that department.
Those concerned about Doncic's youth shouldn't be. Doncic will play his age-24 season next year, which is exactly the age at which Giannis Antetokounmpo, LeBron James, and Michael Jordan won their first MVP awards.
Jokic (+900)
If it ain't broke, don't fix it. That's the strategy NBA MVP voters used this year when giving Jokic his second-straight MVP award. The Joker earned 65 first-place votes and 27 second-place votes, considerably more than Embiid's 26 first-place votes and 39 second-place votes. While it was a downtick from Jokic's 91 first-place votes in 2020-21, the Denver Nuggets weren't as good as they were last season.
Denver has a serious shot to rebound next year. They'll get both Jamal Murray and Michael Porter Jr. back and those two should immediately enter the starting lineup once healthy. Those two should take some of the defensive pressure off Jokic while giving him efficient outlets for passes that will help him rack up more assists. The continued development of Bones Hyland should do the same.
Only three players have ever won the NBA MVP award three years in a row: Bill Russell, Wilt Chamberlain, and Larry Bird. All came from a different era. While some voters may balk at the idea of putting Jokic in the same conversation as those players, a truly dominant season is well within Jokic's range of outcomes next year. The odds on this one are a bit longer than I thought they'd be, so let's take the value and hope for the best.
Leonard (+2500)
It may surprise some that I'm targeting a player who last played over a year ago as an NBA MVP candidate - especially because that player is notorious for his load management. But Leonard's last season with the Los Angeles Clippers suggests he has moved away from that approach, and the extended time off should get his body back to a point where he can handle a full regular season.
The best reason to target Leonard is the disparity between these odds and the Clippers' championship odds. While it's true that last year's MVP played on a team that wasn't seen as a genuine title threat, the paths to an MVP award and an NBA championship both begin at the same point: a dominant regular season. The Clippers own the shortest championship odds along with the Golden State Warriors and Boston Celtics at DraftKings Sportsbook, but both Jayson Tatum (+1200) and Stephen Curry (+1700) have much better odds for MVP.
Bettors should also consider Leonard simply because the books know people have forgotten about him. But the Klaw is a two-time Finals MVP, three-time All-NBA First-Team selection, five-time All-Star, two-time Defensive Player of the Year, and NBA 75 selection. A strong regular-season campaign wherein Leonard leads the Clippers to a top-three seed could help him secure his first MVP award and add to his already-impressive resume.
Where to Bet on NBA MVP Futures Picks
Here are our top-rated sportsbooks:
FanDuel Sportsbook
Caesars Sportsbook
DraftKings Sportsbook
PointsBet
BetMGM
SEE ALSO: All picks, odds, and sports betting news. Be sure to check out SportsbookReview.com's community forums and betting tools.
NBA MVP futures picks made on 6/20/2022 at 12:23 p.m. ET.