Caesars Sportsbook Signs on With NFL Royal Family The Mannings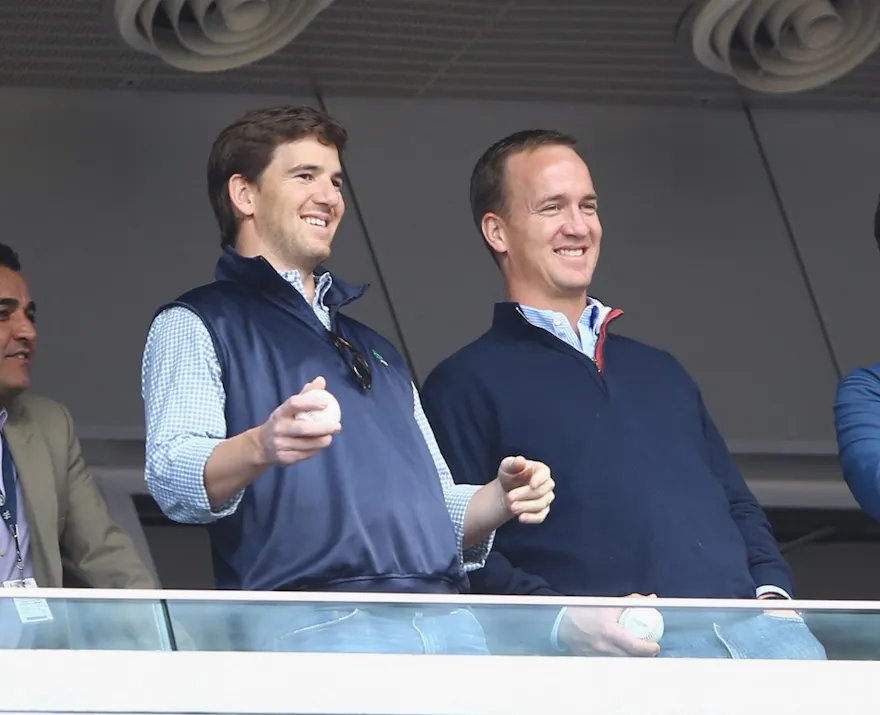 The U.S. legal sports betting gold rush is continuing this week with a rash of partnership deals. The biggest and most impactful news comes from Caesars Sportsbook, arguably the most aggressive sports betting operator with regard to getting its name out in the sports wagering universe.
Following months of partnership deals with the New Orleans Saints' Superdome, college football's Fiesta Bowl, and the LSU Tigers of the NCAA, among others, Caesars this week announced a sponsorship deal with the NFL's first quarterbacking family, the Mannings - Archie, Peyton, Eli, and Cooper.
Not only is the partnership a boon for Caesars' campaign for market share in the Mannings' home state of Louisiana, but it is also expected to boost the profile of Caesars nationwide during boom-time for the sports betting industry in the country.
"This isn't the typical partnership between a sports betting company and major talent," said Chris Holdren, co-president of Caesars Digital. "We're welcoming the most acclaimed family in football history to be integrated holistically into the Caesars family. Archie, Peyton, Eli, and Cooper are extraordinary people who are champions of their communities and we're honored to partner with such a prestigious group of individuals."
Some details of the deal
Caesars Sportsbook intends to take advantage of the Mannings' steady profile in the NFL community. Currently the hosts of the wildly successful "ManningCast" broadcasts for select Monday Night Football games on ESPN2, Peyton and Eli (along with their father and college-quarterback brother) will become one of the many faces of the sportsbook brand.
"The Mannings will be featured in advertising, in addition to making live event and commercial appearances," read a statement. Also, the signing will have ties to the Caesars Rewards program, which will now give participants in the program "the chance to interact directly with the Mannings in various ways."
"We're excited to partner with the team at Caesars Sportsbook," Peyton Manning said. "We're looking forward to interacting with their customers who love sports and love football, and we know Caesars has a lot of fun initiatives planned. They place a strong emphasis on community impact, and we appreciate their support of causes that are important to us."
Why the Mannings?
It has been a few years now since a Manning suited up in an NFL game and yet they are still very much a part of the sport's fraternity. Known for not only winning their share of games and Super Bowls, Peyton and Eli especially have become post-football celebrities thanks to advertising campaigns they have starred in for companies like Nationwide, MasterCard, Sprint, DirecTV, and Papa John's. Their new Monday Night Football broadcast has also been an immense success.
There haven't been too many years in the recent history of the NFL that the Mannings haven't been a part of. Father Archie and sons Peyton and Eli played a combined 28 seasons and 653 games. Accolades for the trio include four Super Bowl championships, 20 Pro Bowls, 152,874 passing yards, and 1,030 passing touchdowns.
Quietly, the Mannings already had ties to Caesars. Manning's Sports Bar & Grill operates out of Caesars-owned Harrah's New Orleans, making signing on as ambassadors of the Caesars brand a logical step for the football family.
Shrewd move
Caesars is an unquestioned elite sports betting provider in the U.S. market for a reason. The company has been shrewd and proactive in staking its place in the wagering universe. Adding the happy-go-lucky Mannings is further proof of that.
For Caesars, the Mannings are just another brick in the foundation of their truly heavyweight brand. For the Mannings, the deal becomes a way to further their already-solid connection to the game they have been a part of, in one way or another, for most of their lives.
For more info about Caesars Sportsbook, check out our NEW Caesars Sportsbook Review.