Best Sportsbooks for Golf Betting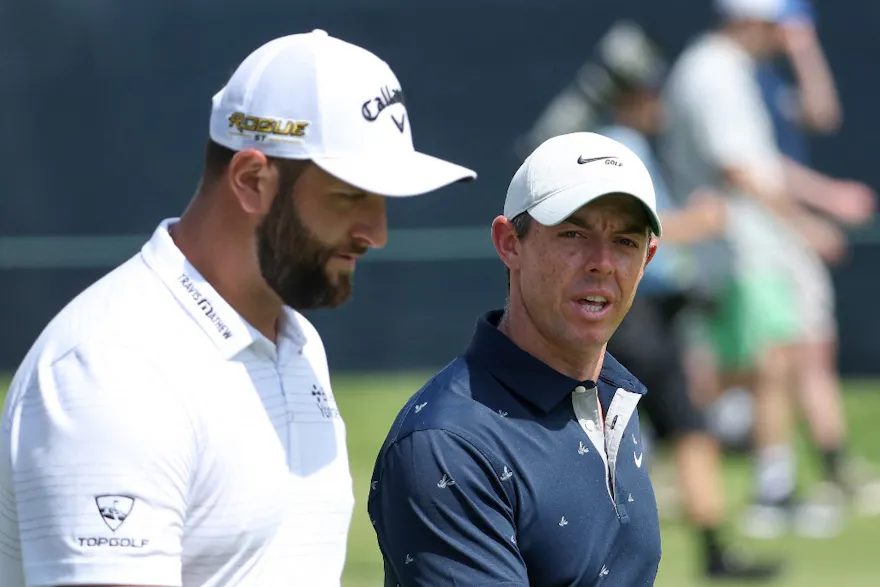 For most PGA Tour fans, punters and poolies the real golf season doesn't begin until the Sentry Tournament of Champions starting Thursday.
With a stacked field set to tee it up at the Plantation Course in Kapalua, HI, it's the perfect time to rank our top-rated sportsbooks and look at how they stand out from one another – both positively and negatively – in their features and offerings available to golf bettors.
The preceding five sportsbooks earned our highest ranks for a reason, and they're all excellent spots for both serious and recreational bettors to shop at. Still, each book has unique markets and odds, and being able to access multiple sportsbooks provides the benefits of having the best of all worlds.
Find out why shopping for the best lines is critical to sports gambling success.
Best Sportsbooks for Golf Betting
5. Caesars Sportsbook
✅ Strong market variety

Not only are there ample markets with competitive odds for golf bettors to wager on, Caesars also has a number of unique offerings available that you won't find at most other sportsbooks. I was particularly drawn to the "Par 3/4/5 Winner in a Group" and "Round Scores" props. Add a variety of matchups props, and there are plenty of options for casual and serious golf bettors.
❌ No finishing position markets, uninviting vigs on some two-way markets
Not offering top-finishing markets doesn't fly. Each of our other four top-rated sportsbooks have odds available for a player to finish Top 5, 10 or 20. I would also recommend being extra cautious when looking to bet on a number of the props with two-way markets. Ahead of the Sentry Tournament of Champions there were Round 1 Score props available for 14 golfers, and the combined average vig was an uninviting 61.2 cents.
4. BetMGM
✅ Ties paid in full for finishing-position props, extensive specials market
Full credit to BetMGM for clearly stating their top 5, 10 and 20 finishing markets are paid out in full in the event of a tie. Most other sportsbooks will chop the return up if a golfer lands in a finishing-position draw. You can also bet on a golfer to card a top-five finish in Round 1. It's one of many unique offerings BetMGM has available in its specials market. The prebuilt finishing-position parlays and individual golfer specials also stood out to me.
❌ Industry-best odds are rarely available
BetMGM has competitive odds throughout its golf markets, but you're just not often going to find the best number available across our top-rated sportsbooks. Still, BetMGM is known for having excellent live-betting lines, and it is often one of the first operators to post odds for tournaments.
Check out our Sentry Tournament of Champions picks.
3. FanDuel Sportsbook
✅ Frequently lists industry-best numbers for golfers down the odds list
Punters will often find the best odds in outright and finishing-position markets for a lot of mid-tier golfers at FanDuel, and it's the No. 1 reason golf bettors should have an account with the sportsbook. There are also enough secondary offerings to add entertaining wagers to your weekly betting portfolio.
❌ Limited betting markets
While FanDuel is an excellent shop for golf bettors, it just doesn't have the expansive markets that are available through our other four top-rated sportsbooks. Still, there's definitely something to be said for doing what you do well, and I'd prefer that over offering unfavorable or over-juiced markets.
2. DraftKings Sportsbook
✅ Well-rounded collection of markets with competitive odds
DraftKings is a top-tier shop for golf bettors because you'll frequently find industry-best numbers across its various offerings. Add an extensive selection of prop markets and prebuilt parlays, and nearly everything you can find elsewhere is easily accessible through DraftKings.
❌ Golfers often listed with industry-worst odds
This reality isn't a huge knock on DraftKings, and it's why having multiple sportsbooks at your disposal can be particularly beneficial when betting on golf. In fact, I'd rather see a sportsbook hang outlier odds that are either the best or worst available than toe the line with middling numbers that never present top value.
Check out our Sentry Tournament of Champions Fantasy Golf Power Rankings.
1. PointsBet
✅ One-stop shop for serious and casual golf bettors
PointsBet is the best all-around sportsbook to bet on golf. It offers creative markets for recreational bettors, and consistently has odds that are competitive with – or better than – our other four top-rated sportsbooks. I love the two longest-drive props. Imagine the entertainment value of wagering on which golfer in a group will mash the longest drive on a given hole. Add the rarely-found Round Scores prop market, and there is just so much available at PointsBet.
❌ Steep vig in some prop markets
My lone knock on PointsBets is that there is a costly vig attached to both sides of the market in a number of its more entertainment-based props. Just like a green fee, you have to pay to play, but no one wants to pay a premium price for a trek around a goat ranch and feel shorted.
* Bonuses not applicable in Ontario.