Austin Ekeler and 5 More Running Backs That Add Value As Receivers This NFL Season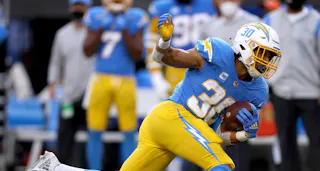 As football has trended towards more passing, that has resulted in some specialization, especially when it comes to how teams utilize their running backs. In some cases, teams have a back that they will count on for first and second down carries before yielding to a receiving back on third downs.
That means that running backs who can incorporate their contributions in the passing game have a chance to play a bigger role and that can help their real football team as well as fantasy football teams in leagues that award points per reception.
Here are a handful of backs that enhance their overall value with their ability to catch the ball out of the backfield.
Here are the latest Super Bowl odds from DraftKings, FanDuel, and Caesars.
Super Bowl Odds
Check out the latest comprehensive and most trusted Sportsbook Reviews by SBR.
Austin Ekeler, L.A. Chargers
Last season, Ekeler rushed for a career-high 911 yards and 12 touchdowns, but his value was far beyond what he gained on the ground. He was targeted 94 times, catching 70 passes for 647 receiving yards and eight touchdowns. All told, Ekeler produced 1,558 yards and 20 touchdowns in 2021 and there is no reason to expect his role in the passing game to decrease.
Najee Harris, Pittsburgh
As a rookie in 2021, Harris had a league-leading 381 touches, including 74 receptions for 467 yards and three touchdowns on 94 targets. Considering the state of the Steelers' quarterbacks, as Mitch Trubisky, Kenny Pickett, and Mason Rudolph battle for reps, it's pretty fair to expect Harris to have even more touches this season, if only because Pittsburgh will need him to alleviate the pressure on their quarterbacks.
Alvin Kamara, New Orleans
Although he has the potential for a suspension looming over him, the 27-year-old has always been a receiving threat out of the backfield for the Saints. He has never rushed for 1,000 yards in a season and yet has had three seasons with more than 1,500 yards from scrimmage. In 2021, he played 13 games, caught 47 passes for 439 yards and five touchdowns on 67 targets.
D'Andre Swift, Detroit
Even though Swift played in just 13 games last season, he still contributed 1,069 yards from scrimmage, thanks in part to 62 catches for 452 yards and two touchdowns on 78 targets. Swift's 6.0 targets per game was tied for the lead among all running backs last season.
Leonard Fournette, Tampa Bay
The other running back who was targeted six times per game last season is the veteran Buccaneers runner who has really improved his pass catching as his career has progressed. Last season, Fournette had 69 catches for 454 yards and two touchdowns on 84 targets in 14 games, and he was even more involved as a receiver in 2019, when he had 76 receptions on 100 targets.
J.D. McKissic, Washington
Other runners on this list tend to carry the ball more, as McKissic has found more of a specialty as a receiving back. He's great in that role, though, and in two seasons with Washington he has 123 catches for 986 yards and four receiving touchdowns on 163 targets in 27 games.

Make sure to keep an eye on our Live Odds page throughout the week to get the best lines possible and connect with others in the SBR community on our popular sports betting forum.