NHL Odds & Best Bets Today: Schedule, Picks for Friday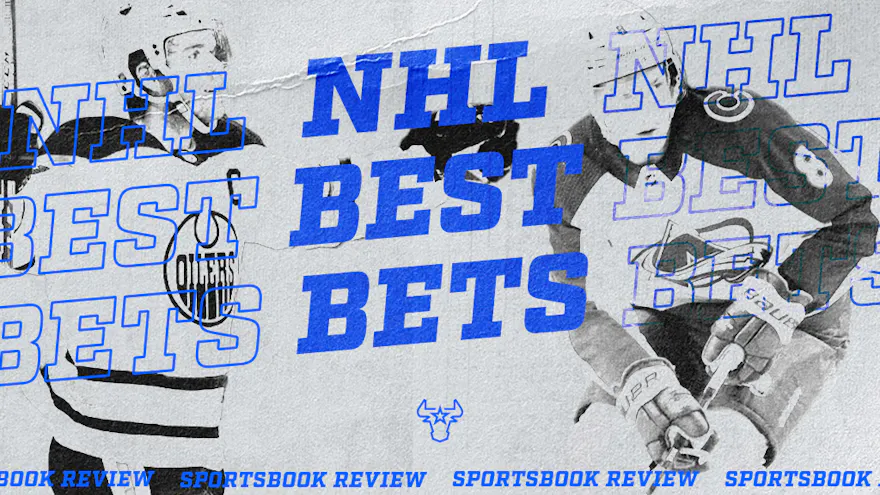 With the NHL All-Star break next week, Friday is uncharacteristically busy, with eight games. Read on for today's NHL best bets based on the latest NHL odds.
Tonight's best matchup of the night sees the New Jersey Devils, coming off a Thursday loss to the Nashville Predators, visiting the Dallas Stars, the fourth and fifth-place teams, respectively, in league standings.
Check out top NHL shot prop picks for Friday!
Despite the loss to Nashville, New Jersey still has the NHL's best road record at 18-3-2, good for a .826 points percentage.
Dallas suffered back-to-back overtime losses but has just one regulation defeat in its past six games.
The Stars enjoy both home-ice and a rest advantage for Friday's matchup against the Devils.
Here are our NHL Best Bets for Friday (odds via FanDuel Sportsbook, DraftKings Sportsbook, Caesars Sportsbook, BetMGM, and PointsBet; pick confidence based on a 1-to-5-star scale).
Friday's NHL schedule and odds
(odds via Caesars)
Ottawa Senators (+170) vs. Toronto Maple Leafs (-205)
San Jose Sharks (+235) vs. Carolina Hurricanes (-292)
Los Angeles Kings (+118) vs. Florida Panthers (-140)
Vegas Golden Knights (+140) vs. New York Rangers (-165)
Detroit Red Wings (+150) vs. New York Islanders (-178)
New Jersey Devils (+135) vs. Dallas Stars (-160)
Columbus Blue Jackets (+158) vs. Vancouver Canucks (-190)
Calgary Flames (+100) vs. Seattle Kraken (-120)
Friday's NHL best bets
Moneyline: Panthers (-140 via DraftKings) vs. Kings ⭐⭐⭐
Spread: Hurricanes -1.5 (-110 via BetMGM) vs. Sharks ⭐⭐⭐⭐
Total: Devils-Stars Over 6 (-110 via Caesars) ⭐⭐⭐
Prop: Patrik Laine anytime goal (+165 via Caesars) ⭐⭐⭐⭐
Friday's NHL top picks
Moneyline: Panthers ML (-140 via DraftKings) vs. Kings ⭐⭐⭐
This selection depends on the Panthers having an NHL goaltender for Friday's game. Spencer Knight last played Jan. 8 and while he's practiced this week, he wasn't ready to start Tuesday at Pittsburgh, leaving AHL call-up Alex Lyon to face 49 shots from the Penguins.
Nevertheless, the Panthers are still scrambling for a playoff spot and have solid underlying numbers, including controlling 53.9% of score-and-venue-adjusted expected goals during five-on-five play.
Part of the reason to like the Panthers' home chances is the L.A. Kings don't boast a big goaltending edge on any team, either. Pheonix Copley brought some stability to the crease for Los Angeles, but he has a .897 save percentage. In nine road games, he allowed 2.99 Goals Above Expected.
The top-rated sportsbooks have the moneyline for a Panthers win between -140 and -145, so head to DraftKings for the best price.
Spread: Hurricanes -1.5 (-120 via Caesars) vs. Sharks ⭐⭐⭐⭐
There's no team dominating the shot clock like the Carolina Hurricanes and that will be too much for the San Jose Sharks to handle. During five-on-five play, Carolina controls 60.9% of score-and-venue-adjusted expected goals. How dominant is that? No other team captures more than 56%.
If Carolina dominates play to that degree, the Sharks need either great goaltending or great special teams play to match the 'Canes.
A netminding edge is unlikely as San Jose has a .879 save percentage, an NHL 31st. San Jose's penalty kill is excellent, allowing the second lowest goals against during four-on-five play, but that won't be enough to keep up with the 'Canes.
There's some range on the Hurricanes' puck line across top-rated sportsbooks. BetMGM has the best price with Carolina -1.5 (-110) while DraftKings and FanDuel are at -115.
Caesars (-120) and PointsBet (-121) trail quite a bit relative to BetMGM, so factor that into your decision when you place this bet.
Check out our latest Norris Trophy odds!
Total: Devils-Stars Over 6 (-110 via DraftKings) ⭐⭐⭐
After a 6-4 loss in Nashville Thursday, the Devils bring their road show to Dallas. New Jersey hit a total of seven goals or more in six straight road games and scores 3.97 road goals per 60 minutes, the league's second highest.
That matches well against a Stars team that scored 3.72 goals per 60 minutes at home, an NHL fourth. The Stars' power play nets 9.80 goals per game during five-on-four, the league's third highest, behind only Edmonton and Boston.
This is a contest where the market doesn't have a strong opinion, as the Over and Under are both priced at -110 at most of the top-rated books.
FanDuel has the Over at -112 with the Under at -110 so, as usual, they look to pull an extra couple of percentage points away from bettors.
Check out our latest Hart Trophy odds!
Prop: Patrik Laine anytime goal (+165 via Caesars) ⭐⭐⭐⭐
When Columbus Blue Jackets forward Patrik Laine is feeling it, he's one of the NHL's premier goal-scorers. That feeling comes and goes, but the 6-foot-5 sniper is in a good place right now.
In his past 10 games, Laine had five goals and 13 points, with 47 shots on goal. He's only recorded a goal in three of those 10 matchups, but that shot rate, from a player with Laine's release, is a strong predictor of future goals.
Playing against the Vancouver Canucks is also a strong predictor of future goals. Vancouver has a league-worst .876 save percentage and it doesn't matter much if it's Collin Delia or Spencer Martin in net, Laine can beat both of them.
Caesars offers the best payout for an anytime Laine goal at +165, better than FanDuel (+156), and miles above what DraftKings and BetMGM offer (+135).
NHL Best Bet picks made 1/27/2023 at 12:58 p.m. ET.
(21+. Gambling Problem? Call 1-800-GAMBLER)
* Bonuses not applicable in Ontario.
Related Pages