NHL Best Bets, Odds Today: Matchups, Picks, Predictions for Saturday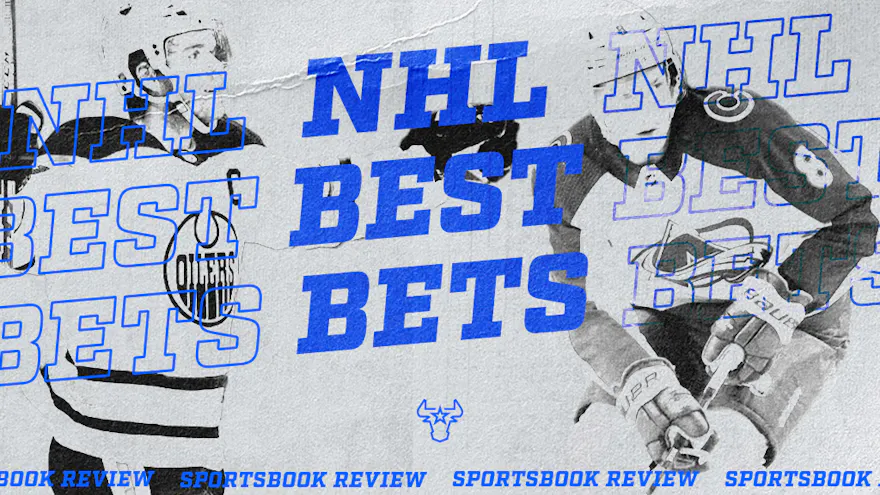 Saturday's NHL slate features all but six teams in action, including an Original Six matchup along with a new-age rivalry or two. Here are our NHL picks and best bets for Saturday.
The weeks between Thanksgiving and Christmas are often when NHL teams truly take stock of their season so far. Those who have done unexpectedly well, such as the New Jersey Devils, will be thinking about shoring up their depth whereas underperforming teams are beginning to decide who is and isn't expendable.
Here are our best bets for Saturday's NHL slate (odds via BetRivers Sportsbook, Caesars Sportsbook, and DraftKings Sportsbook; pick confidence based on a 1-to-5-star scale).
Saturday's NHL Schedule and Odds
(odds via DraftKings)
Anaheim Ducks (+245) vs. Minnesota Wild (-295)
Toronto Maple Leafs (+115) vs. Tampa Bay Lightning (-135)
Montreal Canadiens (+195) vs. Edmonton Oilers (-230)
Colorado Avalanche (+150) vs. Boston Bruins (-175)
Vegas Golden Knights (-145) vs. Detroit Red Wings (+125)
San Jose Sharks (+125) vs. Ottawa Senators (-145)
New Jersey Devils (-230) vs. Philadelphia Flyers (+195)
St. Louis Blues (+145) vs. Pittsburgh Penguins (-170)
Chicago Blackhawks (+225) vs. New York Rangers (-265)
Washington Capitals (+140) vs. Calgary Flames (-165)
Florida Panthers (-115) vs. Seattle Kraken (-105)
Arizona Coyotes (+180) vs. Vancouver Canucks (-210)
Carolina Hurricanes (-130) vs. Los Angeles Kings (+110)
Saturday's NHL Best Bets
Moneyline: Bruins (-170 via Caesars) ★★★★★
Spread: Rangers -1.5 (-103 via BetRivers) ★★★★★
Total: Canadiens-Oilers Over 6.5 (-120 via DraftKings) ★★★★★
Upset: Leafs (+120 via DraftKings) ★★★★
Prop bet: Filip Hronek anytime goal scorer (+600 via DraftKings) ★★★★
NHL Top Picks for Saturday
Moneyline: Bruins (-170) ★★★★★
Death, taxes, and the Boston Bruins winning on home ice. With a 13-0-0 home record, the Bruins have done nothing but delight their fans at TD Garden all season long. Boston has an aging core with limited time to win another championship, and the motivation has been apparent every single night. Spectacular goaltending has played a huge role as well with backstops Linus Ullmark and Jeremy Swayman providing a .947 even-strength save percentage, the best mark in the NHL.
Across the rink, the Colorado Avalanche are formidable opponents and present a massive test. Still, the Bruins have lost only three times through 22 games and it's hard to imagine their home-ice winning streak coming to an end Saturday. Despite the notoriety as defending Stanley Cup champions, the Avs have dropped some ugly ones in recent weeks including a 5-0 loss to the Winnipeg Jets on Tuesday.
The Avs don't stand a chance against the Bruins unless they bring their absolute best, and even that may not be enough.
Spread: Rangers -1.5 (-103) ★★★★★
It's hard to ignore the betting value surrounding this Original Six matchup. The Chicago Blackhawks' Stanley Cup-winning ways are a thing of the past, and the New York Rangers are primed to dominate on home ice. The Blackhawks are allowing an eye-popping 3.68 goals per game, and their penalty killing is also amongst the league's worst. Projected starting netminder, Petr Mrazek, is an abysmal 1-5-1 with a 4.27 goals-against average and an .878 save percentage.
The Rangers haven't been as productive as hoped following an impressive run to the Eastern Conference Final last spring. But that matters little given their opponent, and the incentive is high as New York is currently just outside a wild-card position. The Rangers' ability to score goals, coupled with Chicago's inability to stop them, gives the blue shirts a solid chance to cover the spread in a multi-goal win.
Total: Canadiens-Oilers Over 6.5 (-120) ★★★★★
Taking the Over in games that feature the Edmonton Oilers is typically a safe wager. Very few teams play more of a feast-or-famine style than Edmonton, as the Oilers average 3.42 goals for per game while allowing a whopping 3.63 goals per game. They also boast the fifth-best power play in the NHL, and the Montreal Canadiens are projected to start backstop Jake Allen. The 32-year-old has been an above-average goaltender for most of his career, but this year's 7-8 record to go along with a 3.40 GAA and .898 SV% is great news for Oilers fans.
In fact, the Habs might not have to do very much at all in order for the Over to hit. Many expected the Canadiens to be bottom-feeders this season, but they've been hanging around the wild-card race and are scoring a semi-respectable 2.78 goals per game. Edmonton will start young netminder Stuart Skinner, but questionable defense can help him only so much. He's bound to let in at least a couple, per his 2.91 GAA.
Upset: Leafs (+120) ★★★★
This matchup has been circled on the calendar of every Toronto Maple Leafs player, staff member, and fan ever since last year's game seven playoff defeat. For the first time since that fateful night, the Tampa Bay Lightning will square off against the Leafs. It's an ideal scenario for the Bolts, who are 7-3-1 at home this season and head into Saturday's game as the favorites.
Toronto has a 7-3-2 record on the road. The Leafs also just swept their four-game road trip, and have won eight of their last 10 games overall.
It will undoubtedly be a close contest, but there's a lot to like about taking the Leafs as underdogs. DraftKings has the best value odds by far with the Leafs at +120, up from +115 on Friday night. Other major sportsbooks are hovering around +105.
Prop pick: Filip Hronek anytime goal scorer (+600) ★★★★★
Finding prop market value for a defenseman is rare, but taking Detroit Red Wings rearguard Filip Hronek as an anytime goal scorer could pay off in spades. At +600 odds, a very small bet could net a large return and Hronek has four tallies in his past five games, including a two-goal game. Hronek's role with this team grows every year, and his position in the top four and on the second power play is solidified.
The Vegas Golden Knights are defensively sound and not often walked on, but their recent 4-3 loss to the Pittsburgh Penguins is evidence of that possibility. The Red Wings also have the advantage of being the faster, younger team and their style plays into the Golden Knights' weaknesses. As far as long-shot prop bets go, this is a great one to take a chance on.
Where to Bet on NHL Picks
Here are our top-rated sportsbooks:
NHL odds and best bets from 12/3/2022 at noon ET.