Joe Burrow Super Bowl Prop Bet Picks - Yards, Attempts, Touchdowns Bets for Rams vs. Bengals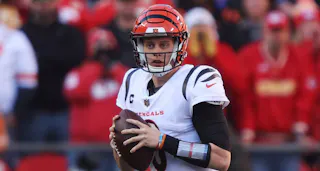 Joe Burrow was the big man on campus while leading LSU to a National Championship. Now he's looking to put the entire city of Cincinnati on his back and capture a most unlikely Super Bowl title for the Bengals. We're looking for Burrow to repeat his college heroics with our top Super Bowl prop bet picks.
It's Joe Burrow's world, and we're just living in it. The second-year pro hasn't suffered any sort of sophomore slump or ill effects related to his season-ending injury in 2021. Burrow has been busy lifting the Cincinnati Bengals to new heights as the franchise attempts to win its first Super Bowl. If that happens, Burrow's right arm will be what wins it for them.
The Bengals are underdogs for the Super Bowl, as they've been throughout the playoffs. Can their young passer overcome the expectations one more time?
Here are the top Joe Burrow prop bets for the 2022 Super Bowl (odds via DraftKings Sportsbook unless otherwise noted; pick confidence based on a 1-to-5-star scale).
What are Player Prop Bets?
Typically, player props include a specific number with a total, and the bettor must predict whether the prop will land Over or Under the projected line.
Prop bets are a fun way to get action on the game without necessarily needing to pick a side. They're often a more sustainably profitable endeavor than betting on the game outcome.
SEE ALSO: Super Bowl Betting Guide
Joe Burrow Super Bowl Player Prop Bets
Over 273.5 passing yards (-115) ?
First-quarter touchdown pass: No (-190) ???
Over 36.5 pass attempts (-106 via FanDuel Sportsbook) ????
Over 0.5 interceptions (-132 via FanDuel) ??
Super Bowl 56 MVP (+230 via FanDuel) ??
SEE ALSO: Rams vs. Bengals Picks
Burrow Super Bowl Props
Over 273.5 passing yards
Burrow has cleared this number nine times over 20 games in 2021-22, but he's posted just one such performance over three playoff contests. Interestingly, the one postseason outing was the Bengals' 19-16 win over the Tennessee Titans - their lowest-scoring playoff effort.
The 25-year-old will likely need to play catch up late in the second half. Though that doesn't automatically lead to chunk yardage, there are plenty of weapons around Burrow to help him put at a respectable performance.
Burrow should get just over this line to finish with around 280 passing yards.
SEE ALSO: 56 Super Bowl Prop Bets
Over 0.5 interceptions (-132 at FanDuel)
If my predicted game script plays out, Burrow could end up tossing an interception along with all of those yards. The Rams defense' ranked third in interceptions this season. It has ballhawks throughout the back end and game-wreckers up front.
There's bound to be a moment when Burrow is pressured and forces a pass into a tight window.
Check out our top-rated sportsbooks here
First-quarter touchdown pass: No (-190)
The Bengals were underdogs over the last two games and played conservatively in the early going. They didn't score a first-quarter touchdown in either of those wins.
The Bengals will likely take a more conservative approach early in this game while opting for field goals rather than going for it on fourth down.
Additionally, the Rams allowed the ninth-most rushing touchdowns this season. That means Joe Mixon could get touches close to the goal line.
I don't love the -190 odds, but this pick feels like a sensible one given the expected game script.
SEE ALSO: Super Bowl Player Prop Bets
2022 Super Bowl MVP (+230)
If you're not betting the Bengals moneyline, and if you don't believe Cincinnati can win, just keep scrolling. This prop bet isn't for you.
It's tough to imagine Burrow not being named the Super Bowl MVP if the Bengals win their first Super Bowl in franchise history. Maybe the MVP is Evan McPherson in an 18-16 contest after the rookie kicker blasts six long field goals, including the walk-off game-winner?
I'm trying to get creative. If the Bengals win, Burrow is almost certainly the reason why.
Over the past 15 Super Bowls, the winning quarterback has been named the MVP 11 times. An exceptional performance or play is often required from a player at another position to win. Like Santonio Holmes' game-winning catch. Or Malcolm Butler's championship-sealing interception.
Burrow is still getting the award even if Ja'Marr Chase pumps up his stats. A Bengals defender could come up with a big play to swing the outcome, but Burrow would need to produce a pretty rough game not to get the token recognition.
This isn't a play for me, but if you like the Bengals ML (+170 at DraftKings), consider a look at Burrow to win MVP. It's +225 at DraftKings and +230 at FanDuel.
SEE ALSO: Ja'Marr Chase Super Bowl Prop Bet Picks
Top Burrow Prop Bet
Over 36.5 pass attempts (-106 at FanDuel)
Burrow will need to take to the skies to keep up with the aerial onslaught I'm expecting Matthew Stafford and Cooper Kupp to deliver.
Outside of a nice 88-yard effort against the Chiefs' mediocre run defense, Joe Mixon hasn't been racking up gaudy rushing totals recently. The Rams boast the sixth-ranked run defense, too.
The Bengals surely won't panic and get away from their game plan if the Rams get up early. But eventually, passing would be the only way back for Cincinnati.
Burrow has cleared this attempts mark in four of his last five games, and he's logged 34-plus attempts in all five of those contests. I like Burrow to push toward 40 passing attempts by the time the Super Bowl has come to an end. FanDuel offers the prop at -106 odds, while DraftKings has it at -115.
Where to Bet on the Super Bowl
Here are our top-rated sportsbooks for odds boosts:
SEE ALSO: All picks and odds. Be sure to check out SportsbookReview.com's community forums and betting tools.