NBA Finals Predictions: 4 Bold Futures Bets for Heat vs. Nuggets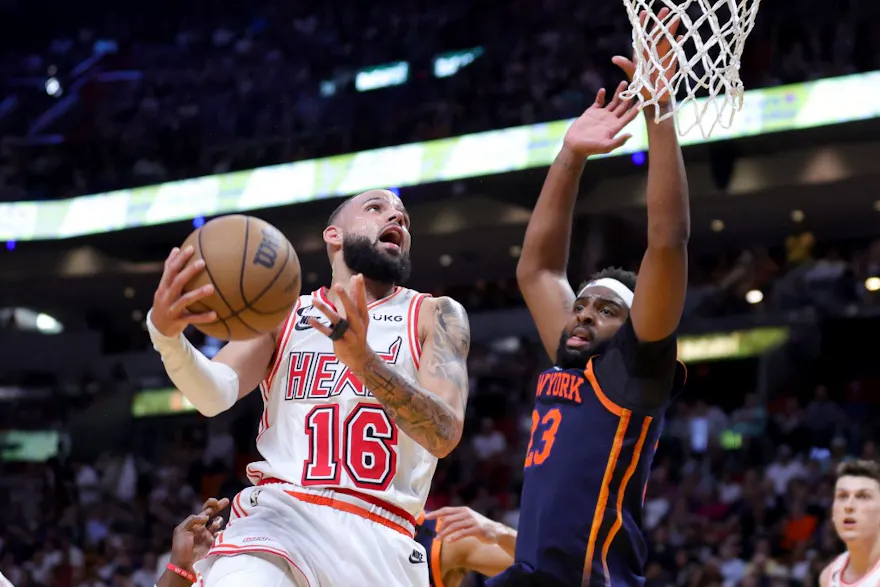 Which team will prevail during the NBA Finals? But wait, even more crucially, is there an edge in the rebounding props for Caleb Martin? Let's dive into the nitty-gritty as we take a close look at my favorite NBA Finals predictions and explore some captivating bets I located via our best NBA betting sites.
NBA Finals and futures bets—seriously, life doesn't get much better than this (at least for me). It may not be the Super Bowl, but we're definitely witnessing some creative markets being released by our best sports betting apps.
I've already clicked the button on four futures bets before the NBA Finals tip-off, and I wholeheartedly invite you to join me on this adventure. Trust me, I didn't spend 14 hours on Tuesday pouring over these markets and assigning prices to these props just for kicks.
So, without further ado, here are some NBA Finals predictions that have caught my attention via the best sports betting sites out there.
NBA Finals predictions
Caleb Martin 10+ rebounds in an NBA Finals game (+100 via DraftKings)
Not intended for use in MA
Affiliate Disclosure: Sportsbook Review may receive advertising commissions for visits to a sportsbook
As discussed in my Miami Heat NBA Finals betting preview, I'm really excited about Martin's rebounding props in the NBA Finals because I believe the futures market hasn't fully recognized his new role yet. Sure, it has adjusted a bit as his total has moved from 4.5 to 7.5 at our best sportsbooks for the games themselves, but it takes time for the market to react to a player's new situation.
By making a few assumptions, we can estimate the price of this prop. Firstly, I'm using a projection of 7.4 rebounds for the series, which is Martin's Game 1 projection; of course, it could change throughout. Secondly, I'm assuming that the series will consist of only four games. Considering all these factors, I believe a fair price for this prop would be +108.
Enter SBR's free-to-play NBA Finals Leaderboard Challenge for your shot at the $350 prize pool.
Although +108 doesn't give us any advantage over the +100 odds we see at DraftKings, our pricing is quite conservative. I anticipate that Martin's projections will continue to rise, and we're also assuming the worst-case scenario of a sweep. The longer this series goes, the more our edge grows because we need Martin to grab 10-plus rebounds only once.
NBA Finals leader total threes made: Michael Porter Jr. (+380 via DraftKings)
| Player | DraftKings | FanDuel | bet365 |
| --- | --- | --- | --- |
| Jamal Murray | -155 | -145 | -155 |
| Michael Porter Jr. | +380 | +240 | +225 |
| Max Strus | +700 | +2100 | +1000 |
| Caleb Martin | +900 | +1300 | +1000 |
| Gabe Vincent | +1400 | +1200 | +1000 |
Nuggets point guard Jamal Murray is the clear favorite in this market at our best NBA betting sites, and for good reason. However, I can assure you one thing: if you bet on Porter, you won't feel cheated. He's a sharpshooter who doesn't hesitate to take a shot whenever he finds even the tiniest bit of space. During the Western Conference Finals against the Los Angeles Lakers, Porter attempted 33 three-pointers in four games, while Murray attempted 35.
The reason this futures bet is being highlighted in this article is due to a price discrepancy we've noticed at DraftKings. At FanDuel, Porter's odds are at +240, while at bet365, they're at +225. It's hard to ignore this prop when you come across an outlier like +380.
This pick also lines up with Shane Jackson's expectations in his Denver Nuggets NBA Finals betting preview.
Caleb Martin to average 8+ rebounds in the NBA Finals (+700 via DraftKings)
I mentioned earlier that I really like Martin's rebounding props in the futures market for the NBA Finals, and trust me, I wasn't just bluffing. As soon as I stumbled upon this prop and the one for Martin to grab 10-plus rebounds in a single game, I couldn't resist crunching the numbers to see if there was a potential edge via any of our best NBA betting sites.
Let's clarify: Martin's journey began as an undrafted free agent who made an impact on the Heat's success. But now, his role has transformed. He has become one of head coach Erik Spoelstra's most trusted contributors, evident from his extensive playing time in crucial games against the Boston Celtics.
With increased minutes, Martin's rebounding numbers have soared, especially since taking forward Kevin Love's spot in the starting lineup, grabbing 15 and 10 rebounds in his last two games. While the rebounding prop has already adjusted to 7.5, I believe it can go higher as Martin settles into his new role, potentially reaching 8.5. If his total is trading at 8.5 later in the series, holding a +700 ticket for an average of 8-plus rebounds in the series will look quite impressive.
Player with the highest single-game scoring performance in the NBA Finals: Nikola Jokic (+135 via DraftKings)
| Player | DraftKings |
| --- | --- |
| Nikola Jokic | +135 |
| Jimmy Butler | +170 |
| Jamal Murray | +200 |
| Bam Adebayo | +2500 |
| Michael Porter Jr. | +2500 |
It's always exciting to root for a long shot in a futures market, but let's not overthink this one. In Game 1, both Butler and Jokic have the same betting total of 27.5 points. Your initial reaction might be to lean toward Butler in this series market, considering he's available at +170 while Jokic is at +135, but I respectfully disagree.
There's always been this narrative that Jokic pads his stats, but I genuinely believe he simply does whatever it takes for his team to win. If that means scoring 15 points and dishing out 15 assists, he'll do it. But when he needs to drop 40-plus points, he's more than capable of doing that as well. It's why we're backing Jokic's NBA Finals MVP odds with our NBA Finals preview.
Although Jokic and Butler have the same point total for Game 1, I believe Jokic has a higher ceiling, and scoring will come more naturally to him in this series.
This becomes apparent when we explore a different market offered by bet365. They have a prop where you can bet on a player to score 40-plus points in a single NBA Finals game. Jokic is trading at -110, while Butler is at +175. Considering bet365 has Jokic at -110 to have a 40-plus point game in the series, Butler at +175, and Murray at +250, why not take advantage of the +135 odds from DraftKings for Jokic to have the highest scoring output in a single game?
NBA Finals odds
(odds updated Thursday, June 1)
| Team | DraftKings | FanDuel | Caesars | BetMGM | PointsBet |
| --- | --- | --- | --- | --- | --- |
| Nuggets | -425 | -460❄️ | -410 | -400🔥 | -400🔥 |
| Heat | +320 | +350🔥 | +320 | +310❄️ | +310❄️ |
Check out our NBA best bets and our NBA Finals MVP odds.
NBA Finals best bets and previews
(21+. Gambling Problem? Call 1-800-GAMBLER)
* Bonuses not applicable in Ontario.
Related pages