Ambetter Health 400 Picks, Predictions 2023: Can William Byron Make it 3 NASCAR Wins in a Row?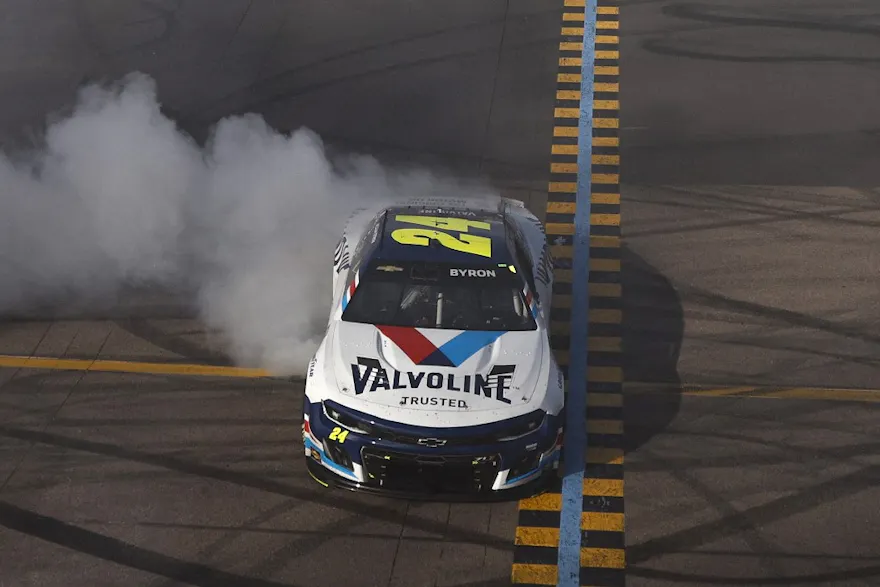 Anything goes this Sunday as super speedway racing returns to Atlanta. Enjoy the action with our Ambetter Health 400 picks based on the best NASCAR odds.
Last season, the Atlanta Motor Speedway unveiled its new configuration. The changes to the track introduced Daytona and Talladega style racing on the 1.5-mile circuit. In its maiden voyage last spring, there were 46 lead changes - 35 more than the previous season. There were also 6,439 green flag passes which dwarfed the 2,386 passes from the year before.
The March 2022 race saw William Byron edge out Ross Chastain by .145 seconds to take the checkered flag. Byron enters Atlanta winning back-to-back races this season. As expected, he's one of the favorites to win this race. However, given the super speedway pricing for this race, there's value to betting on him to win again.
Here are our best bets and 2023 Ambetter Health 400 picks at Atlanta Motor Speedway (odds via our top-rated sportsbooks; pick confidence based on a 1-to-5-star scale).
Ambetter Health 400 picks to win
William Byron +1000 (via DraftKings) ⭐⭐⭐⭐
Tyler Reddick +2000 (via Caesars) ⭐⭐⭐⭐
Alex Bowman +2000 (via FanDuel) ⭐⭐⭐⭐
Ambetter Health 400 odds
(Odds last update Saturday, March 18 at 9:50 a.m. ET)
| | | | | |
| --- | --- | --- | --- | --- |
| Driver | DraftKings | FanDuel | BetMGM | Caesars |
| William Byron | +1000 | +1000 | +900 | +900 |
| Kyle Larson | +900 | +950 🔥 | +900 | +850 ❄️ |
| Ryan Blaney | +1000 | +1000 | +1000 | +1100 🔥 |
| Ross Chastain | +1200 | +1200 | +1200 | +1100 ❄️ |
| Kyle Busch | +1200 | +1200 | +1100 | +1000 ❄️ |
| Joey Logano | +1000 | +1000 | +1000 | +1000 |
| Denny Hamlin | +1200 | +1200 | +1300 🔥 | +1200 |
| Christopher Bell | +1500 | +1600 🔥 | +1400 | +1200 ❄️ |
| Tyler Reddick | +2000 | +2000 | +2000 | +2000 |
| Brad Keselowski | +1500 | +1700 🔥 | +1500 | +1600 |
| Alex Bowman | +1800 | +2000 🔥 | +1600 ❄️ | +1800 |
Ambetter Health 400 predictions
William Byron (+1000 via DraftKings) ⭐⭐⭐⭐
It's hard to leave William Byron off this list given he crossed the finish line in first place in each of the last two races. In that span, he led 240 of the 588 total laps possible. He also clocked 106 of the fastest laps in the previous two races this season. The No. 24 car was among the race leaders over the last two weeks with an average running position of 2.5 in Las Vegas and Phoenix.
Byron won the first race here in its new configuration in last season's spring race. He led the most laps that day and also won the first stage. In the fall, he led 41 laps on this track before exiting the race after a muli-car wreck on lap 171.
Caesars tightened the odds on Byron riding his recent success and his past success in Atlanta. DraftKings and FanDuel agree that 10/1 is the right price for him to join teammate Kyle Larson as the next driver to win three races in a row.
Tyler Reddick (+2000 via Caesars) ⭐⭐⭐⭐
It has been a rough start for Tyler Reddick in his new 23XI ride. However, he rebounded nicely after crashing out of the season's first two races. Two weeks ago, he climbed his way to a 15th place finish after starting from 34th on the grid. Last week in Phoenix, he improved nine spots from his 12th place start to finish third. He even managed to lead three laps in a race in Arizona that the Hendrick Chevys dominated.
His luck hasn't been good in the new Atlanta super speedway setup. Reddick failed to finish both races here last season. However, last spring, Kurt Busch turned in a third place performance in the same No. 45 car Reddick occupies this week. His new teammate Bubba Wallace led three laps in that race as well.
There's a 600-point difference between his shortest odds on PointsBet (+1600) and his best odds on Caesars (+2200). His longest odds offer the most value considering the track's volatility and superspeedway racing in general.
Alex Bowman (+2000 via FanDuel) ⭐⭐⭐⭐
The No. 48 is the only car to finish inside the top 10 of all four races this year. He was the third of an all Hendrick Motorsports top 3 finish in Vegas two weeks ago. Bowman started the season with a 5th place finish at Daytona after capturing the pole for the opening race.
His 20.6 average finish at superspeedways leaves something to be desired. However, a Hendrick car won both races on this track last season. With Chase Elliott on the mend, Bowman gets a boost in attention in the garage.
Last spring, he piloted his way to a 10th place finish. Unfortunately, in the fall he suffered an incident at the end of stage two and was unable to get back on the track.
He may be the HMS driver with the longest odds, but he's performed much better at superspeedways than Larson. The public will likely be on the No. 5 car given his domination over the last two races, so keep an eye on Bowman's odds. Should he get ignored, this price may get better.
Ambetter Health 400 NASCAR Power Rankings
Ambetter Health 400 power rankings courtesy of Sportsbook Review contributor Henry John.
10. Erik Jones (+4000 via SuperBook)
The newly rebranded Legacy Motor Club has been a disappointment so far this season. That said, it's hard to ignore the superspeedway prowess of Erik Jones when it comes to Sunday's Ambetter Health 400. Last year, he posted finishes of 14th and fourth in the first two races on the reconfigured surface. Jones was also in a position to win at Talladega, which further proves his skills as a driver in this discipline.
9. Corey LaJoie (+6000 via SuperBook)
Thanks to the reconfiguration, Atlanta is now a place where the underdogs have a shot. Corey LaJoie proved as much last year. He finished fifth in the spring race and held the lead with three laps to go in the 400-mile event later in the year. Chase Elliott blocked him into the wall on the final restart, and the resulting 21st-place finish was hardly indicative of how well LaJoie ran. Don't be shocked if the March Madness effect carries over to NASCAR this weekend.
8. Bubba Wallace (+2000 via DraftKings)
When it comes to superspeedway racing, Bubba Wallace is one of the best in the NASCAR Cup Series today. Although it has yet to translate to many outright wins, he is one of the most consistent drivers statistically at both Daytona and Talladega. Wallace also ran well on the reconfigured Atlanta Motor Speedway last year before misfortune ruined his chances of reaching victory lane. Even so, the No. 23 car will once again be one to watch on Sunday.
7. Justin Haley (+8000 via SuperBook)
Along with the four Hendrick Motorsports cars, Justin Haley and the No. 31 Kaulig Racing team were levied a hefty penalty for tampering with the hood louvers on their cars last week. Fortunately for Haley, his first shot at redemption will come at a track where the style of racing suits his strengths. Haley is one of the most underrated superspeedway drivers in the Cup Series today. He finished 11th and seventh in the two races at Atlanta last year.
6. Martin Truex Jr. (+3000 via SuperBook)
Martin Truex Jr. is no stranger to having success at Atlanta. Spanning the last 10 races at Atlanta, he owns the best average finish of any driver and has no finish worse than 11th. The big surprise was how well the No. 19 ran on the reconfigured surface last year. Truex has never been considered a top-tier superspeedway racer, but he managed to finish eighth and 11th in the two races here. He also managed to score multiple stage wins in this discipline last year.
5. Daniel Suarez (+3000 via SuperBook)
After scoring top-10 finishes in three straight races to begin the year, Daniel Suarez struggled at Phoenix last week and wound up 22nd. Luckily, the new Atlanta surface is nothing like the one-mile track out in the desert. Suarez excelled in the first two races on the reconfigured track a year ago, finishing fourth and sixth. In terms of betting value, he remains severely overlooked compared to his Trackhouse Racing teammate, Chastain.
4. Alex Bowman (+1800 via DraftKings)
After signing a contract extension with Hendrick Motorsports just before the season began, Alex Bowman is off to a fantastic start. He comes into the Ambetter Health 400 with top-10 finishes in each of the four races run thus far in 2023. Those results include a fifth-place showing at Daytona, proof of Bowman's ability to get it done on the high-banked tracks. He was also 10th in the first race on the new Atlanta surface last year.
3. Ryan Blaney (+1200 via DraftKings)
Fresh off a runner-up finish at Phoenix, Ryan Blaney heads to Atlanta with plenty of momentum. His stats here on the old configuration were among the best in the NASCAR Cup Series, but he was also able to finish fifth in the second race on the new surface a year ago. As an organization, Team Penske is consistently one of the best at working together and getting to the front at the superspeedways which bodes well for Blaney's chances on Sunday.
2. Ross Chastain (+1200 via DraftKings)
If not for Denny Hamlin wrecking him out on the final restart, Ross Chastain was well on his way to another top-10 finish last week. He is off to one of the strongest starts of any driver, and he also has shown plenty of ability to navigate the draft at superspeedways. In addition to winning outright at Talladega last year, Chastain was runner-up in both races at the newly reconfigured Atlanta Motor Speedway.
1. William Byron (+1000 via FanDuel)
After winning outright in each of the last two weeks, it's only fitting that William Byron checks at the top spot in our Ambetter Health 400 NASCAR power rankings. In addition to recent results in the current season, there's good reason to like the No. 24 at Atlanta this week. Byron won the spring race at the reconfigured superspeedway-style track last year. Hendrick Motorsports was also victorious in the fall.
Ambetter Health 400 info
Date: Sunday, March 19, 3 p.m. ET
Location: Atlanta Motor Speedway, Hampton, GA
TV: FOX
Defending winner: William Byron
Ambetter Health 400 pick made 3/14/2023 at 3:22 p.m. ET
(21+. Gambling Problem? Call 1-800-GAMBLER)
* Bonuses not applicable in Ontario.
Related pages