Adelaide International 2 Betting Preview: ATP Tour Continues Australian swing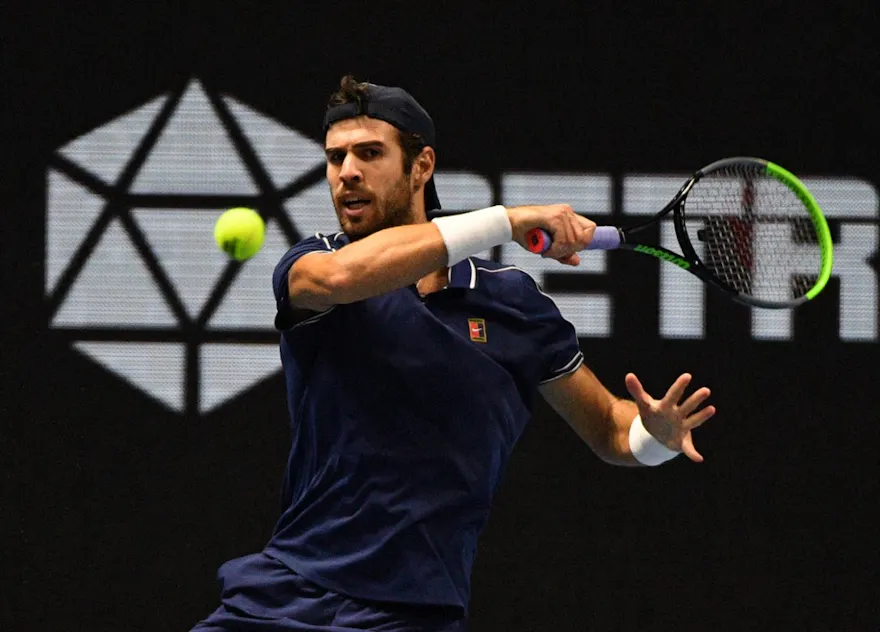 The ATP Tour resumes its Australian swing in the leadup to the 2022 Australian Open with another small tournament in Adelaide. With 250 ranking points going to the winner, there isn't a ton at stake. Read on for our Adelaide International 2 picks.
The sequel to the Adelaide International — or "Adelaide 2" — is one of two new tournaments created just a couple of years ago to help players warm up for the Australian Open. As we've learned over the years, fine-tuning your game prior to a Grand Slam can make a world of a difference, and that's especially true following the offseason.
The top seed in Adelaide is Gael Monfils, with John Isner, Karen Khachanov, Marin Cilic, and Frances Tiafoe among the other familiar faces in the field.
Here are my Adelaide International 2 picks for the ATP's tournament in Adelaide, Australia (odds via Draftkings Sportsbook).
Adelaide International 2 Odds
https://datawrapper.dwcdn.net/NdfQ3/1/
Adelaide International 2 Odd Analysis
The top-seeded Monfils is also the favorite after winning last week following a rocky 2021 season. The third-seeded Khachanov is behind him, along with Marin Cilic.
Adelaide International 2 Picks
Karen Khachanov (+650)Tommy Paul (+800)Thanasi Kokkinakis (+1600)Botic Van de Zandschulp (+2200)
SEE ALSO: All Tennis Odds
Adelaide International 2 Picks
Khachanov (+650)
I've come around on Khachanov after last week's performance. He looked fantastic against a very strong and in-form Cilic, and Khachanov hung with Monfils during the final. While his serving wasn't great throughout the tournament, I love his draw here.
He'll likely face Egor Gerasimov in his first match, an opponent Khachanov easily advanced past last week. Then either Lloyd Harris or Arthur Rinderknech will be up next, two power players Khachanov can neutralize with his intelligence and return capabilities. A rematch with Monfils or a meeting with Van de Zandschulp would likely be on deck next, and the winner would be my pick to take the tournament. Those in the top part of the draw will get the best shot.
Khachanov is a proven tournament-winner and someone whose form is fantastic. Take him at this price.
Paul (+800)
I picked Paul last week and was impressed with his fight against Monfils early in the tournament. Paul should easily march to the quarterfinals here given his draw, and he'll get the hard part over with while defeating Tiafoe.
After that comes a match with Cilic in yet another clash that will decide who advances to the final. The bottom quarter of the draw isn't appealing, and Paul can power through Kokkinakis. He should be able to get by Cilic given the latter's serving struggles last week, and Paul will lean on his improved returning.
The two did play a close match last year in Moscow, and Paul has developed since. He provides great value.
Kokkinakis (+1600)
Speaking of bargains and speaking of Kokkinakis, can you really doubt the hometown kid playing in Adelaide after his matches last week? His confidence seemed to keep growing, with the Aussie's errors decreasing.
Kokkinakis will easily beat Isner, whose fatigue caught up to him after so many ATP Cup matches. Isner will surely also be eyeing the Australian Open next week and not taxing his body much. Kokkinakis moves much better, and he has it in him to win the required points with Isner serving.
While I'd take Paul in a head-to-head meeting, Kokkinakis is capable of beating him too and is therefore a bargain.
Van de Zandschulp (+2200)
I've picked Van de Zandschulp to win this tournament in my bracket. There's no reason to not believe in him after what we've seen for the last few months. Only Grigor Dimitrov's extraordinary effort knocked Van de Zandschulp out in Melbourne last week.
Van de Zandschulp will likely need to run the gauntlet against Monfils and Khachanov, but he should easily win during the final against inferior competition if the 26-year-old gets past them. His serve and forehand have been incredibly precise since arriving in Australia, and he can beat almost anyone on tour.
Oddsmakers are disrespecting him, and lower-seeded or unseeded players often win these warmup tournaments. Van de Zandschulp is my favorite play in the Adelaide International 2.
SEE ALSO: All picks and odds. Be sure to check out SportsbookReview.com's community forums and betting tools.
Adelaide International 2 Picks made on 1/10/2022 at 4:15 p.m. ET.