Top Georgia vs. Alabama National Championship Prop Picks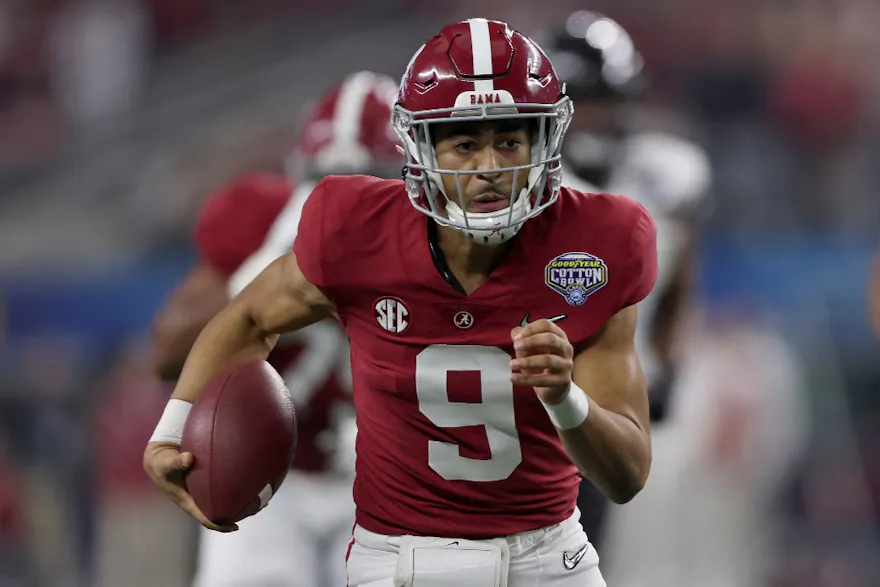 The Alabama Crimson Tide and Georgia Bulldogs clash for the second time this season, this time to determine a national champion on Monday, Jan. 10. Read on for our top College Football Playoff National Championship prop picks.
Winter is tightening its icy grip in the areas of the country where that happens, and this ice, snow, and slush season could feel especially long. That's why you need to maximize one last chance to feel the rush of counting a quarterback's passing yards and celebrating wildly after a five-yard screen pass cashes your Over prop bet.
College football is about to take its annual winter nap that extends until late summer. The National Championship Game provides one more shot to pad your wallet with winnings. So let's see what opportunities are out there through prop plays.
Here are my top national championship prop picks for the game between Alabama and Georgia (odds via FanDuel Sportsbook; pick confidence based on a 1-to-5-star scale).
Top National Championship Prop Picks
Bryce Young Over 310.5 passing yards (-110) ????Ja'Corey Brooks anytime touchdown (+210) ????Brooks + Alabama ML (+433) ???Alabama to win by 7-12 (+650) ???Alabama Over 25.5 (-110) ????
SEE ALSO: National Championship Expert Picks
National Championship Prop Picks
Young Over 310.5 passing yards (-110)
Yes, it's true that Georgia boasts the nation's third-ranked pass defense, with the unit allowing only 171.7 yards per game. And yes, against Cincinnati's even better pass defense which ranked second while giving up 169.2 yards per outing, Young produced a rather human 181 passing yards.
But zoom out a little, and that one game against the Bearcats looks like quite the outlier.
Young faced five pass defenses in 2021-22 that finished the campaign ranked among the top 25, with Florida, Southern Mississippi, and Texas A&M the others. He averaged 304.8 passing yards during those difficult matchups.
That's still just short of this total. But remember, those outings came against defenses that held opponents to 203.9 or fewer yards, so bridging a gap of fewer than nine yards very much feels within reach. Oh, and Young is fresh off torching the Bulldogs for 421 yards and three touchdowns in the SEC title game, complete with a passer rating of 162.0.
SEE ALSO: National Championship Picks
Brooks anytime touchdown (+210)
Brooks rarely set foot on the field before just three games ago for Alabama in the Iron Bowl. He had played a mere 15 snaps against FBS competition prior to that contest. However, he was called upon in the second half against Auburn following Jameson Williams' second-half ejection.
The five-star recruit's response? Blazing past coverage in a crucial late-game moment to score the tying touchdown in the rivalry clash.
https://twitter.com/Tony_Tsoukalas/status/1464783733161136134?ref_src=twsrc%5Etfw%7Ctwcamp%5Etweetembed%7Ctwterm%5E1464783733161136134%7Ctwgr%5E%7Ctwcon%5Es1_&ref_url=https%3A%2F%2Fwww.saturdaydownsouth.com%2Falabama-football%2Fwhy-jacorey-brooks-suddenly-alabamas-ultimate-x-factor-2021%2F
He has immediately been coming through at critical times, and Brooks did the same with a 44-yard catch while again speeding past coverage in the Cotton Bowl, helping the Tide pull away as the first half was winding down. Brooks finished that game with four catches for 66 yards and the touchdown.
The freshman isn't merely a home-run swinging unknown anymore either. His role has increased following John Metchie III's season-ending ACL tear during the SEC title game. Williams remains the Tide's primary option, but Brooks played 60 snaps behind him in the Cotton Bowl, while JoJo Earle and Agiye Hall — the school's other true freshman — combined for 23 snaps, according to Saturday Down South.
The value is great here for our national championship prop picks. The usage is high for Brooks too, and the opportunities will keep coming.
Brooks TD + Alabama ML (+433)
Let's push all-in on Brooks and combine these plays for a potentially nice payout with little risk.
Brooks is Alabama's rising X-factor who will be featured more heavily, but he hasn't been used much overall this season. That's reflected in the odds here, as is Alabama's status as a slight 2.5-point underdog.
Young has thrown eight touchdown passes over his last three games, and two landed in Brooks' outstretched arms deep downfield.
Alabama to win by 7-12 (+650)
The Crimson Tide bested Georgia 41-24 during the SEC title game. The contest was close at halftime, with Alabama leading by seven. But then the Tide outscored the Bulldogs 17-7 in the second half to win by 17 points.
Alabama recorded five wins against teams that finished the season ranked among the top 25 this campaign, and the school's average margin of victory in those games was 15.6 points. The winning margin needed in this play falls slightly below that, building in a cushion for adjustments in the second matchup over a short period, and for the human element of nerves under the national championship spotlight.
This play provides the highest odds in our national championship prop picks. Given Alabama's past performances, it's definitely worth some lunch money.
Alabama Over 25.5 (-110)
Georgia boasts the nation's best defense in terms of scoring average while allowing a mere 9.64 points per game. While the top defenses have slowed Alabama's juggernaut offense somewhat, keeping Young and Co. below this number has been a monumental task.
The Crimson Tide easily soared past 24.5 points their last time out against the Bulldogs. They also scored 27 points against the Bearcats' fifth-ranked defense, and 38 against Texas A&M's third-ranked group.
Alabama averaged 36.3 points per game over those three contests against three of the country's most impenetrable defenses.
SEE ALSO: All picks and odds. Be sure to check out SportsbookReview.com's community forums and betting tools.
National championship prop picks made on 1/8/2022 at 12:15 p.m. ET.