Best Ways to Bet on Alabama: Is Another Undefeated Regular Season on Tap?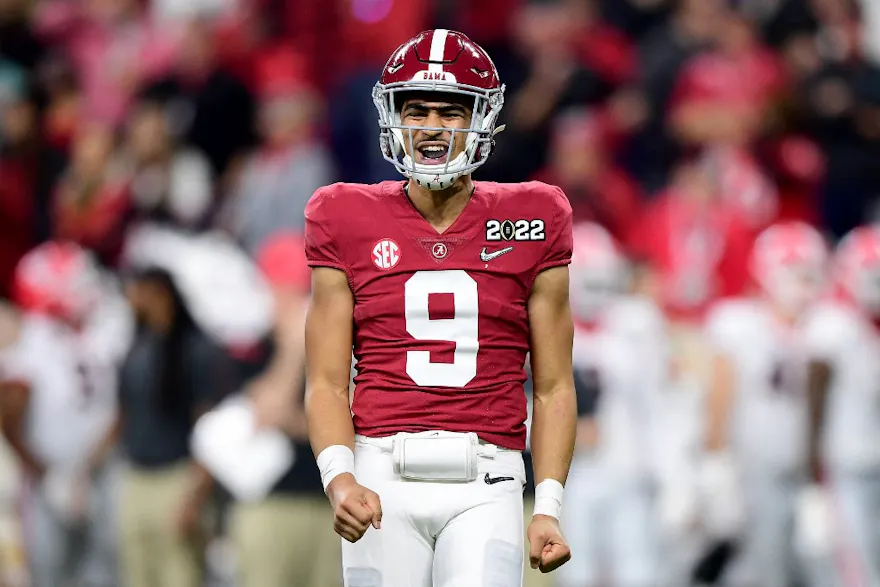 After losing the national championship to the Georgia Bulldogs, Nick Saban's Alabama Crimson Tide squad will look to rebound in 2022. Here are the best ways to bet on Alabama for the 2022 season.
For most schools, Alabama's 2021 campaign would be a banner year. Quarterback Bryce Young won the Heisman Trophy, as he led the Crimson Tide to a Cotton Bowl win over Cincinnati and a championship appearance.
But Alabama isn't most schools. The Crimson Tide have won five national championships since the 2011 season. Three of their players have won the Heisman in that span, including the only two skill-position players to do so. With Young returning behind a solid offensive line, the sportsbooks expect Saban's team to dominate again. I do, too.
Here are the best ways to bet on the Alabama Crimson Tide for the 2022 college football season (odds via WynnBet and DraftKings Sportsbook).
Best Bets for Alabama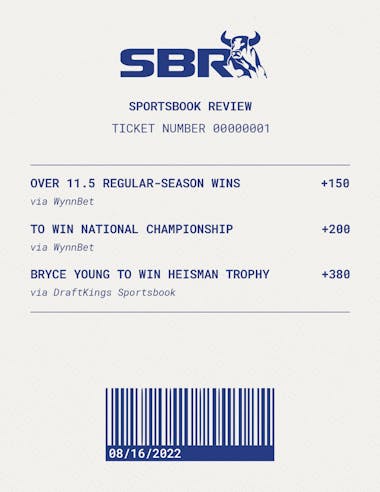 Best Bet Predictions for Alabama
Over 11.5 Regular-Season Wins (+150)
The Crimson Tide are the most prolific dynasty in college football. Unfortunately, that often makes them unprofitable to bet on.
You can find Alabama's win total set at 10.5 at most books, but the juice is so stacked on the Over that it doesn't warrant the risk. No book offering 11.5 will give you a better deal than WynnBet, with PointsBet setting this at +125 and DraftKings at +120.
Over the last 11 years, the Crimson Tide have lost just nine total regular-season games. They own three unblemished regular seasons in that span: 2020, 2018, and 2016. Of the nine losses, three were in the Iron Bowl in Auburn, two were home games against a No. 1 ranked LSU, and two were games against Hugh Freeze's Ole Miss. The final two were a road loss to Texas A&M last year and a home loss to the Aggies - then led by Johnny Manziel - in 2012.
Alabama will face none of those conditions this year. Auburn and Texas A&M will have to play in Tuscaloosa this year, LSU won't be ranked No. 1, and Hugh Freeze has long since left Ole Miss.
A non-conference road trip to Austin could be tricky, but the Crimson Tide are already 15-point favorites. Something unprecedented must happen for Alabama to not finish undefeated, and I'm just not sure what it would be.
Check out the latest comprehensive and most trusted Sportsbook Reviews by SBR.
To Win National Championship (+200)
The above line offers more value than this one. Alabama's regular-season schedule points to another undefeated year, but who knows which teams it'll draw in the college football playoff.
A poor SEC Championship performance could doom the Crimson Tide to a bad first-round matchup against Ohio State. Even if that doesn't happen, they'll probably have to face the Buckeyes or Georgia at least once, and that's not worth the extra juice to me.
Still, this line does give you some slack if Alabama chokes once in the regular season. Further, you'll find much worse odds across the market. The Crimson Tide are as short as +175 at some books. Caesars Sportsbook drew a $100,000 bid on Alabama that moved its price from +200 to +180.
Young To Win Heisman Trophy (+380)
Young opened as the favorite, but his odds have since ticked down to +380. The movement makes sense, as no player has won the award twice since Archie Griffin did it in the 1970s. Further, no school has produced a Heisman winner in three consecutive years. Since DeVonta Smith won the award in 2020, Young would make history twice over by earning the Heisman.
That said, past results aren't determinative of future outcomes. An undefeated season by Alabama with Young at the helm would be all the more impressive this year because the Crimson Tide lost their top two receivers, Jameson Williams and John Metchie.
Young's top target this season will probably be Georgia transfer Jermaine Burton. But the quarterback is no stranger to building chemistry with new additions; Williams, his leading receiver last year, transferred in from Ohio State before last season.
The signal-caller earned an incredible 684 first-place votes last year. Few winners have reached that threshold, and I'm unsure if any returning players have done so. Lamar Jackson earned only 526 first-place votes when he won in 2016. Heisman voters showed they loved Young last year, and he could loom large in their minds when voting this season.
Where to Bet on Alabama Best Bets
Here are our top-rated sportsbooks:
SEE ALSO: All picks, odds, and sports betting news. Be sure to check out SportsbookReview.com's community forums and betting tools.
Alabama 2022 best bets made on 8/14/2022 at 3:40 p.m. ET