NHL Bettor Goes Big on Rangers for Game 2 vs. Penguins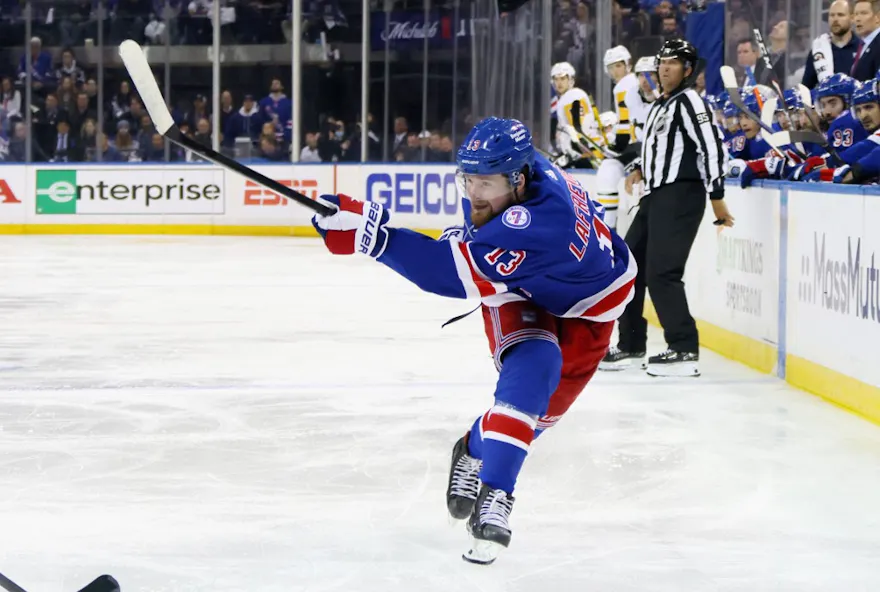 After losing Game 1 of their playoff series against the Pittsburgh Penguins in triple overtime, the New York Rangers still have a big believer, as a bettor has put down $320,000 on the Blueshirts to win Game 2.
The bet, priced at -160 on FanDuel Sportsbook, would pay out $520,000 for a $200,000 profit.
Check out the latest comprehensive and most trusted Sportsbook Reviews by SBR here.
Here are the series odds via DraftKings Sportsbook, FanDuel, and Caesars Sportsbook.
Although the Rangers were outshot 83-68 in a triple overtime game, the Penguins have some goaltending concerns heading into Game 2.
Louis Domingue, Pittsburgh's third-string goalie, looks like he will get the start for the Penguins in Game 2. Starting goaltender Tristan Jarry was hurt late in the regular season, and then Casey DeSmith was injured in the second overtime period of Game 1.
Domingue is a 30-year-old journeyman netminder who has played in 142 NHL games. His .905 career save percentage is below average but also consistent with a good number of backup goaltenders in the league. He stopped 79 of 83 shots in two starts for the Penguins during the regular season and stopped all 17 shots that he faced from the Rangers in Game 1.
The Rangers surely have some urgency to take Game 2 to at least get a split on home ice before the series shifts to Pittsburgh for the next two games.
Make sure to keep an eye on our Live Odds page throughout the week to get the best lines possible and connect with others in the SBR community on our popular sports betting forum.