NHL Odds & Best Bets Today: Schedule, Picks for Monday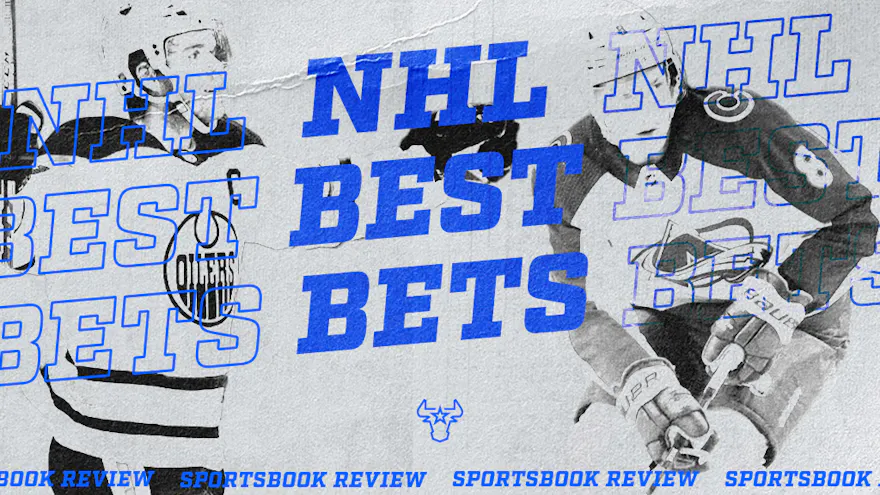 There are five games on Monday's NHL schedule, with some crucial games as teams try to earn a playoff spot. Read on for our NHL best bets for Monday based on the best NHL odds.
Time is running out for those NHL teams on the outside looking in at a playoff spot. There are three games on Monday's schedule featuring teams trying to climb into the postseason.
The Pittsburgh Penguins have dropped three straight but still hold the second wild-card spot in the Eastern Conference. They host the Ottawa Senators, who are losers of five straight and seven points behind the Penguins.
A more pressing issue for the Penguins is the pursuit of the Florida Panthers. Florida is just one point behind going into Monday's matchup at Detroit. The slumping Red Wings trail the Penguins by nine points, so they are fading fast.
The late game on Monday's docket features the Calgary Flames at the Los Angeles Kings. The Kings are two points out of first place in the Pacific Division while the Flames are trying to make up a four-point deficit on the Winnipeg Jets for the second wild-card playoff spot in the Western Conference.
Here are our best NHL picks for Monday (odds via DraftKings Sportsbook, FanDuel Sportsbook, and Caesars Sportsbook; pick confidence based on a 1-to-5-star scale).

Check out our NHL picks.

Monday's NHL schedule and odds
(odds via DraftKings)
Ottawa Senators (+140) vs. Pittsburgh Penguins (-165)
Florida Panthers (-180) vs. Detroit Red Wings (+155)
Chicago Blackhawks (+370) vs. Colorado Avalanche (-460)
San Jose Sharks (+275) vs. Edmonton Oilers (-330)
Calgary Flames (-110) vs. Los Angeles Kings (-110)
Monday's NHL best bets
Moneyline: Penguins (-162 via FanDuel) vs. Senators ⭐⭐⭐
Spread: Oilers -1.5 (-140 via FanDuel) vs. Sharks ⭐⭐⭐⭐
First-period total: Flames-Kings Under 1.5 (+118 via Caesars) ⭐⭐⭐
Prop: Nathan MacKinnon Over 1.5 points (-130 via DraftKings) ⭐⭐⭐⭐
Monday's NHL top picks
Moneyline: Penguins ML vs. Senators (-162 via FanDuel) ⭐⭐⭐
The Penguins are apparently trying to let more teams get into the playoff picture, but the challengers are slumping, too.
With three straight losses and one regulation win in their last nine games, the Penguins are hardly storming toward a playoff spot. Since the All-Star break, Pittsburgh has a .886 save percentage, which ranks 25th, and that is making it difficult to string together victories.
Meanwhile, injuries have forced the Senators to run AHL call-ups in net, and they have a .885 team save percentage since the All-Star break, ranking 27th.
Both teams are also struggling on the power play - Ottawa ranks 29th and Pittsburgh ranks 30th in five-on-four goals per 60 minutes since the break. The edge goes to the Penguins at even strength, as Pittsburgh ranks sixth with 55.3% of five-on-five score-and-venue-adjusted expected goals in that time. Ottawa ranks 17th, controlling 49.2% of expected goals.
My line for a Penguins home victory on Monday is -185, so there is Moneyline value for this matchup. FanDuel offers the best price for a Penguins win among our best sportsbooks at -162, ahead of DraftKings, Caesars, and PointsBet, all at -165. BetMGM is close behind at -167.
Check out our latest Stanley Cup odds!
Spread: Oilers -1.5 vs. Sharks (-140 via FanDuel) ⭐⭐⭐⭐
When they are rolling, the Oilers can be difficult to catch.
They have a 9-2-4 record in 15 games at Rogers Place since the calendar turned to 2023, and each of those nine wins was by a margin of more than one goal.
A lot of that success is built around the league's best power play, with Edmonton scoring 12.45 goals per 60 minutes of five-on-four play. It's not just the best rate in the league, it is best by more than 30% over the Toronto Maple Leafs, who rank second with 9.40 goals per 60.
For all of their flaws, and they are 31st in league standings with 52 points in 70 games, the Sharks have been effective at killing penalties. They rank eighth with 5.90 goals against per 60 minutes of four-on-five play. That number has been climbing, however, as San Jose ranks 22nd with 7.77 four-on-five goals against per 60 since the March 3 trade deadline.
Ultimately, San Jose has just one win and eight multi-goal defeats in its past 12 games. The Sharks don't have the firepower to keep pace with the Oilers in this matchup.
There is a tight range in prices among our best sportsbooks when it comes to the Oilers' puck line. FanDuel is hanging the best number at -140, followed by BetMGM at -143, with DraftKings, Caesars, and PointsBet all at -145.
Check out our latest Norris Trophy odds!
First-period total: Flames-Kings Under 1.5 (+118 via Caesars) ⭐⭐⭐
Both the Flames and Kings have been easing into the action lately.
Since the trade deadline, Calgary has scored six first-period goals and allowed five in eight games. That is an average of 1.38 goals in the past eight first periods, which is the fourth-lowest in that time.
The Kings have been even more stingy, scoring five first-period goals and allowing four in seven games. They have the third-lowest average of 1.29 first-period goals over that seven-game span.
Los Angeles has a league-best 1.67 goals against average since the trade deadline, so the Kings have been minimizing goals against in all three periods, not just the first.
There is a notable variance in pricing for the first-period Under. Caesars has the best price at +118, ahead of DraftKings at +115. BetMGM and Caesars are at +110 while FanDuel has the Under at -102.
That is a serious difference between Caesars and FanDuel, which shows just how much value can be gained by shopping for the best price.
Check out our latest Vezina Trophy odds!
Prop: Nathan MacKinnon Over 1.5 points (-130 via DraftKings) ⭐⭐⭐⭐
Avalanche star center Nathan MacKinnon is making a multi-point game seem relatively routine.
MacKinnon has recorded two points or more in 12 of his past 18 games overall and has 12 multi-point games in 26 games at Ball Arena.
He goes against a Blackhawks team that ranks 29th in expected goals against and 21st in goals against per 60 on the road. A below-average defensive team taking on one of the hottest scorers in the league is a matchup MacKinnon can exploit.
DraftKings and PointsBet have MacKinnon Over 1.5 points at -130, which comes in just ahead of FanDuel (-132) and BetMGM (-133).
NHL best bets made 3/20/2023 at 12:15 p.m. ET.
(21+. Gambling Problem? Call 1-800-GAMBLER)
* Bonuses not applicable in Ontario.
Related pages