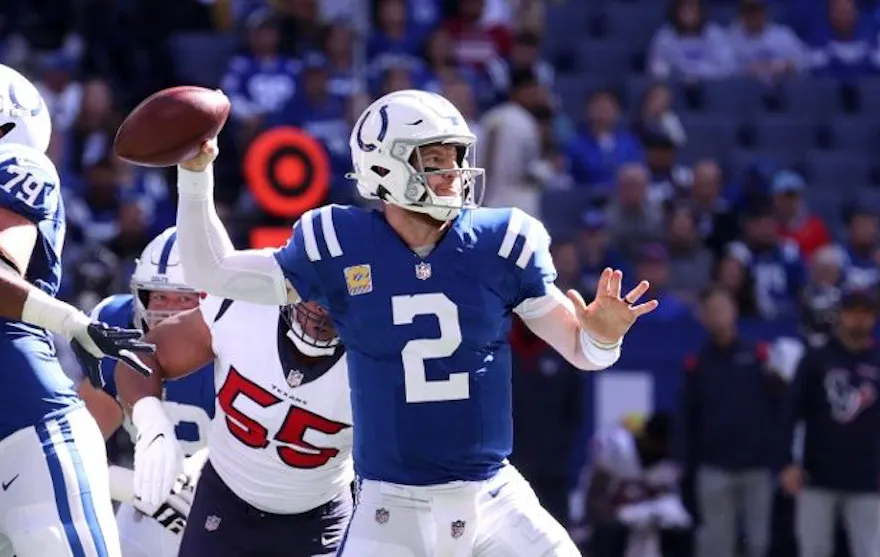 With the Buffalo Bills, Dallas Cowboys, and Los Angeles Chargers among the six teams on a bye this week, that is some heavyweight clubs and quarterbacks sitting on the couch with their feet propped up. No matter, this is the NFL and if there is a point spread, bettors are good to go with Week 7 parlay picks.
Every single week of the NFL season, sportsbook operators and oddsmakers are paid to squeeze every nickel of profit on whatever they touch. Come Sunday, after bettors have placed most of their wagers, they look to see what exposure they have on one-sided games against the point spread. They'll seek to find out which are top-heavy on parlays and teasers that could be problematic to their bottom line.
Our job as football bettors, make them sweat and do some damage. Hit them where it hurts.
Here's a look at my top parlay picks for Week 7 NFL action (odds from Circa Sports).
Week 7 Parlay Picks
Atlanta Falcons vs. Miami Dolphins +2.5 (-110)
What did Miami do to the NFL to have this happen to them? It is rare for a team to fly all the way to London and not have a bye the following week. Yet, this is the Dolphins' fate, while the Jacksonville Jaguars have an extra week to celebrate their first victory in 21 games. The situation is made worse with Atlanta coming off a Week 6 bye.
The Dolphins (1-5 straight up, 2-4 against the spread) have lost five games in a row since their one-point opening week triumph at the New England Patriots. The tenacity and moxie the Dolphins played with the first two years under head coach Brian Flores has given way to indifference, at least in terms of body language.
After losing on the last play to the Jaguars, you could tell Flores was angry. Look for this frustrated squad to show up and take out a Falcons club whose only two wins are against the teams from New York.
SEE ALSO: 4 NFL Week 7 opening lines and picks
Philadelphia Eagles vs. Las Vegas Raiders -3 (-120)
Las Vegas thoroughly controlled the Denver Broncos for three quarters on the road last week before letting up a bit with the game in hand entering the fourth quarter. That was a bit of surprise after the whole Jon Gruden ordeal and credit to the players and interim head coach Rich Bisaccia.
This writer will be the first to admit, among the less intelligent NFL picks over the last several years is to back the Raiders after a feel-good win. However, I'm throwing caution to the wind and turning a blind eye to their continued poor home record (4-7 SU at Allegiant Stadium) since the start of last season. Why might I be so foolish? Here is why.
Dallas Cowboys QB Dak Prescott, Kansas City Chiefs QB Patrick Mahomes, and Tampa Bay Buccaneers QB Tom Brady all completed at least 80 percent of their passes against Philadelphia's defense. The only reason they didn't average more than 262 yards passing, is their rushing attacks averaged 154 yards per game. Raiders QB Derek Carr carves up the Eagles' defense for the win and cover.
Indianapolis Colts +3.5 (-105) vs. San Francisco 49ers
At age 31, and coming in at 5-foot-10 and 183 pounds, Colts WR T.Y. Hilton is not an imposing figure. Yet, his presence adds juice to the Indianapolis offense. Hilton being on the field opens up the Colts' passing game for QB Carson Wentz and RB Jonathan Taylor has one less defender near the line of scrimmage with which to contend.
Indy should be better than 2-4 SU and its 4-2 ATS record supports that. The Colts travel to San Francisco for a Sunday night matchup and the 49ers' situation is about as clear as mud after a 2-3 start.
While not big fans of Wentz, he has a better offensive supporting cast and he's not turning over the ball.
NFL Week 7 parlay picks combined odds: Dolphins +2.5 (-110) + Raiders -3 (-120) + Colts +3.5 (-105) = +583
SEE ALSO: NFL power rankings Week 7