NFC North Betting Preview 2023: Futures Picks & Predictions for All Teams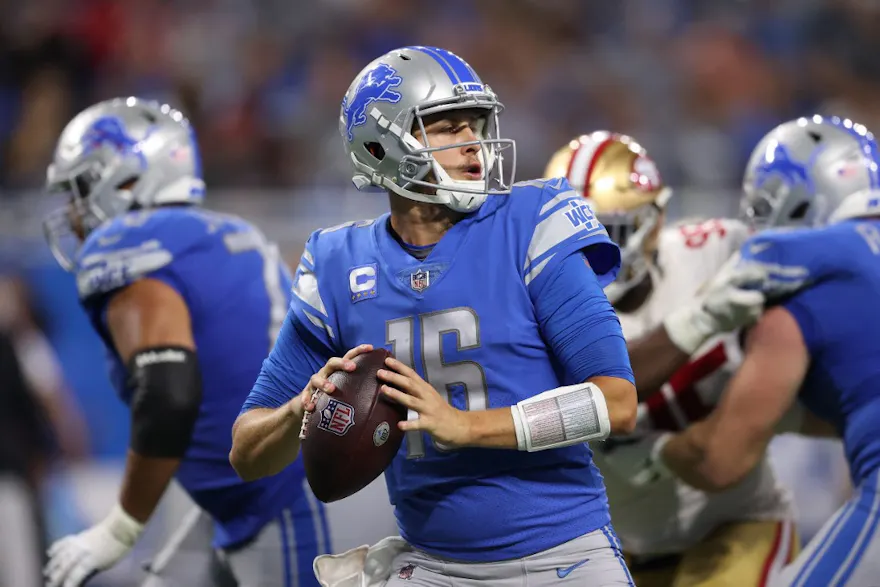 Can Jared Goff and Dan Campbell guide the Detroit Lions to their first NFC North title since 1993? Read on for our 2023 NFC North betting preview based on the odds from our best NFL betting sites.
The Detroit Lions commence the season as favorites to win the NFC North, trading at +145 at one of our best live betting sites. After showcasing significant improvements last season, the question arises: how will the Lions manage the transition from being the hunter to becoming the hunted?
The vibes I get from the fanbase is that there's skepticism regarding the Lions meeting expectations, and can you really blame them? After all, they haven't clinched the NFC North since 1993!
The encouraging news for all teams in the NFC North division is that Aaron Rodgers has departed and is now part of the New York Jets. Rodgers wreaked havoc in this division for 15 seasons, propelling the Packers to secure the division title eight times during that period.
With Rodgers out of the picture and a new era on the horizon for the NFC North, one might assume we wouldn't be placing any bets on the Packers to win the NFC North this season, right?
Check out our 2023 NFC North betting preview as part of our 2023 NFL betting guide based on the odds from our best sports betting apps (pick confidence based on a 1-to-5-star scale).
Visit our Google News page and click "Follow" (⭐) for the latest odds, picks and news!
NFC North betting preview 2023
Packers to win NFC North (+400 via DraftKings) ⭐⭐⭐⭐
| Team to win division | DraftKings | FanDuel | BetMGM | Caesars | bet365 |
| --- | --- | --- | --- | --- | --- |
| Lions | +140 | +145 🔥 | +130 | +120 ❄️ | +130 |
| Vikings | +275 | +260 ❄️ | +280 | +300 🔥 | +280 |
| Packers | +400 | +350 ❄️ | +400 | +380 | +400 |
| Bears | +400 | +430 🔥 | +400 | +425 | |
Do I consider the Packers as the top team in the NFC North? No, that distinction belongs to the Lions. However, my focus isn't on predicting the best team; it's about identifying the team offering the most favorable odds. According to my projections, the Packers are expected to win 8.2 games, while the Lions are predicted to secure 9.1 victories. This might lead someone to contemplate placing a bet on the Lions to triumph in the NFC North. But, let's take a closer look at the pricing.
With the Packers projected to achieve 8.2 wins, I can set a price of +322 for them to win the NFC North. Our price aligns much closer with FanDuel's stance on this bet at +350, but we hold a significant advantage over the DraftKings price of +400. Based on our price of +322, this bet exhibits a positive expected value of 18%.
Now, turning our attention to the Lions, we can establish a price of +172 for them to secure the NFC North. However, the best available price is +145 via FanDuel. This means that a bet on the Lions to win the NFC North holds a negative expected value of 10%. Despite our projections indicating the Lions winning more games and boasting a higher power rating, the best bet considering the current odds is actually on the Packers at +400.
Given the substantial probability gap that exists for the Packers, the optimal approach to succeeding in this market might involve betting on the Packers now and waiting for an opportunity to bet on the Lions when their odds demonstrate a higher expected value at one of our best sportsbooks.
In sports betting, the goal is to identify these gaps in the numbers, establish expected value, and achieve long-term success. While any outcome is conceivable in a sporting event, the crucial question is whether you're receiving adequate compensation for the outcome on which you've placed your bet. In the case of wagering on the Packers to win the NFC North, our numbers suggest that you're being overcompensated for the occurrence of this particular outcome.
NFC North most regular season passing touchdowns: Jared Goff (+225 via DraftKings) ⭐⭐⭐⭐
DraftKings has displayed creativity this offseason by introducing futures markets where you can place bets on who will lead specific statistical categories among all players in the division. Since this serves as an NFC North betting preview, it seems appropriate to explore some of these markets.
Kirk Cousins is the favorite to top the NFC North in passing touchdowns with odds of -150. However, it's worth noting that one of Cousins' primary red zone targets, Adam Thielen, has departed for the Carolina Panthers. Over the last three seasons, Thielen has caught 30 touchdown passes from Cousins.
Now, let's shift our attention to Goff, who tied Cousins with 29 passing touchdowns last season. He'll have even more weapons at his disposal this season, including Jameson Williams returning to the lineup after his suspension and the addition of Jahmyr Gibbs.
Looking solely at the projections, Cousins is expected to slightly outperform Goff in terms of passing touchdowns this season. If all factors were equal, Cousins would be the choice. However, the reality is different. Cousins is priced at -150, while Goff stands at +225.
Considering both the projections and the odds associated with each quarterback, I am inclined to lean toward betting on Goff at +225.
NFC North most regular season rushing yards: Justin Fields (+250 via DraftKings) ⭐⭐⭐
| Player | DraftKings | Projected Rushing Yards |
| --- | --- | --- |
| Justin Fields | +250 | 1,009 |
| Aaron Jones | +350 | 1,030 |
| Alexander Mattison | +350 | 973 |
| David Montgomery | +450 | 810 |
| A.J. Dillon | +700 | 734 |
| Jahmyr Gibbs | +1000 | 803 |
Are we placing a bet on a quarterback to lead the NFC North in rushing yards? Yes, indeed we are. Let's start by acknowledging that despite being a quarterback, he's projected to rush for 1,009 yards this season. This projection positions Fields only 21 yards behind the anticipated leader, Aaron Jones, who is projected to achieve 1,030 rushing yards.
At first glance, one might be inclined to consider Jones, who is trading at +350 instead of +250 like Fields. However, I hold a different perspective on this pricing. The primary reason I favor Fields in this market, even though he's the favorite at +250, is due to his potential and the opportunities he's likely to receive. In the previous season, over 15 games, Fields rushed for 1,143 yards, and if he maintains that pace, he would amass 1,295.4 yards on the ground. Unlike many other rushers in the division, Fields' role as a quarterback in the offense is secured. He's set to be the starting quarterback for the Bears, and his ability to run will continue to be a fundamental aspect of how he contributes to the offense.
In contrast, several other running backs in the NFC North don't have the same assurance in their offensive roles; they find themselves in a time share. Take David Montgomery and Jahmyr Gibbs in Detroit, Aaron Jones and A.J. Dillon in Green Bay, and Alexander Mattison in Minnesota, for example. Although Mattison is anticipated to receive the majority of carries, it's still not a certainty.
Regarding Jones, who's projected to win this market by a mere 21 yards over Fields, it's important to recognize that he not only shares carries with Dillon but is also adapting to a new offensive system led by Jordan Love. Furthermore, Jones is 28 years old and embarking on his seventh NFL season, which isn't considered young for running backs.
Distinct from the other divisions in the NFL, the NFC North lacks a dominant, workhorse running back, or even the potential for one. For this reason, I strongly favor Fields at this +250 price point, available at one of our best sports betting sites, to lead the NFC North in rushing yards.
Offensive Rookie of the Year: Jahmyr Gibbs (+1000 via DraftKings) ⭐⭐⭐⭐
| DraftKings | FanDuel | BetMGM | Caesars | bet365 |
| --- | --- | --- | --- | --- |
| +1000 🔥 | +900 | +750 | +700 | +900 |
We could have dived into the last division-specific market, which is about predicting who will lead the NFC North in receiving yards. However, I didn't believe anyone would be interested in laying -360 on Justin Jefferson. Thus, I'm going to shift focus and present one of my preferred award market bets before the season kicks off, and it also revolves around an NFC North player: Jahmyr Gibbs.
The Lions surprised everyone by selecting Gibbs with the 12th overall pick in the 2023 NFL Draft. The general consensus was that Gibbs would be drafted toward the end of the first round or possibly at the start of the second round. However, the Lions chose to draft him early due to their recognition of his potential to become a matchup nightmare for opposing defenses, given his speed and his ability to catch the ball out of the backfield. Gibbs' skill set has drawn comparisons to Alvin Kamara's, who secured the Offensive Rookie of the Year award in 2017.
One aspect is definite: the Lions didn't invest the 12th overall pick on Gibbs to have him ride the bench. They intend to deploy him frequently and right from the start of his rookie season. There's a new trend with running backs, in which teams are cautious about extending their contracts beyond the rookie deals and opt to capitalize on their usage while they remain on their rookie contracts. Gibbs is anticipated to be an immediate weapon for the Lions; they won't limit his involvement in order to preserve him for a future contract.
At Pinnacle, Gibbs is trading at +910 for winning the Offensive Rookie of the Year award. While BetMGM and Caesars have adjusted their odds to trade Gibbs in the +700 range, DraftKings still offers a +1000 on Gibbs. It would be a wise move to seize this price at DraftKings, as it's likely it will soon align its odds with the rest of the market. Just a few weeks ago, we saw a +1100 available at FanDuel, but that price has since disappeared. Beyond the enticing price, I genuinely believe Gibbs poses a substantial threat to securing this award, owing to his potential to make an immediate impact.
(21+. Gambling Problem? Call 1-800-GAMBLER)
* Bonuses not applicable in Ontario.
Related pages