Top Expert NFL Prop Picks for Wild Card Weekend: Can Gronk Erupt against Eagles?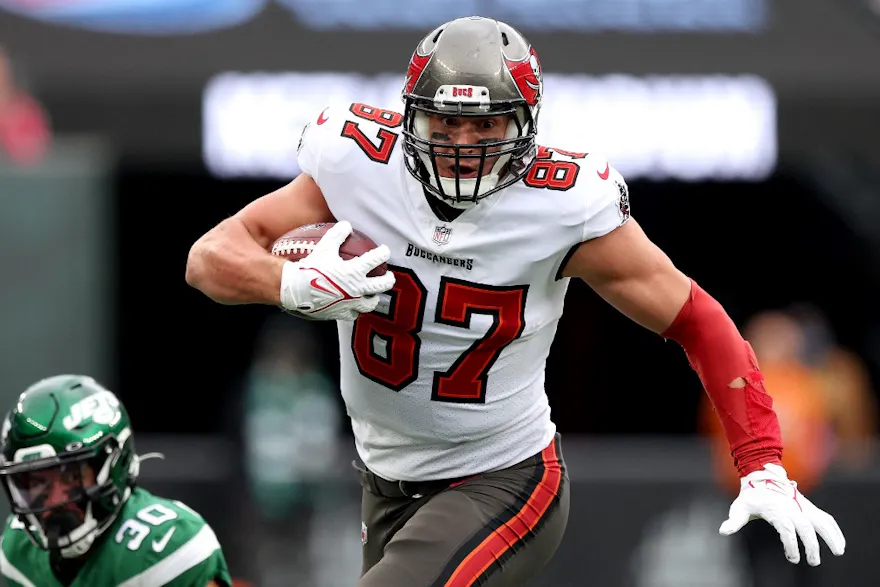 Our football experts make their best Week 18 NFL player and team prop picks.
There's plenty of value to be found throughout the prop board as we head into Wild Card Weekend. Most notably from our team of experts, alternate spreads are appealing, along with player props tied to touchdowns.
Here's a look at the top team and player NFL prop picks for Wild Card Weekend from SportsBookReview's betting experts (odds via DraftKings Sportsbook, BetMGM, and FanDuel Sportsbook, and pick confidence is based on a one-to-five star scale).
NFL Team Prop Picks
https://datawrapper.dwcdn.net/OMMfC/1/
SEE ALSO: NFL Wild Card Weekend Picks Roundup
NFL Player Prop Picks
https://datawrapper.dwcdn.net/uXGLZ/1/
SEE ALSO: NFL Parlay Picks for Wild Card Weekend
Top NFL Wild Card Weekend Team Prop Picks
Chiefs second-half spread -5.5 (-115 via DraftKings)
The Kansas City Chiefs are notoriously slow starters in the postseason, and they've faced early deficits in six of their last seven playoff games. The only exception is last season's divisional-round win over the Cleveland Browns, which they led 6-3 after the first quarter. K.C. went on to put up 31-plus points in five of the other six games.
The Pittsburgh Steelers won't race out to an early lead at Arrowhead, but the Chiefs will pour it on in the second half, even if the game is well in hand. The defending two-time AFC Champions don't take too kindly to losing out on the No. 1 seed and needing to play on Wild Card Weekend. They'll look to make a statement with the final box score at the Steelers' expense. - McClymont
SEE ALSO: Chiefs-Steelers Picks
Eagles alternate spread +4.5 (+160 via DraftKings)
Few are arguing that the Eagles will be competitive in this game, which is reflected in the wagering so far. Currently, 73% of the tickets and 72% of the cash is on the Tampa Bay Buccaneers. And despite the line moving from 8 to 9.5, 64% of the cash and 70% of the tickets are still backing Tampa Bay at -9.5.
The weather is going to be a problem. Rain is forecasted, along with winds of over 25 mph. The offensive focus might shift to the ground for both teams. If that happens, injuries to Leonard Fournette, Giovani Bernard, and Ronald Jones could cause problems for the Buccaneers.
Fournette is expected to return, but it's unclear how much he can handle. With Chris Godwin and Antonio Brown injured and off the team, respectively, Tom Brady is already without significant weapons. Brady and the Bucs may struggle to move the ball if the weather doesn't cooperate.
The value of this bet lies in grabbing a key number of +4.5 on the Eagles at +160. They just need to keep a possibly ugly game close. - Metler
SEE ALSO: Eagles-Buccaneers Picks
Lowest scoring team on Wild Card Weekend: Patriots (+450 via DraftKings)
The Patriots have been given the second-lowest odds of being the lowest-scoring team of the 12 playing this weekend. The Patriots-Bills game has also been given the lowest total of the weekend, with the forecast calling for bone-chilling temperatures that will affect each offense.
Buffalo led the NFL in scoring defense while allowing 17.0 points per game. The team held the Patriots to an average of 17.5 points over two meetings, and 14 points in the matchup in Buffalo. This is Mac Jones' first playoff game, and the Patriots likely won't let him air it out in a frigid environment.
Bill Belichick will try to grind his way to a victory, and he'll fail in doing so against Buffalo's stout defense. The Patriots will become the weekend's lowest-scoring team in the process. - Spector
Bills alternate spread -7 (+125 via DraftKings)
Projecting the impact of weather is difficult, especially when it's pure cold involved, and not wind or precipitation. That will be the case Saturday night in Buffalo. Frosty temperatures are expected, but the conditions should be calm otherwise.
The weather could prompt a run-oriented approach from both teams, which gives the Bills an edge in multiple ways. Their versatile quarterback Josh Allen can scorch defenses with his legs, which he did often while finishing second at his position with 763 rushing yards in 2021-22. That includes 64 yards during his last meeting with the Patriots, and a season-high 109 yards against the Tampa Bay Buccaneers and their third-ranked rushing defense.
Toss in the suddenly surging Devin Singletary and his six touchdowns over the Bills' last four games, and Buffalo boasts the rushing weaponry to exploit a defense allowing 123.7 yards per game. - Tomlinson
SEE ALSO: Patriots-Bills Picks
Top NFL Wild Card Weekend Player Prop Picks
Samuel Over 28.5 rushing yards (-118 via BetMGM)
Samuel has been the San Francisco 49ers' MVP this season. He's been thriving in a hybrid role since head coach Kyle Shanahan converted the physical receiver into a rusher in Week 10.
The 25-year-old has failed to reach 29 rushing yards just once over his last eight games.
https://datawrapper.dwcdn.net/GCDlL/1/
Deebo even didn't struggle to make an impact in Week 18 with Pro Bowl left tackle Trent Williams out, and while facing an imposing Rams front seven. He also threw a touchdown pass to swing a must-win game in the Niners' favor.
Reaching 30-plus rushing yards against the Cowboys' 16th-ranked run defense shouldn't be a problem. - McClymont
SEE ALSO: 49ers-Cowboys Picks
Renfrow anytime touchdown (+180 via DraftKings)
Draftkings is disrespecting one of the NFL's best red-zone targets while hanging +180 on this prop. Renfrow has scored four touchdowns over the last three games for the Oakland Raiders.
His route running is unstoppable in short-yardage situations, making him the perfect red-zone weapon. Consequently, he leads the Raiders with 13 targets inside the 10-yard line. Bryan Edwards ranks second among Raiders wide receivers with five targets.
BetMGM agrees with me that +180 is way too high for Renfrow. That book is giving him +125 odds to score.
Make sure to shop around if you're thinking about betting on this prop, as the odds vary widely. - Metler
SEE ALSO: Bengals-Raiders Picks
Gronkowski Over 56.5 receiving yards (-115 via DraftKings)
Rob Gronkowski has received 10 targets and caught 14 passes while averaging 126 yards over his last two games. The tight end is emerging as one of Tom Brady's favorite targets in the absence of Chris Godwin and Antonio Brown. And while the team activated Fournette from the injured reserve after he missed the last three games, the running back might be on a snap count, which will lead to more passing attempts.
Gronk has surpassed this total in six of his last eight games, and he usually saves his best performances for the playoffs. - Spector
Mixon to score two-plus touchdowns (+380 via FanDuel)
Mixon finished the season with the third-most rushing touchdowns after scoring 13 times, and he added three receiving TDs. Those touchdowns often came in bunches too, as he recorded five games with two trips to the end zone, including four straight at one point.
The veteran is a central cog in the Bengals' offense, and one that should be leaned on heavily against a Raiders defense allowing a mediocre 114.3 rushing yards per game. More critically for this prop, the Raiders gave up the sixth-most regular-season rushing touchdowns (16).
Las Vegas is fresh off allowing two touchdowns to the Chargers' Austin Ekeler in Week 18. The Raiders also surrendered five touchdowns to running backs over their final four games of 2021-22. - Tomlinson
SEE ALSO: All picks and odds. Be sure to check out SportsbookReview.com's community forums and betting tools.