Is Andrew Wiggins Worth a Bet for NBA Finals MVP After Monster Game 5?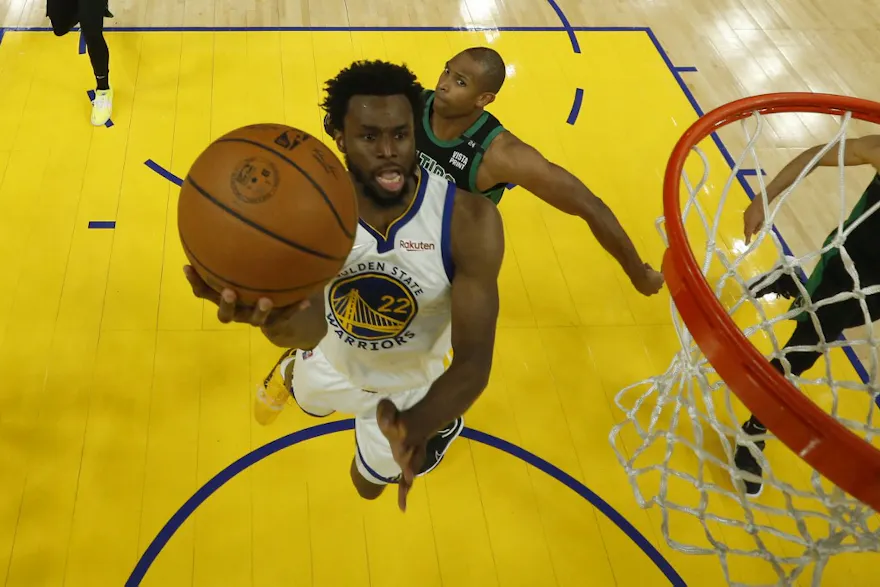 A new contender has emerged amongst the candidates to be named NBA Finals MVP. But at +2000 odds with up to two games remaining, is it worth a bet? We explore Andrew Wiggins' updated NBA Finals MVP odds.
Entering the NBA Finals between the Golden State Warriors and Boston Celtics, one storyline was indisputable: If the Warriors were to win their fourth title in eight years, Stephen Curry would be the favorite to capture his first NBA Finals MVP.
Through five games, Curry remains the top option to win the Bill Russell Trophy, but it's no longer a slam dunk that the future Hall of Famer will walk away with the award if the Warriors capture the title.
https://twitter.com/RealSkipBayless/status/1536552520448806912
Here are the updated NBA Finals MVP odds.
2022 NBA Finals MVP Odds
https://datawrapper.dwcdn.net/xkvUU/1/
NBA Finals MVP Odds Movement
After five games, Warriors wing Andrew Wiggins has come on the scene with his all-around play. He broke out for 20 points in Game 1, dominated with 17 points and 16 rebounds in a Game 4 victory, and led Golden State in scoring Monday night with 26 points and added 13 rebounds to give the Dubs a 3-2 series lead and a chance to close out the series on Thursday.
That performance came while Curry struggled all evening, going 7-for-22 from the field and a shocking 0-9 from 3-point range.
As a result, the NBA Finals MVP odds have shifted.
https://twitter.com/BetMGM/status/1536556645370810368
Here are Wiggins' scorelines from Games 1 to 5:
https://datawrapper.dwcdn.net/KNxlb/1/
With that, the narrative has changed, too. It's no longer a foregone conclusion that Curry will get the Finals MVP he's long sought. Instead, the conversation has turned to whether or not the NBA's 3-point king will again be usurped by a teammate for the individual honor.
The award went to Andre Iguodala in 2014-15 despite Curry leading the Warriors in points per game (26) and leading all playoff performers in win share (3.9). Kevin Durant took the trophy in 2016-17 and 2017-18 after he emerged as the Warriors' No. 1 scoring option in both series.
Do the writers who vote on the award now have legitimate reasoning to shut Curry out from the award for a fourth time?
NBA Finals MVP Predictions
At 20-1 odds, Wiggins is worth a sprinkle, especially for bettors who already have pre-series wagers on Curry to win MVP at plus-money odds. Realistically, all it would take is one more monster performance from Wiggins in a series-clinching effort in either Game 6 or Game 7. If Wiggins again outscores his teammate, bettors holding +1400 to +2000 tickets will be elated.
https://www.youtube.com/watch?v=Knqg4n1QPco
But the reality is that despite those Game 5 stat lines, Curry still leads the Warriors in scoring and is averaging 30.6 points per game in the Finals. Wiggins is averaging 18.4 points per game and is just shy of averaging a double-double. Curry also outranks his teammate in advanced stats such as true shooting percentage (.604 to .518) and effective field-goal percentage (.573 to .500).
What's more, despite Wiggins' strong performance in the Western Conference Finals victory over the Dallas Mavericks, he didn't receive a single series MVP vote. Curry drew all nine votes despite scoring just 15 points in the series-clinching game. Wiggins outscored him 18 to 15 and also recorded a double-double.
The Finals MVP is still Curry's to lose.
Where to Bet on NBA Finals MVP
Here are our top-rated sportsbooks:
FanDuel SportsbookCaesars SportsbookDraftKings SportsbookPointsBetBetMGM
SEE ALSO: All picks, odds, and sports betting news. Be sure to check out SportsbookReview.com's community forums and betting tools.
NBA Finals MVP picks made on 6/14/2022 at 10:24 a.m. ET.