Coke Zero Sugar 400 Picks, Predictions, Odds 2023: NASCAR Culminates Regular Season at Daytona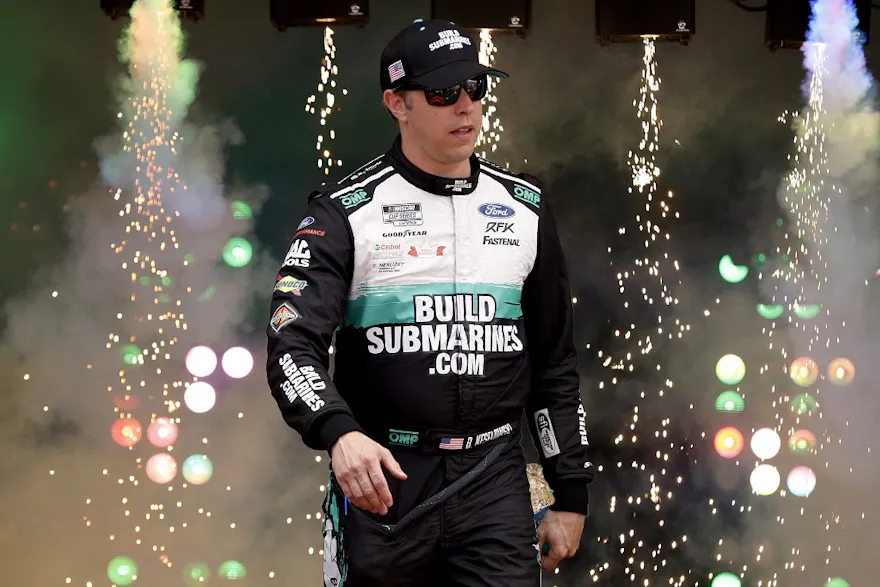 Get the lowdown on some of the best ways to bet on NASCAR's regular-season finale with our Coke Zero Sugar 400 picks and predictions based on the odds from our best sports betting apps.
The NASCAR Cup Series returns to its birthplace for the 26th and final regular-season race in 2023. The cars will take to the Daytona International Speedway under the lights on Saturday night for the Coke Zero Sugar 400. The race is one final chance for drivers outside of the playoff cutline to qualify to race for the season championship.
While some may assume the odds of a walk-off winner are improbable, that's hardly the case. Just last year, Austin Dillon survived a wreck-filled, weather-delayed Coke Zero Sugar 400 to punch his ticket to the NASCAR Playoffs. Wrecks and surprises are bound to happen at a superspeedway. And Bubba Wallace is hardly assured of a playoff spot despite holding a solid point cushion over Ty Gibbs entering the race.
In addition to drivers who are desperate for a win just to qualify, Martin Truex Jr. and Denny Hamlin will be battling for the regular-season points championship and the 15 bonus playoff points that come with it. With so much at stake, what better place to hold this cutoff race than the center of racing?
Here are our best bets and 2023 Coke Zero Sugar 400 picks for Saturday night's regular-season finale at Daytona International Speedway (odds via BetMGM, bet365, and SuperBook; Pick confidence is based on a 1-to-5-star scale).
Check out our NASCAR Cup Series odds
Coke Zero Sugar 400 picks
Outright winner: Brad Keselowski (+1300 via BetMGM) ⭐
Top-10 finish: Michael McDowell (+140 via bet365) ⭐⭐⭐
Driver matchup: Ross Chastain (+105 via SuperBook) vs. Ty Gibbs ⭐⭐⭐
Not intended for use in MA
Affiliate Disclosure: Sportsbook Review may receive advertising commissions for visits to a sportsbook
Visit our Google News page and click "Follow" (⭐) for the latest odds, picks and news!
Coke Zero Sugar 400 odds
| | | | | | |
| --- | --- | --- | --- | --- | --- |
| Driver | DraftKings | FanDuel | BetMGM | Caesars | bet365 |
| Chase Elliott | +900 ❄️ | +1200 | +1200 | +1100 | +1100 |
| Denny Hamlin | +1000 | +1200 | +1200 | +1000 | +1200 |
| Brad Keselowski | +1100 | +1200 | +1300 🔥 | +1100 | +1200 |
| Ryan Blaney | +1200 | +1200 | +1300 | +1400 | +1400 |
| Joey Logano | +1400 🔥 | +1100 | +1300 | +1200 | +1100 |
| Bubba Wallace | +1400 | +1400 | +1600 🔥 | +1200 ❄️ | +1400 |
| Martin Truex Jr. | +1600 | +1800 | +2200 | +1400 ❄️ | +2500 🔥 |
| Aric Almirola | +1600 ❄️ | +1800 | +2200 🔥 | +2000 | +1800 |
| Kyle Larson | +1800 | +1800 | +2000 🔥 | +1800 | +1800 |
| Kyle Busch | +1800 | +1700 | +1800 | +1500 ❄️ | +160 |
Coke Zero Sugar 400 predictions
Outright winner: Brad Keselowski (+1300 via BetMGM) ⭐
RFK Racing has won three races since Brad Keselowski became a partial owner of the team in 2022. Oddly enough, Chris Buescher has been the driver posted up in victory lane each time. One can only imagine Keselowski wants to break through himself and take the checkered flag as a driver-owner.
The No. 6 car is certainly well-suited to Daytona. Recent finishes are hardly indicative of how well Keselowski tends to navigate the two-mile superspeedway. He's won at Daytona three times already during his career, including duel races. Keselowski has also enjoyed even more success at Talladega.
The veteran has been at the front of the pack in all three races at Daytona since the Next Gen Car was introduced in 2022. He qualified 12th for Saturday's Coke Zero Sugar 400 and will start right alongside his RFK teammate on the sixth row. The Fords have typically been great at working together in the draft to get to the front on the superspeedways.
Keselowski is already locked into the playoffs on points, so he can truly go for broke during the regular-season finale. He's slotted among the favorites to win, and bettors can still lock in the best price at +1300 through BetMGM.
Top-10 finish: Michael McDowell (+140 via bet365) ⭐⭐⭐
Carnage is inevitable at some point in the Coke Zero Sugar 400, just like any superspeedway race. That's why it's always worth considering drivers who have shown a knack for being able to survive "The Big One" and simply finish the race. Michael McDowell has proven to be a master at doing just that throughout his career.
McDowell is already locked into the NASCAR Playoffs after winning at the Indianapolis Motor Speedway Road Course earlier in August. He'll therefore be able to race for extra points and the outright win without jeopardizing anything on Saturday.
When it comes to his survival skills, McDowell won the Daytona 500 in 2021 with duct tape all over the right front fender of his car. While his last two starts at Daytona have yielded less than stellar results, a larger sample size of data is necessary for superspeedways. McDowell has recorded three top-10 finishes and six results of 14th or better over his last nine races in Daytona.
Assuming McDowell puts his survival skills to use and is around for the end of the race, betting on him for a top-10 result makes for a solid play. Note too that bet365's price of +140 offers a considerably greater return than our other best sportsbooks, as this prop can be found as low as -110.
Driver matchup: Ross Chastain (+105 via SuperBook) vs. Ty Gibbs ⭐⭐⭐
Ty Gibbs is the only driver who can mathematically pass Bubba Wallace for the final playoff spot on points entering the regular-season finale. However, a 32-point gap would appear to be practically insurmountable, especially considering Wallace's track record of success at Daytona.
Whether he does it through points or an outright win, Gibbs faces no choice but to push the issue and run up front. His position in the standings will prevent him from taking a conservative approach, and that could result in him getting caught up in a wreck.
It's therefore easy to see why a +105 bet on Ross Chastain in this driver head-to-head matchup is worth a look. Not only are plus-money odds rare in driver matchups at superspeedways, but Chastain doesn't need to worry about any playoff scenarios, as he's already locked into the field of 16.
To top it all off, Chastain is a quality superspeedway racer. He's logged two top-10 finishes across his last five starts at Daytona, including a ninth-place run in the Daytona 500 back in February. He also won at Talladega in the spring 2022 race and regularly finds his way up to the front in these events.
Chastain still holds a great chance of beating out Gibbs even if both drivers survive to the end of the race.
Coke Zero Sugar 400 race info
Date: Saturday, August 26, 7 p.m. ET
Location: Daytona International Speedway, Daytona Beach, FL
TV: NBC
Defending Winner: Austin Dillon
Coke Zero Sugar 400 picks made 08/26/23 at 11 a.m. ET
Motorsports betting odds pages
(21+. Gambling Problem? Call 1-800-GAMBLER)
* Bonuses not applicable in Ontario.
Related pages