Coke Zero Sugar 400 NASCAR Odds, Picks: Anything Can Happen in Regular-Season Finale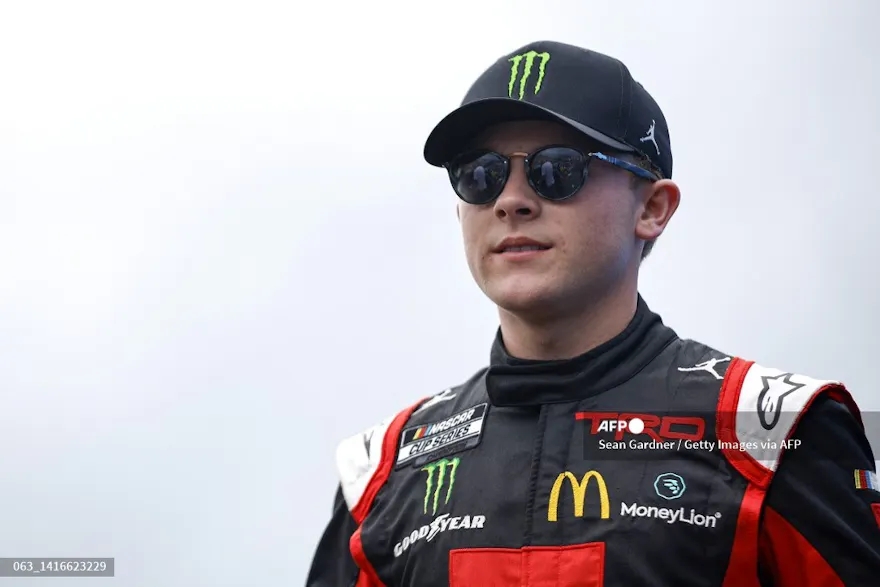 One playoff spot is still up for grabs in Daytona, who will clinch it? Find out with our Coke Zero Sugar 400 NASCAR picks and preview.
Schedule makers made a fantastic call by ending the NASCAR regular season on the same track where it started. The Daytona Superspeedway offers some of the most volatile racing in the sport. As such, picking outrights is more about who you want to cheer for rather than stats and track history.
That said, there are some drivers who have done historically well on these types of tracks. These are the drivers to target. Keep in mind that no bet is a bad bet this week, as we are in for a wild ride with the playoffs starting next week.
Here are our NASCAR picks for the Coke Zero Sugar 400 based on the odds at DraftKings Sportsbook, FanDuel Sportsbook, and Barstool Sportsbook.
Coke Zero Sugar 400 Info
Where: Daytona International Speedway, Daytona, FL
When: Saturday, Aug. 27 at 7 p.m. ET
How to watch: NBC, Peacock
Defending champion: Ryan Blaney
Coke Zero Sugar 400 Odds
| | | | |
| --- | --- | --- | --- |
| Driver | DraftKings | FanDuel | Barstool |
| Chase Elliott | +1000 | +1000 | +1000 |
| Ryan Blaney | +1200 | +1200 | +1100 |
| Denny Hamlin | +1200 | +1200 | +1200 |
| Bubba Wallace | +1200 | +1200 | +1300 |
| Ross Chastain | +1300 | +1400 | +1400 |
| Kyle Larson | +1300 | +1300 | +1300 |
| Joey Logano | +1300 | +1300 | +1200 |
| William Byron | +1300 | +1300 | +1400 |
| Kyle Busch | +1300 | +1600 | +1600 |
| Ty Gibbs | +4000 | +3500 | +4000 |
Coke Zero Sugar 400 Picks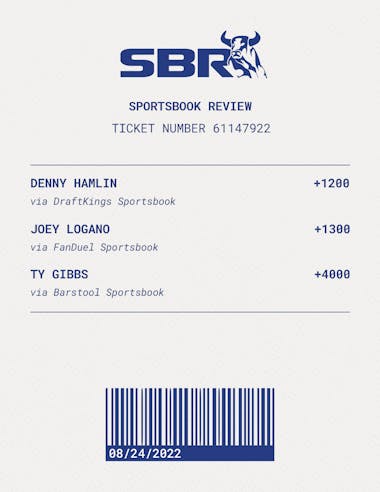 Who Will Win the Coke Zero Sugar 400?
Hamlin (+1200)
With all the unknowns this week, Denny Hamlin offers a comfortable level of past success on this track. The No. 11 car has two wins and five top-10 finishes in his last 11 races at Daytona.
Hamlin's performances on superspeedways in general have also been solid over the last three seasons. Hamlin grabbed three straight poles at Talladega, including both 2021 races. In that span, he had a win and three top-10 finishes.
This season, his FedEx Toyota has two wins, seven top-10, and five top-5 finishes. He's had a rough go at superspeedways this year in finishing 37th in the Daytona 500 and 18th at Talladega. However, he has had three top-10 finishes in the last six races, including two top-5 outings.
Logano (+1300)
Superspeedway racing has not been kind to Joey Logano in his career. He has an average finish of just under 18th place in his 54 total starts on this week's track type. Although, that stat is somewhat misleading given that he was wrecked out of five of the last 11 such races.
Since 2015, Logano has started inside the top 10 a total of nine times. He claimed his only career win on this track on the strength of a fifth-place start.
Currently, Logano hasn't finished worse than sixth over the last four races. In the last two weeks, he has found his way to the front of the pack after starting from outside of the top 15. Also worth noting, a Ford has won three straight races on this track.
Gibbs (+4000)
We've already seen a rookie win on this track this season. Austin Cindric proved that anyone can win at Daytona when he took the checkered flag in February. This week, Ty Gibbs will make his track debut filling in yet again for the injured Kurt Busch. The full-time Xfinity series driver has five wins this year on the junior circuit.
Gibbs has made five starts in the No. 45 car. In that span, he has a top-10 finish and three finishes inside the top 20. He's run an impressive 266 laps inside of the top 15 in an unfamiliar car with the best drivers in the sport. Catching the right line at the right time this Saturday could lead to his first career win in the Cup Series.
Where to Bet on the Coke Zero Sugar 400
Here are our top-rated sportsbooks:
FanDuel Sportsbook
Caesars Sportsbook
DraftKings Sportsbook
PointsBet
BetMGM
SEE ALSO: All picks, odds, and sports betting news. Be sure to check out SportsbookReview.com's community forums and betting tools.
Coke Zero Sugar 400 picks made on 8/24/2022 at 1:30 p.m. ET.