Free Belmont Stakes Picks & Predictions 2023: Favorite, Long Shot & Fade for Belmont Park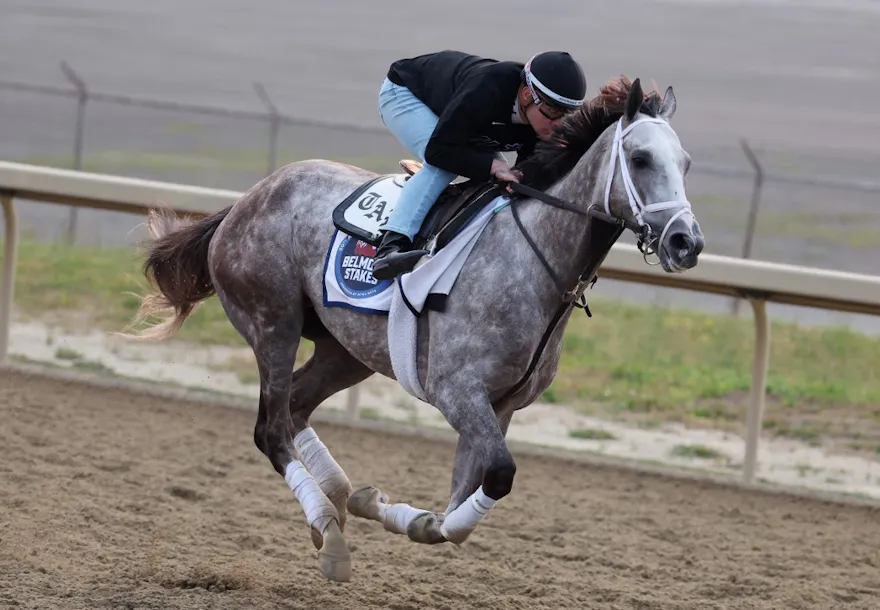 Tapit Shoes and Tapit Trice are the betting favorites in the final leg of the Triple Crown. Have a look at our top Belmont Stakes picks and predictions for the 155th running of the Belmont Stakes at Belmont Park.
The Belmont Stakes, the "Test of the Champion" and third leg of the Triple Crown, presents a unique challenge for thoroughbred horses—one they are unlikely to face again after Saturday's race. It entails a demanding 1 1/2-mile run around a vast track with wide, sweeping turns and a soft soil surface.
American horses are not specifically bred to excel at this distance of 12 furlongs, especially on dirt tracks. This distinctive nature of the Triple Crown explains why it holds such prestige, as only 13 horses in the entire history of American thoroughbred racing have managed to secure this illustrious achievement.
Stamina matters more than anything else here and how a sire passes that on to his progeny screams volumes in a race like the Belmont. This is strongly reflected in the Belmont Stakes odds, and be sure to check the Belmont Stakes post positions.
Here are our top free Belmont Stakes picks and predictions for 2023 at Belmont Park (odds via our best horse racing betting sites).
Belmont Stakes odds
Belmont Stakes odds via FanDuel and as of June 10 at 3:35 p.m. ET
| Post | Horse | Trainer | Morning-line odds |
| --- | --- | --- | --- |
| 1 | Tapit Shoes | Brad Cox | 20-1 |
| 2 | Tapit Trice | Todd Pletcher | 3-1 |
| 3 | Arcangelo | Jena Antonucci | 8-1 |
| 4 | National Treasure | Bob Baffert | 5-1 |
| 5 | Il Maracolo | Antonio Sano | 30-1 |
| 6 | Forte | Todd Pletcher | 5-2 |
| 7 | Hit Show | Brad Cox | 10-1 |
| 8 | Angel of Empire | Brad Cox | 7-2 |
| 9 | Red Route One | Steve Asmussen | 15-1 |
Into Saturday and just a few hours before post time, the Belmont Stakes odds are holding steady with Forte and Tapit Trice still the heavy favorites via FanDuel. Il Miracolo is biggest long shot on the board with odds of 30-1 (+3000).
Belmont Stakes picks and predictions
Not intended for use in MA
Affiliate Disclosure: Sportsbook Review may receive advertising commissions for visits to a sportsbook
Fading the favorite: Forte (Post 6/5-2)
Forte's the Champion 2-year-old of 2022, winner of $2.4 million and six of his seven races—including four Grade 1s, the peak of the horse racing class pyramid. He checks all the boxes for speed and class. He's done little wrong thus far, and you probably want him somewhere on your tickets; it would surprise exactly no one if he won the Belmont Stakes
So why are we looking elsewhere? A few reasons, starting with the pedigree. Forte's sire is Violence, a great miler who won three of his four career races. None of those, however, were over 1 1/16 miles.
Then, there's the layoff. Remember, Forte was scratched the morning of the Kentucky Derby by a track veterinarian. He hasn't raced since winning the Florida Derby—on April 1. That's a 71-day layoff if you're handicapping at home. Rest is one thing, rust could be another.
Third, Forte is a closer. It sounds counterintuitive, given the Belmont's distance demands, but closers don't regularly close here. Only two closers: Mo Donegal last year and Creator in 2016 won the Triple Crown's third jewel since 2010.
Finally, there's the value—or lack thereof. Forte is trained by Todd Pletcher, one of the best and most popular trainers in North America and owner of four Belmont titles. Pletcher is to the Belmont as Bob Baffert is to the Kentucky Derby: a money magnet. His horses, especially on the East Coast and especially in New York, tend to take plenty of money, thus suppressing their odds.
Combine all of the above with a field featuring too many good horses to take 5-2 or lower on a horse who tends to win from behind and it won't surprise you if Forte doesn't win. Especially when you learn Essential Quality is the only Champion 2-year-old to win the Belmont.
Belmont Stakes long shot: Arcangelo (Post 3/8-1)
Let's start with the pedigree, which begins with sire Arrogate, the Breeders' Cup Classic, and Travers Stakes winner, two 1 1/4-mile races. On his dam's side, you find filly Rags to Riches, who won the 2007 Belmont. Enough said.
Arcangelo needed three races to break his maiden, but he's riding in off a two-race winning streak that includes prevailing in a stretch duel against the talented Bishops Bay in the Grade 3 Peter Pan last month. That's the Belmont's prep race and one that sent three winners to the Belmont Stakes winner's circle since 2010. Take this further and Arcangelo has a Belmont Park victory, never underrated in a race like the Belmont Stakes. His speed figures have gone up every race, peaking at his 97 Equibase Speed Figure recorded in the Peter Pan. That compares favorably with Mage's 105 in his Derby victory and National Treasure's 98 in the Preakness.
But what makes Arcangelo dangerous is his stalking style, which plays very well in the Belmont. You'll see jockey Javier Castellano place him behind the speed horses and ahead of the closing trio of Forte, Angel of Empire, and Tapit Trice. This is the ideal spot for this gritty underdog to blow up tickets—if he can maintain a ground-saving trip. Beating that formidable trio and National Treasure is a big ask—especially running two turns for the first time—but Arcangelo can answer that question in the affirmative with a good trip. He belongs somewhere on your tickets.
Our Belmont Stakes favorite: Tapit Trice (Post 2/3-1)
National Treasure is once again the best of the front runners in what promises to be another modest pace. And it wouldn't surprise anyone for him to contend yet again. After all, he's a Baffert 3-year-old. They do that sort of thing. But now, National Treasure is asked to sustain that speed he showed down the stretch in the Preakness another 2 1/2 furlongs—while holding off a better class of pursuers than Blazing Sevens.
That's why we're running in a different direction, with one of the aforementioned Tapit progenies. Yes, we've already mentioned the Tapit pedigree. And Pletcher has told anyone who will listen that Tapit Trice is the perfect Belmont Stakes colt, starting with that pedigree and segueing to his long, effortless stride.
What we haven't mentioned that Tapit Trice has two Derby prep victories, including the Grade 1 Blue Grass Stakes at Keeneland. Nor have we mentioned that Tapit Trice is 4-for-6 with a third despite chronic slow starts, including a sloppy one at the Kentucky Derby that put him at the back of the 18-horse pack after a half-mile. Yet, by the end, Tapit Trice wound up seventh after a troubled trip in which he was bumped by a tired Derma Sotogake mid-rally.
Eliminating the slow start is the only thing separating Tapit Trice from winning his fifth race, his trainer's fifth Belmont, and his sire's fifth Belmont, because all the other pieces are here. There's not a lot of front-end speed outside of National Treasure and long shot Il Miracola.
If jockey Luis Saez can get Tapit Trice smoothly out of the gate and into a stalking position behind the leaders, he won't need to make up 11 places as he did in the Derby. Speaking of which, that's the last time Tapit Trice ran: five weeks ago. He's rested and ready to spring that long, effortless stride on a stalking trip that will once again make his daddy proud.
Belmont Stakes info
Date: Saturday, June 10, 6:50 p.m. ET
Location: Belmont Park, Elmont, NY
How to watch: FOX Sports, beginning at 4 p.m. ET
Purse: $1.5 million
Last year's winner: Mo Donegal
What to know for betting the Belmont Stakes
So what kind of horses win Belmonts? It's the horse racing version of the Goldilocks syndrome: not too fast, not too slow. Only three horses this century have won the Belmont from the front: Triple Crown winners American Pharoah and Justify, and 38-1 freak-show Da'Tara in 2008. It's simply too demanding to expect a modern thoroughbred not of the superhorse genus to wire a Belmont field.
At the same time, as we noted before, closers aren't ideal either. Belmont Park's massive size and deep soil take their toll on closers over 1 1/2 miles, especially those forced out wide. Last year, Mo Donegal was one of only four horses since 2010 to win from the back half of the field. This is not a race for deep closers, much to the detriment of Forte and our Derby pick, third-place runner Angel of Empire.
The ideal Belmont Stakes horse is a stalker with that all-important tactical speed that allows him to carry that speed over 12 furlongs. He needs to stay relatively close to the leaders and spring coming around the turn and into the stretch. According to Equibase, 14 of the last 16 Belmont winners were within 4 1/2 lengths of the leader after the first half-mile.
Even though he was considered a closer, that included Mo Donegal last year.
Belmont Stakes betting strategies
So once you get past pedigree, what do the Belmont Stakes odds foresee in terms of trends? Five favorites have won the Belmont in the last eight years, including the last three: Mo Donegal last year, Essential Quality two years ago, and Tiz the Law in 2020, when the Belmont led off the Triple Crown and was contested at 1 1/8 miles. Five of the last eight winners have been 5-2 or lower, which puts the spotlight on 5-2 morning-line favorite Forte.
He'd rather not have it in this context, considering if you take out Triple Crown winners American Pharoah and Justify, 14 of the last 18 favorites failed to run to their odds. Conversely, the average winning odds in the last 20 Belmonts was 10.09-1. If a favorite isn't passing the "Test of a Champion," a horse carrying double-digit odds is.
Four times in the last decade, the winning horse came in at 10-1 or greater odds. A fifth (Tonalist) was 9-1. This is where you find Sir Winston (10.20-1), Creator (16.40-1), Palace Malice (13.80-1), Ruler On Ice (24.75-1), and Drosselmeyer (13-1). Go back to the Aughts and there's Summer Bird (11.90-1), Da'Tara (38.50-1) and the biggest upset in Belmont Stakes history: 70.25-1 Sarava in 2002.
On the exotics front, unlike the Derby and its often eye-popping payouts, the Belmont's recent favor of favorites means value is hard to find. According to Xpressbet, six consecutive $2 Belmont Stakes exactas have paid $96 or less. The $1 trifecta has paid $312 or less in five of the last six years. For a real shot at real money, take a shot at the $1 superfecta, which has paid at least $1,000 13 times in 22 offerings. That means sprinkling longer shots like Arcangelo, Hit Show (10-1), and Tapit Shoes (20-1) on your tickets.
(21+. Gambling Problem? Call 1-800-GAMBLER)
* Bonuses not applicable in Ontario.
Related pages