Wisconsin vs. Illinois College Football Week 6 Picks and Predictions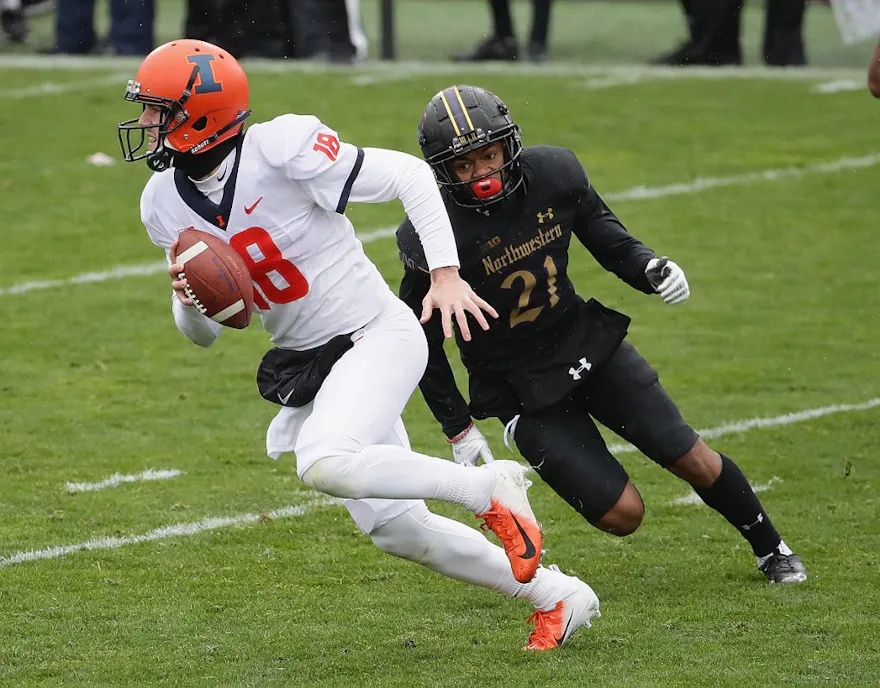 The Big Ten has seen a surprise shift in power over the past two seasons. Traditional powerhouses have lost their grip on the conference, and other schools have been surprisingly solid. Teams like Northwestern and Rutgers have surprised fans, while teams like Wisconsin have been disappointing. Let's see the NCAAF odds.
Wisconsin Badgers vs. Illinois Fighting Illini
Saturday, October 09, 2021 - 02:30 PM EDT at Memorial Stadium
The Wisconsin Badgers have had one of the toughest schedules to start this season, but they still have no excuse for being 1-3. They've lost to three ranked opponents, but the games have not been close. They have struggled on both sides of the ball, and their ceiling for the rest of the season remains low. The Badgers will be looking to win their first conference game of the year against Illinois.
After an upset win against Nebraska to start the year, the Fighting Illini lost four straight games. They regained momentum with a win against Charlotte, but they'll be looking to make a true statement against Wisconsin. Wisconsin is a 10-point favorite against the Fighting Illini, but is that fair? Here are keys for both teams to cover the spread and a prediction for this week's game.
Keys for Wisconsin to Cover the Spread
Wisconsin's offense has been the reason why they have yet to beat a ranked opponent. The defense needs to improve, but the inability for the offense to remain consistent has put a low ceiling on this team. That must be fixed in this game. How do you do that? For starters, you have to do what Wisconsin has done best for so long. They need to find a way to win on the ground again. The offensive line has been a red flag all season, and this is their chance to reinstate their dominance.
Graham Mertz #5 of the Wisconsin Badgers. John Fisher/Getty Images/AFP
Wisconsin is averaging 3.7 yards per rush, which won't cut it. They need to do enough to force Illinois to stack the box. After that, they need to use Graham Mertz as a complementary piece to the offense. He's not good enough to be the hero. He needs to be the game manager. Another issue for Wisconsin is their turnovers. They have to cut these down against Illinois. They may win with a few turnovers, but they won't cover a double-digit spread.
Keys for Illinois to Cover the Spread
Expect the Fighting Illini to make Graham Mertz uncomfortable. They'll bring pressure in obvious passing situations. Because of this, look for the secondary to play tight coverage. This is a risk, but it has a chance of paying off. The key is for the pressure to hit home. If you commit too many players to rush the passer and fail to get pressure, you put the secondary in a bad spot. They can only lock you down for so long without additional help.
You can expect Illinois to force turnovers. They also need to make the most of them when this happens. Getting points and capitalizing on your opponents' mistakes is crucial. It will be interesting to see if the home crowd plays a factor in this game. Illinois isn't known for having a massive home-field advantage, but this is a pivotal game for both teams.
https://twitter.com/IlliniFootball/status/1445177116115537925
If Illinois wants to win the game outright, they need the fans to make some noise and cause miscommunication. Wisconsin isn't as disciplined as they usually are, so this has a chance of working.
Time for a Pick
Illinois has not looked good since their season opener, but that doesn't mean they can't cover the spread in this game. After all, Wisconsin hasn't been a dominant force by any means. It's hard to bet on the Fighting Illini after how they've looked in recent weeks, but there is one point that has to be made. Wisconsin hasn't played poorly because of their competition.
Joshua McCray #0 of the Illinois Fighting Illini. Michael Hickey/Getty Images/AFP
They've continued to shoot themselves in the foot. These mistakes won't go away against an inferior opponent. With their likelihood to have bad turnovers and poor passing performance, I don't value the Badgers in this game. They should still win, but it will be ugly on both sides of the ball. That's why I have the Fighting Illini covering the spread at home.
NCAAF Pick: (visit our Sportsbook Review)
*The pick reflects the line at the moment the writer made the play, the odds at the beginning of this article show the live line movement. Since the lines might vary, don't forget to refer back to our live odds.