Ole Miss vs. Tennessee College Football Week 7 Picks and Predictions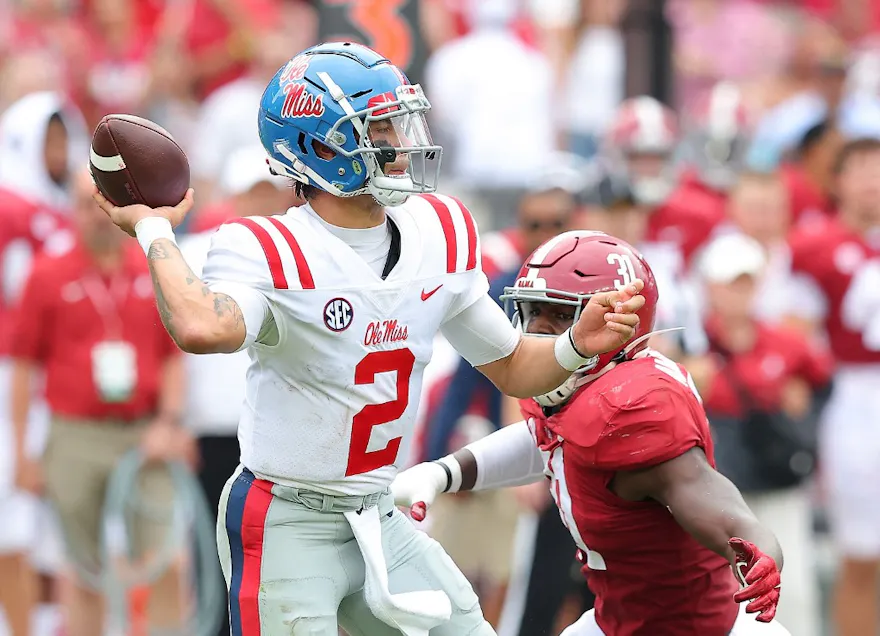 Ole Miss is favored by a field goal, but can they cover that spread? Here are keys for each team to cover and a prediction for how this game will go on Saturday.
Ole Miss Rebels vs. Tennessee Volunteers
Saturday, October 16, 2021 - 07:30 PM EDT at Neyland Stadium
Some rivalries are obvious. Two teams in the same state play each other every year in hopes of gaining bragging rights and stature in the conference. Others are subtle. This is one of those rivalries. Tennessee and Ole Miss have no real ties.
They don't play every season since they are in different divisions. Neither team has been consistently relevant in the SEC picture for a while now, and they rarely compete for recruits.
https://youtu.be/aJiYTiRx31Q
However, there is some history here. Both teams were led by a Manning at some point, which creates a unique rivalry.
Also, Lane Kiffin used to coach for the Tennessee Volunteers. Now that he is in charge of the Rebels, things could get personal. Regardless of the rivalry, this game pairs two teams on the rise with bright futures. Tennessee is in the middle of a rebuild, but they appear to be ahead of schedule. Ole Miss lost to Alabama, but they still have one of the best offenses in college football.
https://twitter.com/OleMissFB/status/1447613175533166592?s=20
Keys for Ole Miss to Cover the Spread
Ole Miss has a great offense, but they remain inconsistent. They can sometimes torch anyone, but they have also struggled this season at times. Against Tennessee, they need to simply remain consistent. Their runs need to keep them ahead of the chains. Their passing game can be efficient without giving up on the big plays. As long as they make smart decisions, they should be fine.
The real question for Ole Miss is their defense. They torched Arkansas's defense last week, but their defense kept it a close game. This is not a recipe for success. That puts too much pressure on the offense to score touchdowns on every possession.
Matt Corral is what makes this offense work. As long as he gets in a rhythm, the Rebels should win this game outright. However, they need to keep their foot on the gas in the second half if they want to cover the spread. That means they won't be settling for field goals.
https://twitter.com/OleMissFB/status/1447683509439639560?s=20
Keys for Tennessee to Cover the Spread
Regardless of what you think of Tennessee this season, the fact remains that they do not have as good of an offense as the Rebels. When that is the case, your margin for error goes away. The Volunteers need to limit their turnovers and hope they can force a few from Ole Miss.
It will be interesting to see how Ole Miss approaches the game offensively. They trust their offense in fourth-down situations, but will they be risky against a team like Tennessee? If so, the Vols will have to find a way to get off the field. Turnovers would be the best way to do it, but winning the trenches and getting fourth-down stops would boost momentum as well.
https://twitter.com/Vol_Football/status/1447917060563025924?s=20
Tennessee's offense needs to find a way to win early. They are not built to win a shootout. If they can keep it low-scoring and close early, they will dictate how this game goes. Tennessee needs to limit the big plays and rely on fundamentals. They don't have as many stars as the Rebels, so making silly mistakes will hurt them as well.
Time for a Pick
Ole Miss is a great team, but they are also inconsistent. On the road, can they rely on their offense to outscore the Vols? For them to cover this spread, they will need to pour on the points. They aren't made to outscore a team significantly thanks to a smothering defense. However, they have the offense needed to torch the Vols.
https://twitter.com/Vol_Football/status/1447305941049819145?s=20
Tennessee has flown under the radar, but they are still not one of the best teams in the SEC. Ole Miss has only struggled against quality opponents, and their only loss was against Alabama on the road. For your NCAAF pick, consider that they should be able to handle the crowd and cover the spread against the Volunteers.
NCAAF Pick: Ole Miss -3 (-104)