CFP National Championship Odds, Picks, Predictions: 3 Team Race Early in Season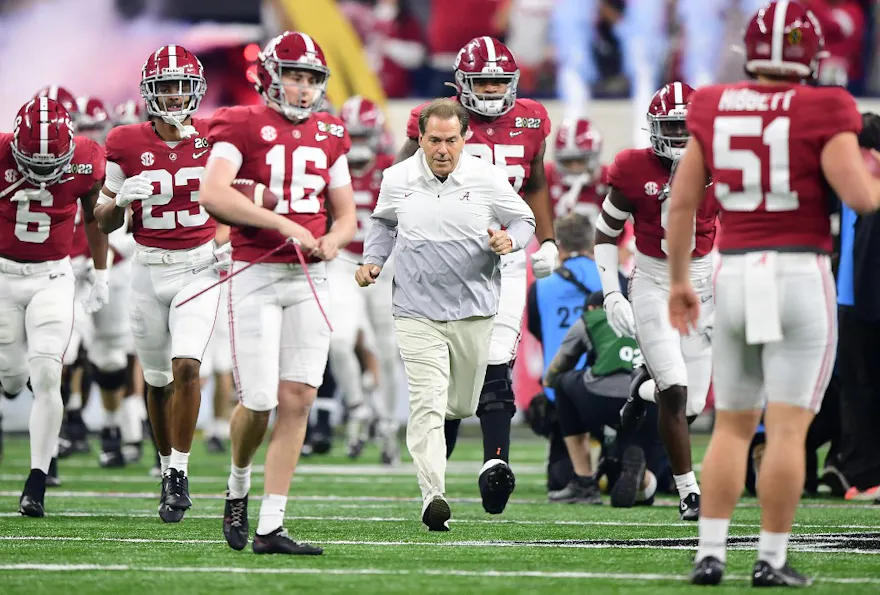 Which team are you backing to win the College Football Playoffs: Ohio State, Alabama, or Georgia? This article will examine the movements in the college football National Championship futures market and determine which odds represent the best picks.
We are now seeing three teams trading at odds shorter than +300 to win the College Football Playoffs after Ohio State defeated Wisconsin 52-21 in Week 4. Can anyone challenge Alabama, Ohio State, or Georgia or are they the clear favorites to win the National Championship?
When it comes to playing futures markets, the when is just as important as the who. It is seldom a secret who to bet on in any sport, but timing the when is the key to maximizing your portfolio of futures wagers.
Below, we track the movement in the college football National Championship futures odds across our top-rated sportsbooks and look for the top picks following Week 3. Check out the top sportsbooks for futures betting here.
College Football National Championship Odds
| | | | | | |
| --- | --- | --- | --- | --- | --- |
| Team | PointsBet | Caesars | DraftKings | FanDuel | BetRivers |
| Georgia | +180 | +200 | +190 | +175 | +175 |
| Alabama | +190 | +200 | +200 | +200 | +240 |
| Ohio State | +275 | +280 | +240 | +230 | +300 |
| USC | +1500 | +1400 | +1600 | +1600 | +2000 |
| Clemson | +1600 | +1200 | +1500 | +1600 | +2000 |
| Michigan | +2500 | +2500 | +2200 | +3000 | +2800 |
| Penn State | +7000 | +6000 | +7000 | +8000 | +6600 |
| Tennessee | +7000 | +6000 | +6000 | +8000 | +8000 |
| Utah | +8000 | +7500 | +5000 | +6000 | +10000 |
| Minnesota | +10000 | +10000 | +12000 | +10000 | +10000 |
College Football National Championship Picks: Favorites
If you are a futures bettor, you have a decision to make regarding Georgia at this point in the season. The Bulldogs continue to dominate and there aren't many spots left on the schedule where they could be tripped up. The question is, do you wish to purchase Georgia at +200, or are you comfortable not having them in your portfolio for the College Football Playoff?
An ideal scenario would be for Alabama to lose in the regular season, for you to invest in the Crimson Tide immediately afterward, and for Alabama to defeat Georgia in the SEC Championship, so that you may purchase Georgia at an inflated price. Since Georgia should be trading at +225, a price point of +200 is not far from where you would consider buying.
Even though Alabama may be the best team in college football, I do not see how you can pounce on this +200 price point so early in the season. If you can take anything away from the game against Texas, it's that Alabama is vulnerable to an upset. If it happens, you will be able to get a much longer price than +200.
In order to obtain a better price on Alabama futures, I would almost root for the Crimson Tide to lose a game in order to buy them at a longer price. It is not as if you are passing on a +600 price point, and if they go undefeated it will be down to +160. Due to Georgia's dominance, Alabama's price will not shorten all that much with each victory.
Ohio State (+300 via BetRivers)
Although I was a huge Ohio State backer prior to the season, I am going to need a much higher price than +300 to bet on the Buckeyes at this point. You cannot justify betting on the Buckeyes unless you receive a price point north of +700.
Ohio State, Alabama, and Georgia have seen their odds tightened significantly, creating a situation in which they account for a large portion of the hold percentage and offer little or no value to bettors.
Check out the latest comprehensive and most trusted Sportsbook Reviews by SBR.
College Football National Championship Picks: Contenders
Clemson (+1600 via PointsBet)
As I watched D.J. Uiagalelei sling it against Wake Forest, I am beginning to come around to the idea of a team led by him, but I just can't get there with Clemson at this price point. Let me frame it this way: if Clemson were to play Georgia, the Tigers would be approximately 17-point underdogs. On the other hand, Michigan would be roughly a 16-point underdog to Georgia, which is not much better, except that Michigan futures are trading at +3000. In my opinion, backing Clemson is not worthwhile until its price is adjusted.
USC (+2000 via BetRivers)
The USC bandwagon hit a bump in the road against Oregon State. This illustrated that although the Trojans have performed better than expected in Year 1 under head coach Lincoln Riley, they may not be title contenders. USC won a close game in Corvallis, and its odds, which were trading at +1400 before Week 4, are now at +2000.
Through the Pac-12, USC has one of the easiest paths to the College Football Playoff, but what are you going to do with this ticket if the Trojans reach the playoffs? USC will be a massive underdog on the spread in the playoffs, which will make your hedge opportunities unprofitable. It is not as if this is a +10000 ticket. The Trojans are only +2000. It is best to bet on USC to make the playoffs rather than to win them.
It was my intention not to make any judgments on Michigan until I saw the Wolverines play a half-decent opponent this season. Their performance against Maryland, a 34-27 win, did not make me want to run to the window.
Wait one more week with Michigan and see what it shows as a 10-point favorite on the road against Iowa. At the end of the day, your decision on whether to buy or sell Michigan will have to be made before it hosts Penn State at the Big House in Week 7. If Michigan defeats an undefeated Penn State team, its odds will change dramatically.
Tennessee (+8000 via FanDuel)
Historically, college football has been a chalky sport, with the only long shots to win in recent memory being the 2019 LSU Tigers (+6000) and the 2010 Auburn Tigers (+5000). What was the common factor between them both? They came from the SEC and both had a Heisman Trophy winner at quarterback in Joe Burrow and Cam Newton, respectively.
Despite the fact that Hendon Hooker may not be as talented as Burrow or Newton, he is a very efficient quarterback, as evidenced by his 91.6 player grade on Pro Football Focus. With games in the SEC against Kentucky, Alabama, and Georgia, Tennessee has one of the most challenging schedules in the country. As a result, it is difficult to invest in its futures for winning the College Football Playoff.
Penn State (+8000 via FanDuel)
Despite the fact that the +8000 odds we are seeing available on Penn State at this time is a higher price point than the Nittany Lions should be trading at based on their power rating, I am still not interested in investing in Penn State to win the College Football Playoff.
Penn State will play Michigan, Minnesota, and Ohio State in a very difficult three-game stretch. In my opinion, the Nittany Lions are the third-best team in the Big Ten East division, and I do not think they will be able to run the table and make it to the conference championship. If Penn State were in the Big Ten West and playing Minnesota's schedule, my opinion of its +8000 price point would be very different.
College Football National Championship Picks: Long Shots
Utah (+10000 via BetRivers)
As a result of USC showing some vulnerability against Oregon State, Utah has reentered the College Football Playoff conversation. As the Utes already lost one game to the Florida Gators, they will need to run the table.
Still, my preference is not to bet on Utah to win the National Championship. Firstly, we have seen the selection committee be hesitant to include an undefeated Pac-12 team in the playoffs, so I do not believe the Utes will be able to make the playoffs with one loss. Even if Utah were to make it, it would be a massive underdog on the spread, and you would not be able to make much money from this wager.
Minnesota (+12000 via DraftKings)
Pro Football Focus ranks Minnesota's Tanner Morgan as the No. 1 quarterback in college football. Minnesota also has an elite running back in Mohamed Ibrahim, who ranks fifth in the nation according to PFF's player grades.
There is a very real possibility that Minnesota enters the Big Ten Championship with only one loss on its record. If Minnesota wins the Big Ten title game, it will at least have an outside chance of making the playoffs. If Minnesota makes the playoffs, my issue is the same as with USC and Utah, what will you do with this ticket? Against a team such as Georgia, Minnesota would be catching at least 20 points.
Recent College Football Playoff Winners
| | | |
| --- | --- | --- |
| Year | Team | Opening Odds |
| 2021 | Georgia | +900 |
| 2020 | Alabama | +600 |
| 2019 | LSU | +6000 |
| 2018 | Clemson | +600 |
| 2017 | Alabama | +350 |
| 2016 | Clemson | +700 |
| 2015 | Alabama | +800 |
| 2014 | Ohio State | +1200 |
Where to Bet on College Football futures
Here are our top-rated sportsbooks:
SEE ALSO: All picks, odds, and sports betting news. Be sure to check out SportsbookReview.com's community forums and betting tools.