Pennsylvania Hits Record Sports Betting Numbers in October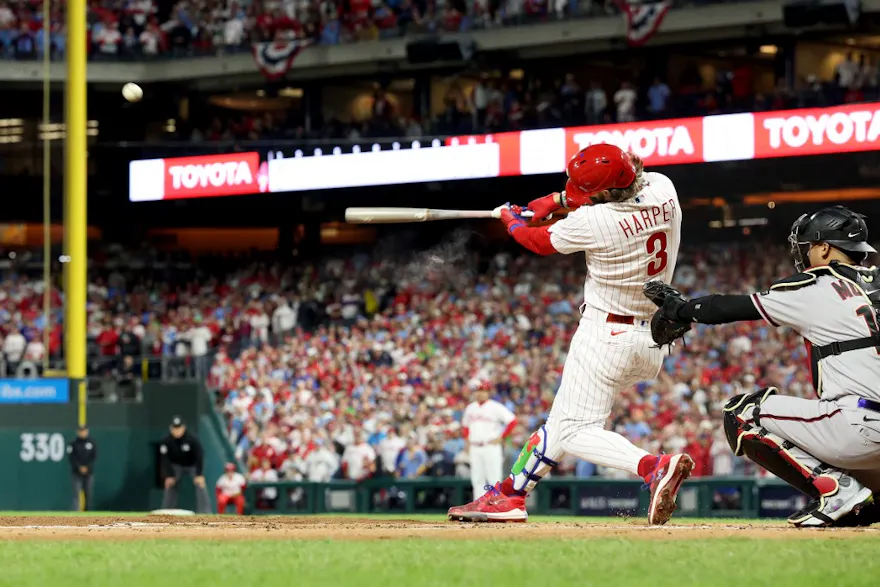 We can officially add Pennsylvania to the list of states that experienced record wagering activity in October. Twelve Pennsylvania sports betting apps and the state's retail providers combined for a record handle in October.
Buoyed by a full sporting calendar, including the Philadelphia Phillies' World Series run and five weeks of NFL football, Pennsylvania's best sportsbooks combined to better the previous record handle that came in October 2022.
Unfortunately, for the state's sports betting providers, revenues didn't reach the level of those in November 2021, when all-time profit highs were set for the best sports betting apps in the Pennsylvania sports wagering scene.

Record handle set in October
Sports bettors in Pennsylvania came out in droves in October, setting a new high for wagering activity for the state.
According to a Pennsylvania Gaming Control Board report, $829 million was spent at the best sportsbooks in Pennsylvania in October, smashing the previous record of $797.1 million from October 2022. This marked the first time that Pennsylvania sportsbooks have eclipsed the $800-million barrier.
The $829 million is a 14.1% improvement from September's nearly $725.3 million, and it represents a 4% year-over-year increase from the $791.1 million in October 2022.
Pennsylvania sports betting apps accounted for 93.9% of the total wagering activity in the state.
PlayPennsylvania managing editor Chris Imperiale said of October's numbers: "Pennsylvania sports betting continued to feel the effects of the NFL and football betting in October. PA sportsbooks set a new record for overall handle, generating more than $829 million in total bets last month, a 14% increase from September and a year-over-year jump of around 4%.
"The just-over $829 million beat out the state's previous best from October 2022 by nearly $32 million. While it's considered a mature market, there is still room for growth. It's likely the Philadelphia Phillies' postseason run contributed to the massive October, which means November could see a slight downturn even with lots of football remaining."
Revenues failed to reach new highs
According to Pennsylvania's October sports wagering report, $73.6 million in revenue came from the record handle. It is a month-over-month increase of 11% from the $66.1 million in September and a 20% year-over-year spike from the $51.5 million reported in October 2022.
Adjustable, taxable revenues came in at $48.1 million after $25.5 million in promotional credits.
Pennsylvania sportsbooks' October revenues failed to set a record, as November 2021 featured $84.9 million in gross revenues - a figure that still stands.
The big reason for Pennsylvania betting providers' inability to set a new mark for revenues was the underwhelming 8.9% hold rate in the state during October. In November 2021, Pennsylvania sportsbooks' win rate was 11.2% from their $761.6-million handle. Last month, Pennsylvania providers held just 8.9%, the second-worst win rate in the Keystone State during the last nine months.
Thanks to Pennsylvania's 36% tax rate, $17.3 million in tax contributions came for the state's legal sports betting sector.
FanDuel, DraftKings fight for top spot
The battle to be the most popular Pennsylvania sports betting app came down to FanDuel and DraftKings again.
FanDuel came out on top in October with a $328.4-million handle and $29.1 million in gross revenue. DraftKings finished a close second with $255.5 million in October wagers and $27.9 million in gross revenue.
BetMGM checked in at a familiar third place in the Pennsylvania market with a $51.6-million handle and $4 million in revenues, Caesars was fourth with $36.6 million in October bets and $1.4 million in revenues off an impressive 17.7% hold, and Barstool - in its last full month of operation in the Keystone State - rounded out the top five with $30.6 million in wagers and $1.4 million in revenues.
Barstool was replaced by ESPN BET on Nov. 14, a move that could shape the landscape in the Pennsylvania market.